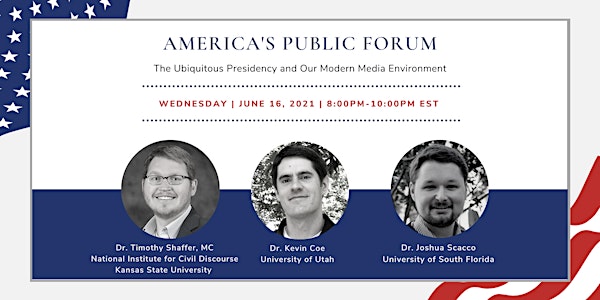 APF: The Ubiquitous Presidency and Our Modern Media Environment
From a series of events bridging the worlds of ideas and depolarization, hosted by Braver Angels and friends, "America's Public Forum."
Refund Policy
Contact the organizer to request a refund.
Eventbrite's fee is nonrefundable.
About this event
The American Presidency has for a long time been, to quote a former holder of that office, a 'bully pulpit' from which Presidents have shaped the public discourse as new media technologies and systems have transformed communication. In recent decades, the Presidency has sometimes seemed to cast a dominating shadow over the rest of government and society, by dint of its media influence. Is that the way it's always been, or has it changed subtly decade by decade? What does that do for our governance and our politics-- does it help, hurt, or something else? How should ordinary Americans approach the Presidency's media reach as we think about the issues we care most about?
Join Braver Angels and our longtime friends and partners at the National Institute for Civil Discourse for a special conversation on our political system, media environment, and the political culture they've driven and informed over the last few decades. Dr. Kevin Coe of the University of Utah and Dr. Joshua Scacco of the University of South Florida will join us to discuss their new book, The Ubiquitous Presidency: Presidential Communication and Digital Democracy in Tumultuous Times, interviewed by NICD's Dr. Timothy Shaffer of Kansas State University. Luke Nathan Phillips of Braver Angels will give brief introductory remarks.
In this National Week of Conversation 2021, we are honored to help bring scholarly insights on our present media and politics to help push forward important conversations about American self-government and the future of democracy. We look forward to seeing you there!
This event is FREE and open to all!