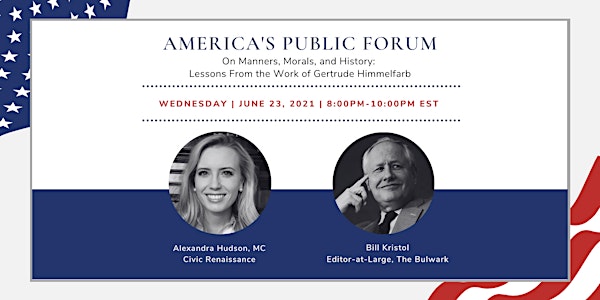 APF: On Manners, Morals, and History, ft. Bill Kristol
From a series of events bridging the worlds of ideas and depolarization, hosted by Braver Angels and friends, "America's Public Forum."
Refund Policy
Contact the organizer to request a refund.
Eventbrite's fee is nonrefundable.
About this event
In our present American era, which sometimes seems radically secular and even post-moral, and defined by division and culture wars, what might the work of Gertrude Himmelfarb- a historian of England's Victorian era- teach us today?
Join the late Himmelfarb's son, Bill Kristol- noted political commentator and founder of The Bulwark- and journalist and author Alexandra Hudson, as they discuss Himmelfarb's wide-ranging work and thinking on important topics related to manners, morals, civil society, and democracy, and search out lessons that might illuminate a more hopeful and productive path forward for American public life. Luke Nathan Phillips of Braver Angels will give brief introductory remarks.
This event is free and open to the public, and a recording will be available within a few days afterward. Braver Angels is proud to host this event in partnership with Civic Renaissance, and we look forward to seeing you there!