APBP-SoCal & SCAG's Go Human Campaign Host a Santa Ana Bike Tour
Description
Dust off your bicycle and join the Southern California chapter of the Association of Pedestrian and Bicycle Professionals (APBP) and the Southern California Association of Government's (SCAG) Go Human campaign for a fun bike tour of existing and future bicycle infrastructure in Santa Ana's neighborhoods! Go Human encourages Southern Californians to walk and bike and aims to improve safety by reducing the number of collisions involving people walking and biking.

Cory Wilkerson, the City's Active Transportation Coordinator, will lead us on an easy 6.5-mile route around Santa Ana to learn about infrastructure projects and ongoing efforts to make cycling safer and more enjoyable for people of all ages and abilities. Starting at the Santa Ana Regional Transportation Center, we'll visit the site of an in-progress bicycle boulevard, check out recently added green bicycle lanes, and hear about plans for separated bikeways on busy downtown streets. We'll also hear from local advocacy group Santa Ana Active Streets about various campaigns and educational classes aimed at shifting attitudes and behavior on their roadways.
Join us for lunch and networking after the tour at 4th Street Market in the City's historic downtown. Participants will also have the option to return immediately to the Transportation Center around 12:30pm, accompanied by our ride leaders.

If you would like to support APBP, consider donating to support advocacy efforts and professional development for pedestrian and bicycling professionals in the region. Neither a donation nor APBP membership is required to attend.
Schedule:
9:30-10:00 Pre-ride bicycle safety checks

10:00-10:15 Introduction and opening remarks

10:15-12:30 Bike tour

12:30 No-host lunch at the 4th Street Market (or return to starting point)

You must bring a bicycle in good working condition, and any participants under 18 years old MUST wear a bicycle helmet. Please bring your own water bottle and wear comfortable clothing for a hot day. We encourage participants to arrive by biking and/or transit. A Metrolink train from Los Angeles departs Union Station at 8:40am, arriving in Santa Ana at 9:32am. The return trip departs Santa Ana at 2:00pm. Weekend round-trip tickets cost only $10!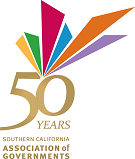 Date and Time
Location
Santa Ana Regional Transportation Center
1000 East Santa Ana Boulevard
Santa Ana, CA 92701