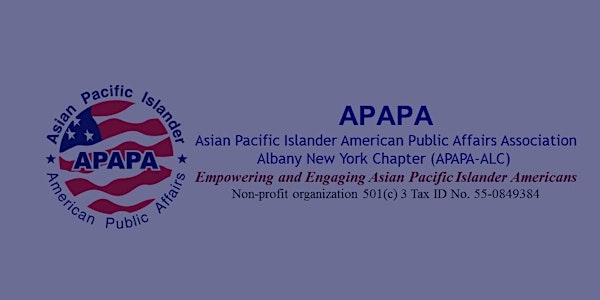 APAPA Albany Chapter - Seminar - US Politics and Elections 101
Date and time
Thursday, October 27, 2016 · 7 - 9pm EDT
Location
Chinese Community Center of the Capital District of New York 11 Avis Drive Latham, NY 12110
Description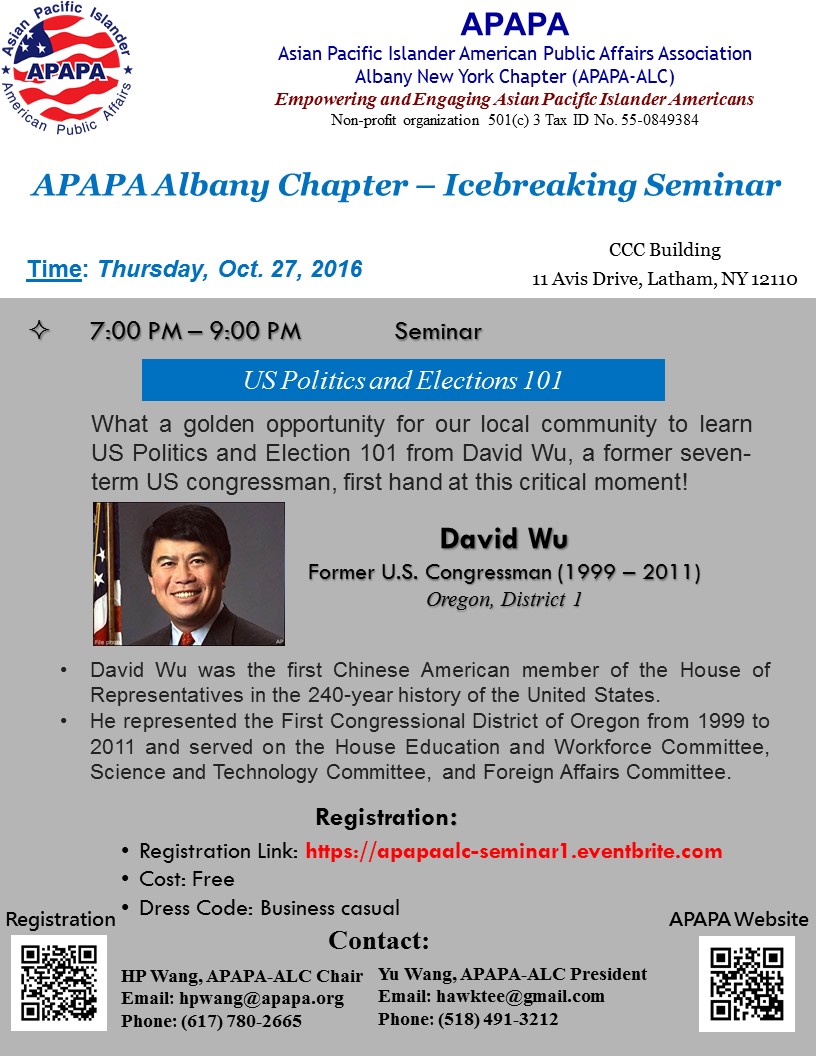 Abstract:
Government determines the quality of our children's schools, whether our roads are repaired or trash gets picked up, our tax rates, and whether we go to war. America is the world's greatest democracy, and our political participation at local, state, and national levels decide these issues and more.
On Thursday, October 27 at 7 PM, former Congressman David Wu will give a talk about the importance of participation in American politics. He will discuss the landscape of the 2016 elections, including the presidential race and the fight for control of the House and Senate. He will also describe the structure and historical roots of American government and politics. In the spirit of America, strong audience participation is encouraged.
David Wu Bio:
David Wu was the first Chinese American member of the House of Representatives in the 240 year history of the United States. He represented the First Congressional District of Oregon from 1999 to 2011 and served on the House Education and Workforce Committee, Science and Technology Committee, and Foreign Affairs Committee.
His signature legislation includes funding the development of the first effective vaccine against AIDS, creation of a new National Park at the mouth of the Columbia River, and requiring the Department of Energy to reduce and report on discrimination against minorities at the US National Laboratories, including Asian Americans, Hispanics, and African-Americans.
David received his BS in biology from Stanford University, attended Harvard Medical School and received his law degree from Yale Law School. His ancestral home is Suzhou, China. David was born in Hsingchu, Taiwan and immigrated to the United States at the age of seven. His first home in the US was Latham, New York..
About the organizer
Asian Pacific Islander American Public Affairs Association (APAPA ) is a non-profit, non-partisan and grassroots organization founded in 2001 by C.C. Yin and a pioneering group of fellow civic-minded friends and community leaders. APAPA was established with the primary mission of empowering Asian Pacific Islander (API) Americans in civic and public affairs through education, active participation, and leadership development.