Description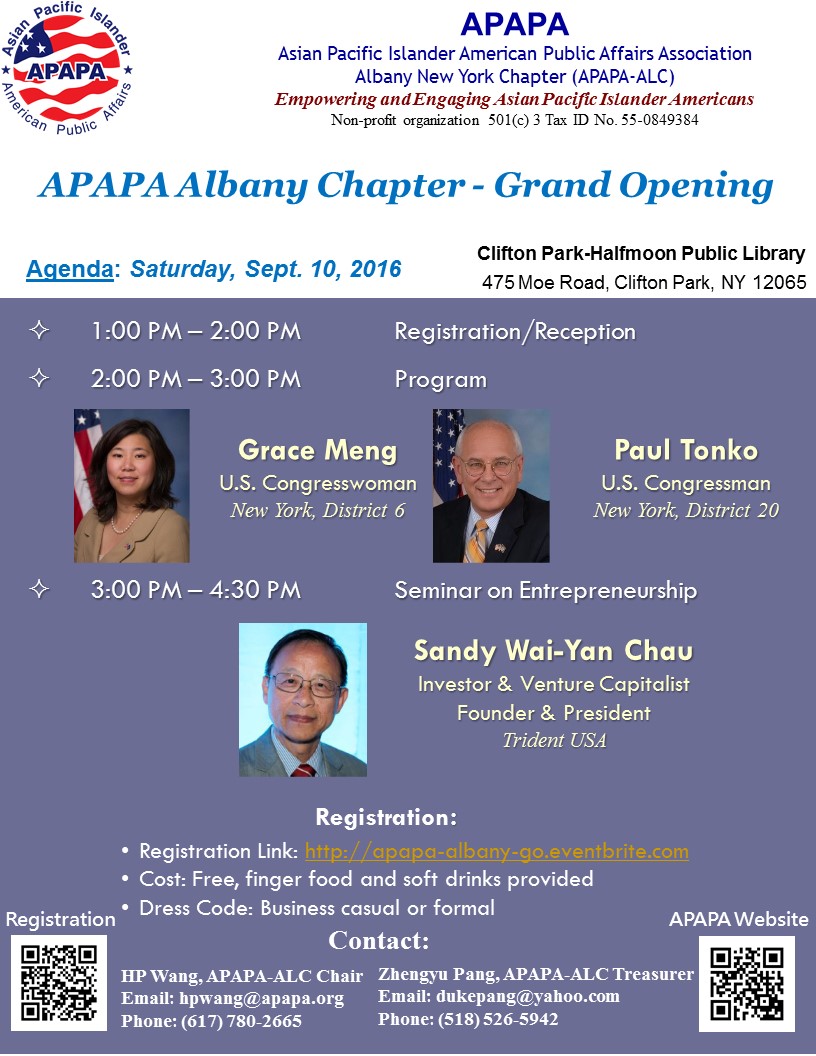 Meeting Etiquette:
Dress Code: business casual or formal

High-school and college students are welcome to attend

Pre-registration (https://apapa-albany-go.eventbrite.com/) is highly appreciated

Parking: library has limited parking spaces, car pool is highly recommended. Overflow parking space can be found in nearby high and elementary schools

Turn off or silent cell phones during meeting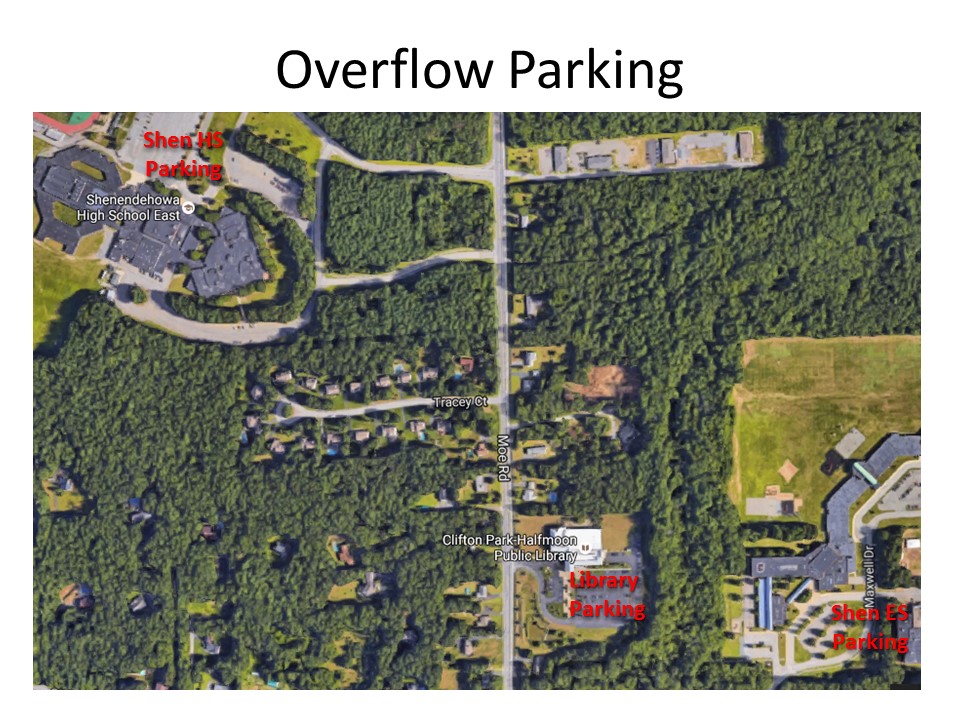 About APAPA:
APAPA is a non-profit, non-partisan and grassroots organization founded in 2001 by C.C. Yin and a pioneering group of fellow civic-minded friends and community leaders. APAPA was established with the primary mission of empowering Asian Pacific Islander (API) Americans in civic and public affairs through education, active participation, and leadership development.
To accomplish this objective, APAPA developed voter registration events, internships, scholarships, voter education forums, and leadership, mentoring, and networking programs designed specifically for the education, betterment, and advancement of the API community.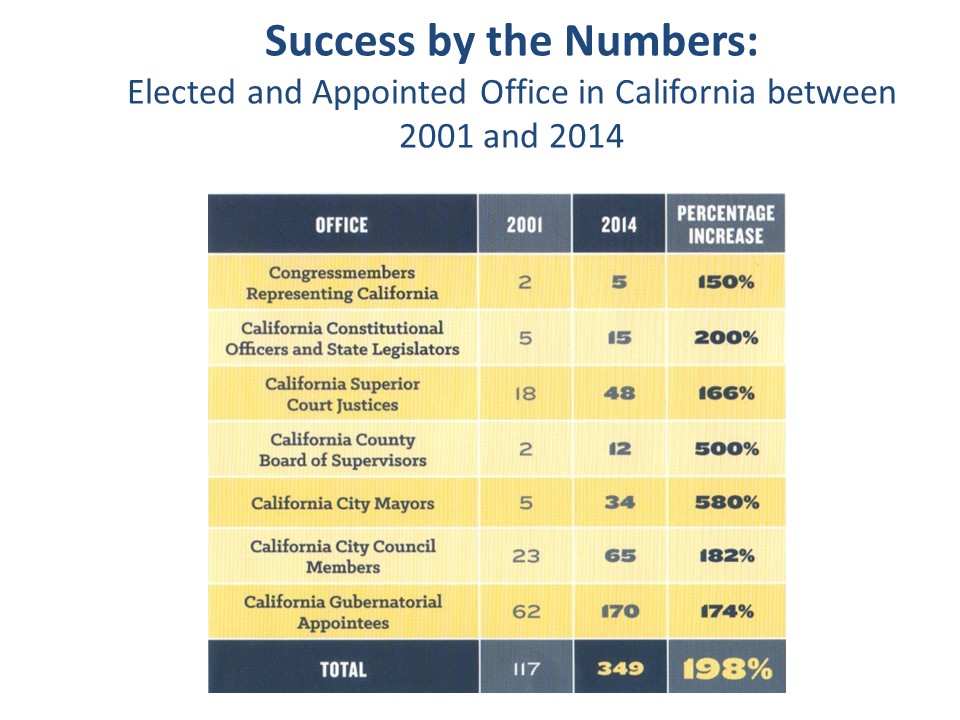 About the speakers:
Grace Meng - Grace is the first Asian-American Member of Congress from New York State, and the only Congress member of Asian descent in the entire Northeast. She is also the first female Member of Congress from Queens since former Vice Presidential nominee Geraldine Ferraro. Grace is a member of the House Foreign Affairs Committee and its Subcommittees on the Middle East and North Africa, and Asia and the Pacific. The Foreign Affairs Committee oversees United States foreign policy towards all nations around the world, and has jurisdiction over foreign aid, the State Department and key international organizations such as the United Nations.
During her first term in the House, Grace scored several legislative victories, a significant accomplishment for a new Member of Congress. In fact, she was one of just 12 Democrats – out of all 207 – who passed three or more bills, placing her in the top six percent. Her efforts led to New York City's new school holiday for Lunar New Year. Born in Elmhurst, Queens, and raised in the Bayside section of the borough, Grace graduated from Stuyvesant High School and the University of Michigan. She then earned a law degree from Yeshiva University's Benjamin Cardozo School of Law. Prior to serving in Congress, Grace was a member of the New York State Assembly. Before entering public service, she worked as a public-interest lawyer. Grace resides in Queens with her husband, Wayne, two sons – Tyler and Brandon – and her dog, Bounce.
Paul Tonko - Congressman Paul Tonko represents New York's 20th Congressional District, including the communities of Albany, Schenectady, Troy, Saratoga Springs and Amsterdam. He represents all of Albany and Schenectady Counties and parts of Montgomery, Rensselaer and Saratoga Counties. He is serving his fourth term, after first being sworn into Congress in 2009.
Paul serves on the Energy and Commerce Committee, the oldest standing committee in the House, created in December of 1795. He is the first upstate New York Democratic member of the committee since Leo O'Brien, who resigned the post in October 1966. Additionally, as a member of the Science, Space and Technology Committee, Paul serves on the Subcommittee on Research and Technology, which has jurisdiction over non-defense federal scientific research and development. Paul previously served on the Natural Resources Committee, Education and Workforce Committee and the Budget Committee.
Sandy Wai-Yan Chau - Sandy Wai-Yan Chau is both Founder and President of Trident USA: a diversified holding company that invests in real estate and provides venture capital throughout Greater China and the United States.
As a Hua Yuan "Angel," Mr. Chau has been an active investor in several companies started by Hua Yuan members including: Achievo, Viador, Servgate, Photonify, EnReach, and Televigation. Prior to Trident USA, from 1986 – 1999 Mr. Chau actively invested in real estate and provided venture capital in Taiwan, China, and the US. He served as Chairman of CITIC Shenzhen Properties from 1994 – 1997 and from 1992 – 1995 served as President of Pacific Constructions, one of the largest public real estate development companies traded publicly in Taiwan. Before real estate, Mr. Chau was a successful technology entrepreneur, founding Universal Semiconductor and running the company as its CEO. Mr. Chau was born in Shanghai, was raised in Hong Kong and Vietnam, and received his B.S. and MBA in the US. Mr. Chau is currently Chair of Vision New America (VNA) and National Civic Leadership Chair of APAPA.