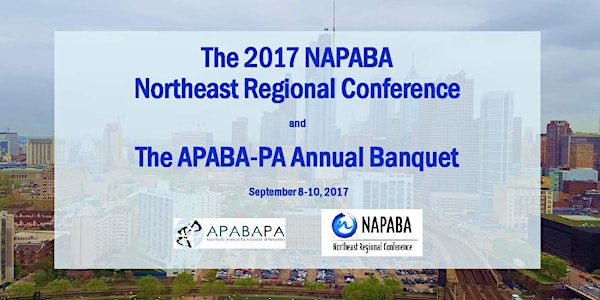 APABA-PA Annual Banquet and NAPABA Northeast Regional Conference
When and where
Location
Drexel University Thomas R. Kline School of Law 3320 Market St Philadelphia, PA 19104
Description
This year, in conjunction with its 33rd Annual Banquet (the "Banquet") on Friday, September 8, 2017, at the Sheraton University City Hotel, 3549 Chestnut Street, Philadelphia, Pennsylvania, the Asian Pacific American Bar Association of Pennsylvania ("APABA-PA") will be hosting the National Asian Pacific American Bar Association ("NAPABA") Northeast Regional Conference (the "Conference") on Saturday September 9 at Drexel University's Thomas R. Kline School of Law, 3320 Market Street, Philadelphia. The theme of the Banquet and Conference this year is "Diversity in the Face of Adversity."
The Annual Banquet supports APABA-PA's William M. Marutani Fellowship, which awards law students who exhibit the same commitment to social justice as Judge Marutani with a financial award in support of summer employment with a public interest organization or government agency.
On Saturday, September 9, Conference attendees will have the opportunity to earn 6 CLE credits (including 2 ethics credits), network with Asian Pacific American legal professionals throughout the region, and meet various NAPABA Committees during a complimentary breakfast, lunch, and cocktail reception. That evening, Conference attendees can attend one of several pay as you go dinners the Conference Committee is organizing, or purchase a ticket to the In-House Counsel Dinner.
On Sunday, September 10, attendees can attend various optional pay as you go social events planned by the Conference Committee to show off our beautiful city. See below for a more detailed schedule of the weekend's events.
Thank you for your support and we look forward to seeing you at the Banquet and Conference.
Melissa Pang, Esq. and Ken Massey, Esq.
Chairs of the 2017 NAPABA Northeast Regional Conference
Crystal Español, Esq.
Chair of the Annual Banquet
---
FAQs
How can I contact the organizer with any questions?
How can I find out more about APABA-PA, the Annual Banquet, and the Conference?
For more information about APABA-PA, the Annual Banquet, and the Conference, please visit our website.
Are there any discounts?
There are discounts if you buy a Joint Banquet and Conference Pass. Discounted tickets are also available before August 11, just look for the Early Bird Option. Ticket prices vary for Student, Govt/Public Interest Attorneys, In-House Attorney, so be sure to select the correct price. You can see a breakdown of all ticket prices here.
Book your hotel for the Annual Banquet and Northeast Regional Conference at the Sheraton Philadelphia University City. Click on the link to take advantage of APABA-PA's group rate of $149 a night.
Here's the link: https://www.starwoodmeeting.com/Book/APABA
Don't want to drive to Philadelphia?!
Delta Airlines - 2% to 10%
United Airlines - 2% to 10%
How can I avoid ticketing fees?
Eventbrite charges a percentage fee for tickets sold through their website. If you would like to avoid paying these fees, you can send a check for the amount you see for the ticket you wish to purchase (without fees!). Please make checks out to APABA-PA and send them to APABA-PA c/o John Encarnacion, Esq. P.O. Box 60234, Philadelphia, PA

19102-0234

. Please note the type of ticket you want in the memo line or email NEregional@apaba-pa.org or executivecommittee@apaba-pa.org (for Annual Banquet registration) to let us know to look out for your check. If you choose this option, you do NOT need to register through this website.
What is included in my ticket?
JOINT CONFERENCE AND BANQUET PASS includes: Cocktail Hour and Banquet September 8, Breakfast, Lunch, Cocktail Hour, 6 CLE Credits September 9
ANNUAL BANQUET TICKET or TABLE includes: Cocktail Hour and ticket (or table for 10) to Banquet September 8
CONFERENCE PASS includes: B

reakfast, Lunch, Cocktail Hour, 6 CLE Credits September 9

IN HOUSE COUNSEL DINNER TICKET includes: Dinner September 9
How else can I contribute?
NAPABA Northeast Regional Conference and APABA-PA Annual Banquet Sponsorship Opportunity
---
What is the schedule of events?
Friday September 8:
Sheraton Philadelphia University City Hotel
3549 Chestnut St., Philadelphia PA 19104
Event begins with cocktail hour and includes a silent auction.

Keynote Speaker: Vanita Gupta, President and CEO of the Leadership Conference on Civil and Human Rights, Former Principal Deputy Assistant Attorney General and acting head of the Civil Rights Division at the U.S. Department of Justice and former ACLU Deputy Legal Director

Mistress of Ceremonies: Cynthia Gouw, TV Anchor, Actress, Model and Spokesperson

The 2017 Attorney Of The Year Award will be presented

John G. Chou, Executive Vice President, General Counsel & Secretary of AmerisourceBergen Corporation

Our 2017 Marutani Fellows will be recognized at the Banquet

Nick Kato, Temple University's Beasley School of Law – Class of 2019

Diane J. Kim, Temple University's Beasley School of Law – Class of 2019

Brandon Wong, University of Pennsylvania Law School – Class of 2019
Saturday September 9:
Drexel University Thomas R. Kline School of Law
3320 Market St, Philadelphia, PA 19104
Earn up to 6 hours of CLE credits (including 2 hours of Ethics Credits) at sessions featuring experts throughout the region speaking about immigration, human trafficking, effective general counsel leadership, criminal justice reform, tax, and how to create a happy and fulfilling career
Networking breakout lunch sessions with various NAPABA Committees (please contact us if you would like a designated room for your committee)
Small Group Dinners - Various Locations

Conference Parking

: $15.00.

Proceeding West on Market Street, turn left onto 34

th

Street. Proceed on 34

th

Street one block to

Ludlow Street. Turn left onto Ludlow Street and the entrance to the garage is immediately on the left.
Sunday September 10:
Philadelphia, PA
Morning Run up the Rocky Steps

Sunday Funday Activities
Cynthia Gouw

TV Anchor, Actress, Model and Spokesperson

Annual Banquet Mistress of Ceremonies

Vanita Gupta

President & CEO Leadership Conference on Civil & Human Rights, Former Principal Deputy Assistant Attorney General

Annual Banquet Keynote Speaker

Helen Gym
Councilwoman-At-Large
Special Guest