Anywhere Outpost is providing on site glamping for the 2022 Hog Farm Hideaway Festival at the infamous Black Oak Ranch!
About this event
Anywhere Outpost is honored to provide the onsite glamping experience for the Hog Farm Hideaway Festival at Black Oak Ranch.
Join the AO Camp by renting one of our exquisitely appointed bedroom tents, fully set up and ready to rock upon your arrival. AO's bell tents are made from gorgeous waterproof canvas and screens doors that open to let air in but still zip completely shut. Just show up with your costumes, we got the rest!
The AO Camp is located at the Riverside Bluffs area of Black Oak Ranch. All tents are nestled together with our groovy, bohemian lounge tent furnished with cozy couches and floor cushions, low lying tables and bistro tables with chairs, providing the perfect staging area to gather before heading to the main bowl!
The AO Camp also includes fencing and security, ambient lighting, an exclusive restroom trailer with flushing toilets, complimentary daily shower tokens, and a two hour coffee service in the AO Lounge each morning from 8-10am!
Our tents come in various bed configurations in a two tiered offering to fit your party's specific needs. Check out our ticketing options below:
AO LUX OUTPOST
AO Lux Outpost option offers accommodations for parties up to four people in our larger, 16ft diameter bell tent appointed with:
luxury foam Casper brand mattress and pillows
luxury white cotton percale sheets
down comforter and Turkish throw pillows
fresh, waterproof hypoallergenic, antimicrobial pillow and mattress protectors
one AO Camping Towel per guest
two live edge redwood side tables
two area rugs
two rechargeable lanterns
a copper clothing rack with hangers
twinkle lights & garden lantern out front
large front mat to hang on in the morning and leave your shoes.
LUX OUTPOST FOR TWO, ONE QUEEN BED - $1,650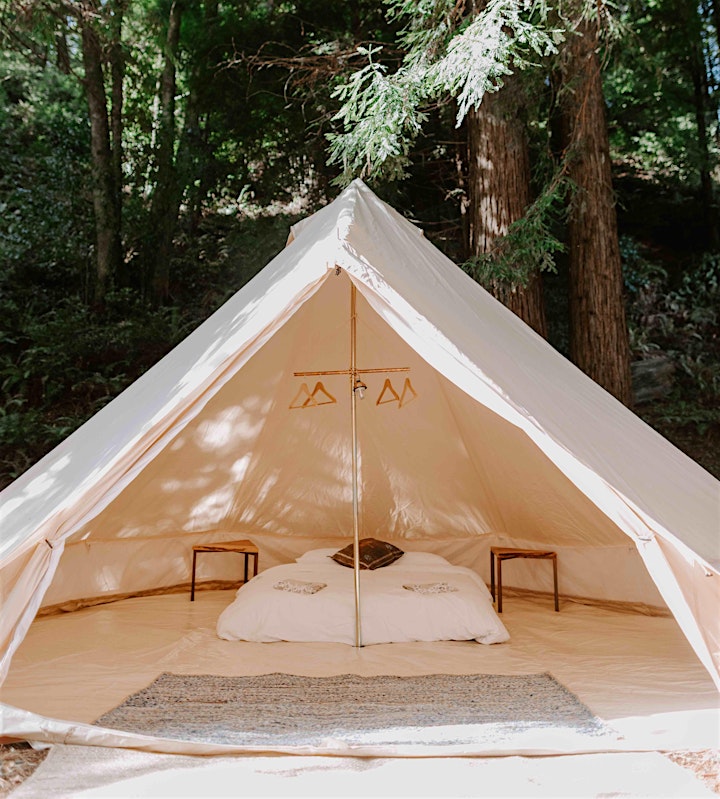 LUX OUTPOST FOR THREE, THREE TWIN BEDS - $2,330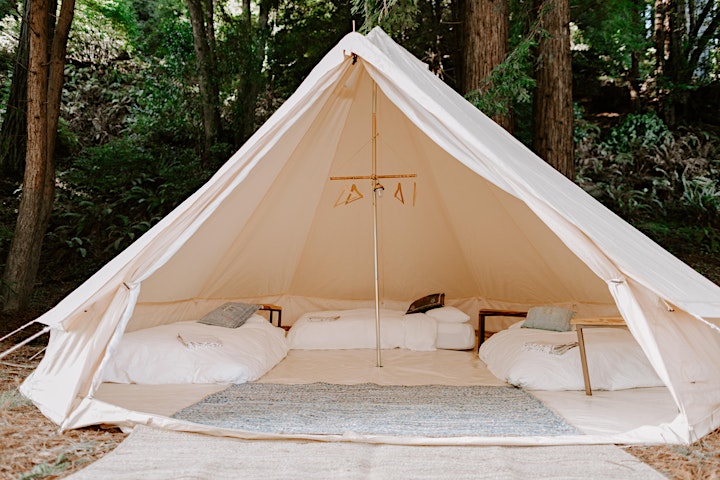 LUX OUTPOST FOR FOUR , TWO QUEEN BEDS - $2,540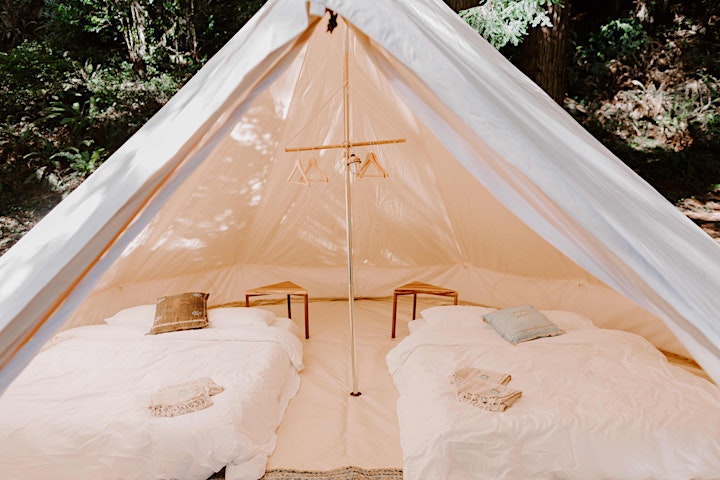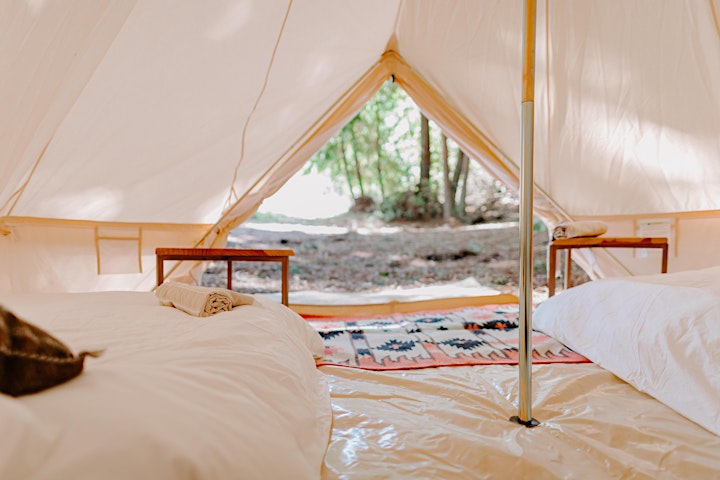 POST UP FOR TWO
AO's Post up for Two options offer accommodations for parties up to two people in our smaller 13 feet diameter tent . Tents are furnished with either one queen size bed or two twin size beds as follows:
Foam Casper mattress and pillows
White percale sheets and down comforter
One AO camping towel per guest
copper clothing rack with hangers
one side table
one area rug
one rechargeable lantern
large front doormat for your shoes
POST UP FOR TWO, ONE QUEEN BED- $1,330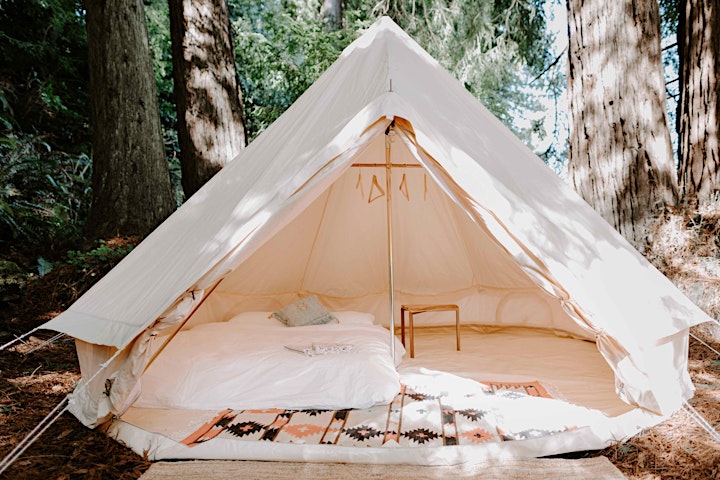 POST UP FOR TWO, TWO SINGLE BEDS $1,499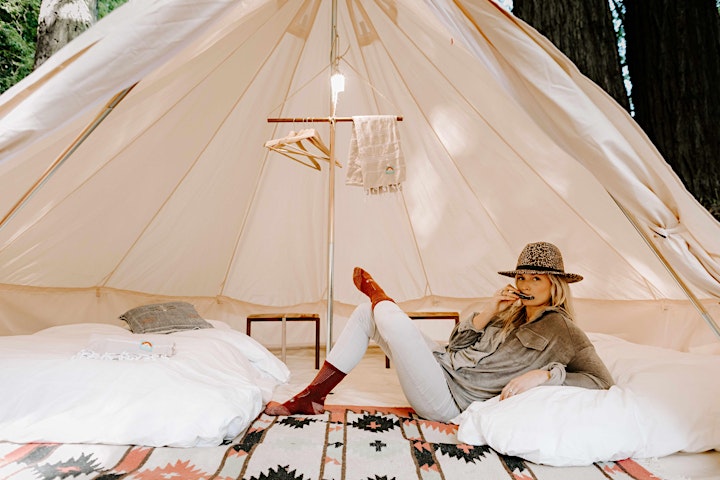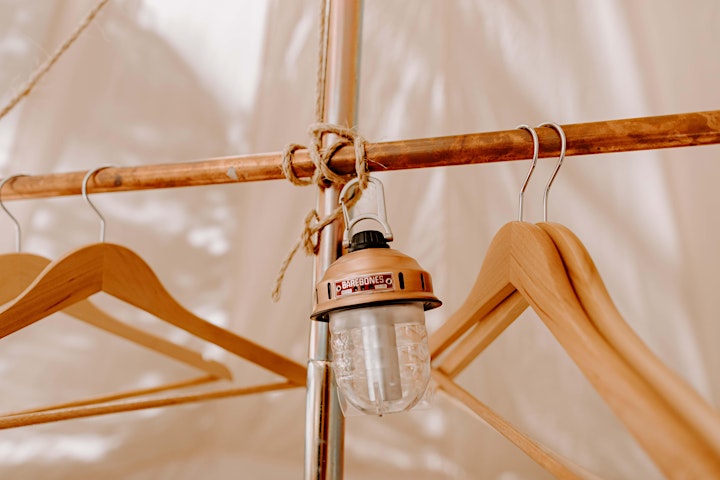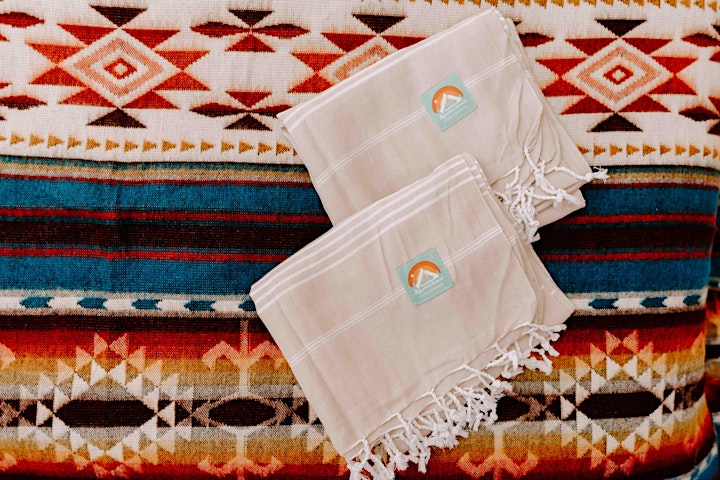 ADD-ONS
WELCOME PACKAGE - Cooler and Welcome Gift, PRICE $300
The welcome package includes a rental of one of our groovy antique steel belted 54 Quart Coleman Coolers, stocked with ice and some cold beverages from festival sponsors including beer and wine .You will also receive some surprise AO swag as a welcome gift. Coolers are restocked with fresh ice on Saturday and Sunday. Priced per cooler, not per person and will serve two people comfortably.
$75 Security deposit is charged at check in and guests will be ID'd to show they are 21+ years of age.
PERSONAL AIR COOLING FAN ~ $100
Rent an small personal air cooler and humidifier. Just add ice and the battery operated stylin fan will cool the air in your tent by at least 10* F while humidifying the tent.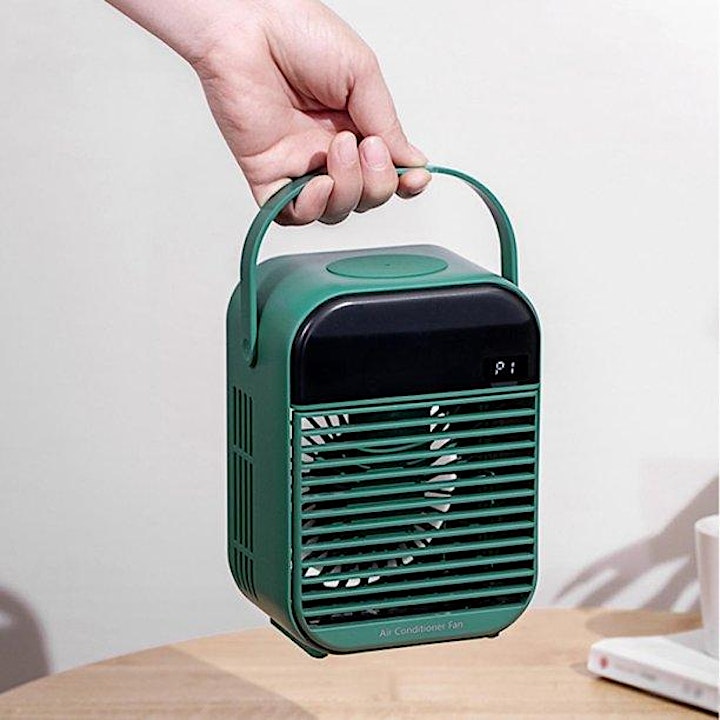 AO LOUNGE PHOTOS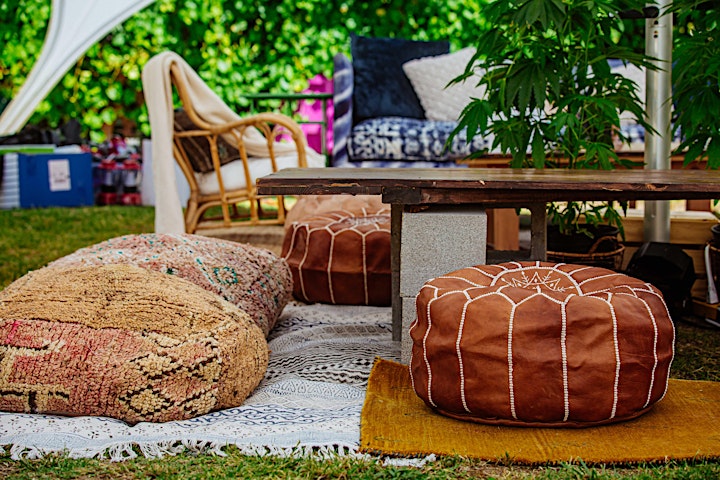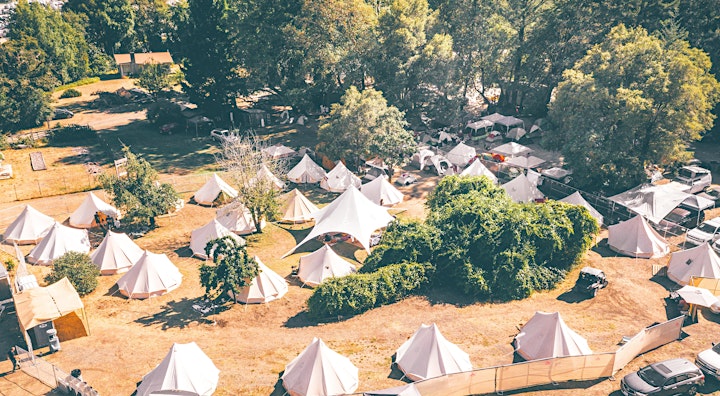 One vehicle pass is included with each luxury camping package (pick up at the box office). Parking is close to the AO Camp.
In order to attend the festival and stay at the Anywhere Outpost Camp, you must purchase a 3-DAY Festival Pass as well as a Luxury Camping package. Luxury Camping packages are purchased in addition to The Hog Farm Hideaway festival pass. Each additional vehicle needs a vehicle pass. Vehicles will be a short walk away from camp.
Anywhere Outpost is donating a portion of proceeds from luxury camping sales to the Camp Winnarainbow Scholarship Endowment Fund, helping underprivileged kids attend this epic circus camp. Thanks for helping us give the gift of Camp!
Organizer of Anywhere Outpost Glamping Camp at The Hog Farm Hideaway 2022
Anywhere Outpost is a pop-up luxury camping hotel based in Marin County, California. We rent out hotel tents, lounge tents, bohemian style outdoor lounge furniture, firepits, lighting and camp services such as site visits, camp maps; supplying all your pop up hotel needs for weddings, festivals and corporate retreats.
Check out our website or email info@anywhereoutpost.com for more details at www.anywhereoutpost.com