Description
The Anywhere & Elsewhere Biennial Conference is a free two-day conference on November 15th and 16th at Parsons School of Design, proudly supported as part of a partnership between Parsons Fine Arts (Parsons School of Design, The New School) and the Centre of Visual Art (University of Melbourne).
Curated by Simone Douglas & Sean Lowry, this event features presentations from artists that have successfully navigated blind peer evaluation as part of Project Anywhere's Global Exhibition Program (2017-2018), together with a series of invited presentations from established artists, designers, scholars, curators and writers actively engaged with practices outside traditional circuits. Today, an increasing number of artists and creative practitioners are working across spaces, places and temporalities well-beyond the limits of established exhibition formats. Accordingly, much contemporary creative activity is more concerned with events, actions, sites, relations and processes than with discrete outcomes.
Artistic research can be represented in multiple ways as it moves between modes of conception, production and dissemination. This free two-day conference will explore questions associated with presenting, experiencing, discussing and evaluating art located anywhere and elsewhere in space and time.


Image credit:
Luciana Scrutchen
---


Day 2 | Friday November 16, 9:30am - 6:00pm
Theresa Lang Community and Student Center, Arnhold Hall, 55 West 13th Street, Room I-202, New York, NY 10011
WHERE⇄ABOUT II | 10:00am - 11:15am
Presentations by Amber Eve Anderson, Benjamin Matthews, and Chris Wood; panel discussion moderated by Les Joynes.
ACTIONING | 11:45am - 1:00pm
Presentations by Alana Hunt, Jessica Winton, Joanne Choueiri; panel discussion moderated by Macushla Robinson.
ANYWEAR | 2:15pm - 3:45pm
Presentations by Luciana Scrutchen, Jacbo Olmedo, Adam Geczy, and Burak Cakmak; panel discussion moderated by Jane Philbrick.
ACTIONS | 4:15pm - 5:30pm
Presentations by Georgia Banks, Christine Howard-Sandoval, and Mark Shorter; panel discussion moderated by Sreshta Rit Premnath.
RESPONSE TO CONFERENCE | 5:30pm - 6:00pm
Parsons Fine Arts MFA students in conversation with the curators Sean Lowry and Simone Douglas and special guest chair DJ Spooky.
For more details please visit: http://www.projectanywhere.net/conference/ or contact us at: projectanywhere@gmail.com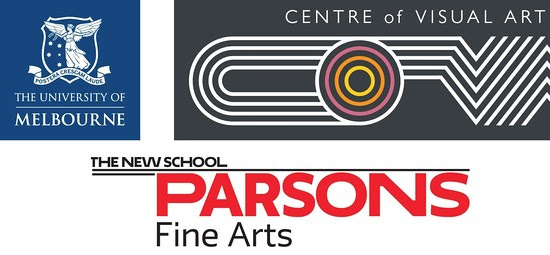 With special thanks to: