Anything Goes Young Performer's Edition Audition Sign-ups

Monday, June 4, 2018 at 7:00 PM

-

Tuesday, June 5, 2018 at 8:00 PM (MST)
Event Details
We are excited to meet everyone from all over the East Valley signed up to audition for our upcoming production of Anything Goes!!
Below are some of the rules and expectations of this group, as it is run a little different than our other JR and Kid "non-audition" productions. NOTE: Since we only rehearse once a week on Saturdays (sectional rehearsal Tuesday evening, if necessary), all rehearsals are MANDATORY and we do not accept any conflict schedules. However, we do have some flexibility for Tuesday evenings' sectionals, if needed.
AUDITIONS 5-minute slot. (By appt. only)
Monday, June 4th 7:00pm-8:00pm
Tuesday, June 5th 6:00pm-8:00pm
MANDATORY CALLBACKS:
Wednesday. Jue 6th 7:00pm-8:30pm
Note: An email will be sent to those who receive a callback late Tuesday evening, March 27th after all auditions are completed. Just because you don't receive a callback does not mean you are not cast in the show! All Call Backs will be taught a choreographed routine and perform a cold reading.
MANDATORY REHEARSALS
Saturdays, June 9 - July 28 at 1-4pm
Tuesdays 6-8:30pm sectionals, if necessary
DINNER SHOW PERFORMANCES
August 2nd & 3rd Dinner 6:00pm, Performance 7:00pm
DINNER SHOW PERFORMANCE AND REHEARSALS:
Auditions, rehearsals and performances will take place at Baker Showroom in SanTan Village, 2270 E. Williamsfield Rd., #106, Gilbert, AZ
NOTE: If the actor has any conflicts with the Saturday rehearsals we will NOT be able to cast you for this production. Roles may be subject to change due to unexcused absences, etc. However, we do have some flexibility for the Tuesday sectionals only.
COST: There are no participation fees, volunteer hours or mandatory ticket sales required. However actors will be provided a guideline of costumes. All actors will be responsible for their own costumes.
AUDITIONS:
*Please bring headshot, performance resume (or letter with Performing experience).
*Prepare to sing a short musical excerpt accapella or with a backing track that best demonstrates your vocal range, style and projection. We may not listen to the entire musical selection.
An email will be sent out announcing the cast list by Thursday, March 29th.
REHEARSAL DATES:
Rehearsals start Saturday, June 9th. Please be prepared to read through the entire show and/or sing your songs the best that you can during this time.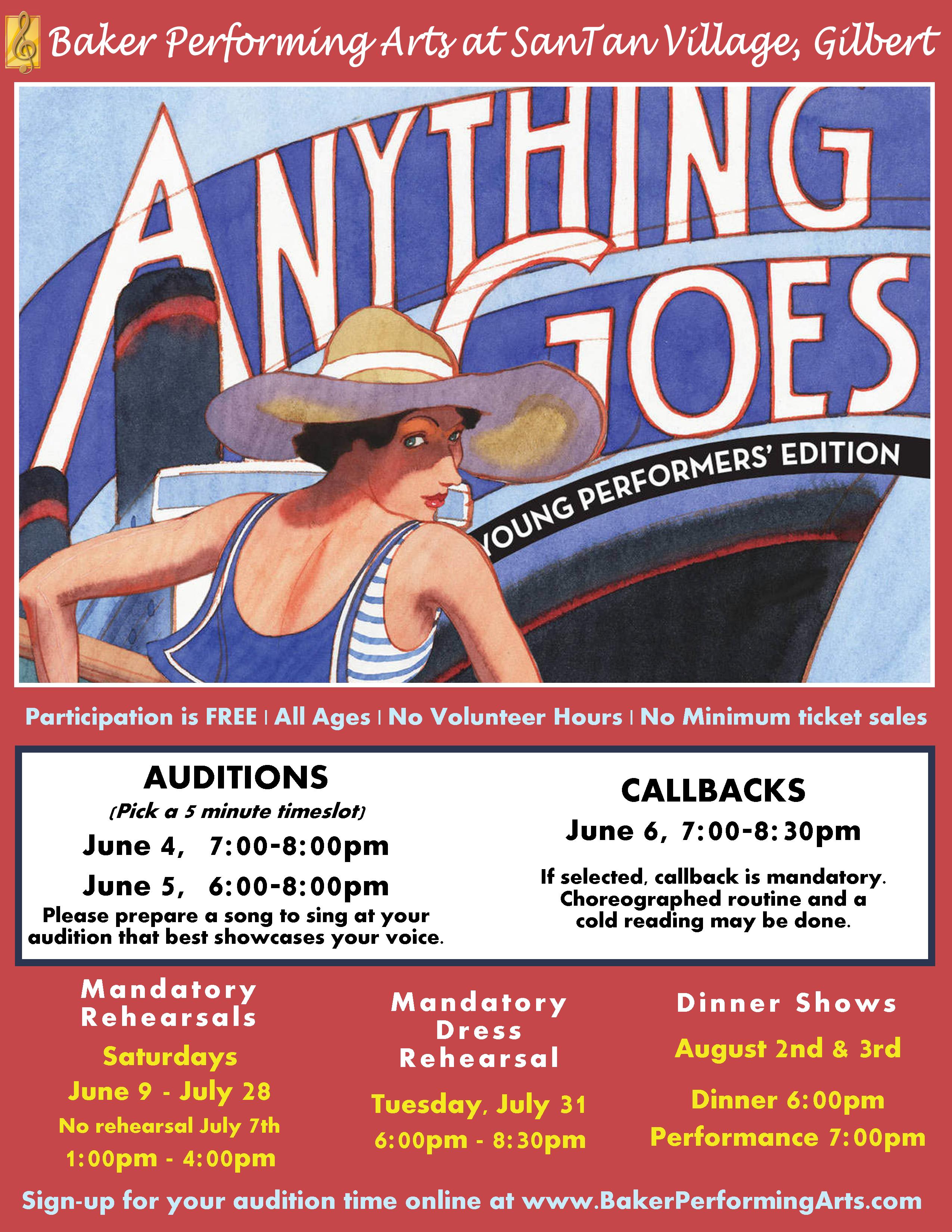 FULL SYNOPSIS
At a club in Manhattan, ELISHA J. WHITNEY is waiting impatiently for his assistant to arrive with all his travel materials for Whitney to sail to England the next morning. BILLY CROCKER finally shows up—half an hour late—but he's forgotten Whitney's passport, which he promises to deliver first thing in the morning. Conspiratorially, as two SAILORS dine in the background with BETTY and ESTELLE, Whitney orders Billy to go to Wall Street in the morning and sell all the firm's shares of Amalgamated Prestoleum. Billy is shocked, but Whitney assures him he's had a hot tip that shares of Amalgamated are going downhill fast. Just as Billy is checking his messages with CASEY, the host, RENO SWEENEY enters the club looking for Billy—in the hubbub of his errand running for Whitney, Billy completely forgot about his date with Reno. Despite his faux pas, she invites him to sail to London with her in the morning ("I Get A Kick Out Of You"). Billy confesses to Reno that he's fallen in love with a fantastic girl, and he needs to stay in New York to win her over. Reno is furious—she thought she was the one Billy wanted to marry. She storms off as the SAILOR 1 and SAILOR 2 confess to Betty and Estelle that they're leaving in the morning ("There's No Cure Like Travel").
On the deck of the S.S. American, the CAPTAIN, PURSER and DESK STEWARDESS are dealing with a crisis: Charlie Chaplin has cancelled his berth and chosen to sail with the Mauretania instead. They frantically scour the guest list for another celebrity as the REPORTERS and PHOTOGRAPHERS complain. The MINISTER and converts LUKE and JOHN arrive on the ship, closely followed by Reno and her ANGELS. The Reporters and Photographers are excited by the arrival of debutante HOPE HARCOURT, English gentleman LORD EVELYN OAKLEIGH and Hope's mother, MRS. HARCOURT, who announces that Hope and Evelyn are to be married on the ship. As they board the ship, they encounter Whitney and Billy, who is shocked to learn of Hope's engagement. Whitney leads the party off to celebrate, reminding Billy to go to Wall Street and sell the Amalgamated shares. Before he can exit, two FBI AGENTS stop him, asking if he's seen a gangster dressed up as a minister. Billy points them toward the Minister while MOONFACE MARTIN, who is wearing a minister's robe, and ERMA sneak aboard. They are on the lookout for Snake Eyes Johnson, a member of their gang and Public Enemy Number One. Immediately, they encounter the real Minister, who the FBI Agents mistake for Moonface because Billy points him out. As a reward, Moonface gives Snake Eyes' passport to Billy so he can stay on the ship as Murray Hill Flowers. The Purser gives the final call: "All ashore that's going ashore!" ("Bon Voyage").
That evening, Reno spots Billy on deck. He confesses to her that he's in love with Hope Harcourt, but she's out of his league. Reno tries to bolster his confidence ("You're The Top"). Billy encounters Hope, who informs him that no matter what feelings are between them, she must marry Evelyn. In Moonface's cabin, the Captain informs them that Murray Hill Flowers is actually Snake Eyes Johnson, still thinking that Moonface is a real minister. Moonface confesses to Billy that he is actually Public Enemy Number Thirteen—not a minister at all. Billy determines that he needs a disguise, and Erma sets out to get him a sailor suit. Later, on deck, a group of sailors and FEMALE PASSENGERS sing together ("There'll Always Be a Lady Fair"). Billy again tries to speak with Hope, but he is disguised as a sailor and gets pulled into a manhunt—for himself, since they think he is Snake Eyes Johnson. Reno recognizes Moonface Martin, and they team up in an effort to break Evelyn and Hope's engagement ("Friendship"). While Mrs. Harcourt is frantically looking for her dog, Cheeky, Billy and Moonface enter in disguise and tell her that Lord Evelyn Oakleigh is an escapee from Bedlam who marries women and then murders them. Mrs. Harcourt faints as Evelyn arrives on the scene, and Hope exposes Billy's disguise. Reno encourages Hope to accept her true feelings as Billy re-enters disguised as an old lady ("It's De-Lovely"). Just as Billy asks Hope to choose between Evelyn and him, the Captain and Deck Stewardess apprehend him, thinking he is Snake Eyes Johnson ("Anything Goes"). They are thrilled to have solved their celebrity problem, and Billy is named the honorary captain of the S.S. American ("Public Enemy Number One").
Reno informs Billy that Hope wants to marry him just as the Angels and she head onstage for their next number ("Blow, Gabriel, Blow"). After the performance, Evelyn confesses his love to Reno, and Billy publicly confesses his love for Hope—at the same time outing himself as a phony gangster. Billy and Moonface are thrown into the brig ("Be Like The Bluebird"). Erma delivers a note from Hope to Billy—she loves him, but thinks there is no hope for them ("All Through The Night"). Luke and John are locked up in the brig as well, and Reno confesses to Billy that she and Evelyn are in love with each other. Billy and Moonface win Luke's and John's clothes in a poker game, and they rush to stop the wedding. Billy claims that Evelyn owes a debt of honor to Plum Blossom, who is really Reno in disguise. Billy gets to marry Hope, Reno gets to marry Evelyn, Whitney steps in to marry Mrs. Harcourt and at the last moment, an urgent cable comes through from New York informing Whitney that Amalgamated shares—the same ones Billy never sold off—have gone through the roof! The Captain marries all the couples, and all is well ("Finale").
CAST OF CHARACTERS:
ELISHA J. WHITNEY is a rich businessman with expensive taste. He is demanding, straightforward, and knows what he wants.
CASEY is the owner of the bar in Manhattan who attends to Whitney while he waits for Billy.
BILLY CROCKER is the show's leading young man with stars in his eyes and a sweet, earnest disposition. He is Whitney's assistant and gets in a ton of trouble in pursuit of love.
RENO SWEENEY is the show's leading lady. She is foremost an entertainer and can command attention just by walking through the door. Reno enjoys the spotlight and easily makes friends with everyone she meets. 
BETTY and ESTELLE are young women saying goodbye to their sailors heading off to sea.
The SAILORS (including SAILOR 1 and SAILOR 2) are possibly the most recognizable characters from the entire show. They provide support and life for the world of the show. 
The CAPTAIN is a man of authority, but he is a bit more concerned with making sure the ship has a celebrity aboard than the voyage itself.
The PURSER and the DECK STEWARDESS are essentially the Captain's right and left hands.
The MINISTER, or Henry T. Dobson, is a pious, religious man traveling with his most recent converts.
LUKE and JOHN are recent converts to Christianity with a weakness for gambling. They first appear to be devout followers, but once the Minister is gone, Luke and John finally let loose and revert back to their old ways.
Reno's four ANGELS are a pack of ladies with the vocal and dance stylings to back up Reno. Entertainers by profession, the Angels are filled to the brim with talent, sass, and charisma.
MRS. EVANGELINE HARCOURT is Hope's overbearing mother who truly wants the best for her daughter and herself, and she will go to whatever lengths necessary to make sure she doesn't end up poor.
HOPE HARCOURT is the perfect mixture of poise and properness befitting her upper class status. While she does care about her place in society, love is what motivates her in the long run. 
LORD EVELYN OAKLEIGH is a British gentleman betrothed to Hope Harcourt. He is personable and enjoys meeting other people and learning about their lives. He may come off a bit stiff, but underneath this proper exterior is a generous man looking for excitement. 
MOONFACE MARTIN is a gangster who is on the run (as usual). Moonface may not be the smartest person in the world, but when he commits to an idea, he sticks to it.
ERMA is Moonface Martin's partner in crime. Erma is certainly not intimidated by Moonface's gangster reputation.
The ENSEMBLE is stocked full of vivid characters, including featured PASSENGERS, REPORTERS, PHOTOGRAPHERS, FBI AGENT 1 and FBI AGENT 2, an ANNOUNCER, an OLD LADY, and a COOK that help create the greater world of the ship and the play.
Please note: This is definitely not for beginners or individuals with no experience, however we do have non-audition musicals at www.BakerPerformingArts.com
Thank you!
Mr. Baker, Artistic Director
Save This Event
When & Where

Baker Performing Arts
2270 East Williams Field Road
#106
Gilbert, AZ 85295


Monday, June 4, 2018 at 7:00 PM

-

Tuesday, June 5, 2018 at 8:00 PM (MST)
Add to my calendar
Organizer
Baker Performing Arts (Theatre, Events, Lessons & Store) located in the beautiful Santan Village in Gilbert provides musical theatre productions shows as well as providing lessons in all instruments, voice and more!
We also have a store that has musical instruments for sale/rental, music accessories, Casio Keyboards and more!
Come check us out at SanTan Village in Gilbert, AZ.