Description

ANYTHING GOES w/

KENNY DOPE x DJ SPINNA
hosted by Fran Boogie

Kenny Dope & Spinna come together to bring you "Anything Goes". The tag team spins an exlectic array of music that's both old school and new school. From house, hip hop, reggae, rock, jazz, latin and funk and soul, these two will keep the party going all night.
Kenny "DOPE" Gonzalez is one of the most prolific artists of the modern music age. The four time Grammy nominated musical genius has been entertaining and astounding the masses alike with his fusions of house, hip-hop, Latin, jazz, funk & soul, reggae, alternative pop and broken beats for 20 years. Known as a living encyclopedia of beats, Kenny is a purveyor of sonic masterpieces.
DJ Spinna is a creative talent who globally and musically transcends genres and limitations. An extraordinary deejay, producer, remixer, and music historian, DJ Spinna possesses a remarkable mix of musical abilities. Spinna's only parameter is that his work must evoke a fresh take on the timeless sounds of soulful music. Resonsible for parties like the Stevie Wonder tribute party "Wonder-Full" & the Michael Jackson and Prince tribute party "Soul Slam", there's no doubt he's mastered fresh takes on Soul Music.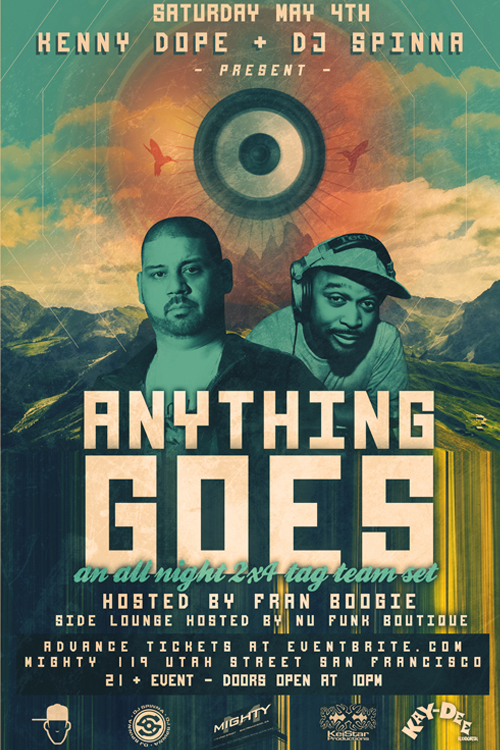 Organizer of Anything Goes w/ Kenny Dope & DJ Spinna (SAT 5/4)