Description
The three-day training course is aimed at business managers who want to learn supply chain design and analysis with anyLogistix. It is practice-oriented and provides essential information on how to apply anyLogistix to locate facilities, devise master plans, estimate supply chain capacity, assess safety stock, and more. The course is designed and presented by anyLogistix developers, who introduced the software to businesses.
The training will be conducted in English. Please note that we do not provide computers. Bring your own Windows-based laptop computer suitable to anyLogistix system requirements.
With your training ticket you get invitation to the preceded seminar - Supply chain design and digital twinning with anyLogistix. The seminar will cover business theory on how to implement supply chain design in an organization. Training attendees must come to the seminar, as it forms part of the course.


About anyLogistix
anyLogistix by The AnyLogic Company is supply chain analytics software for designing, optimizing and analyzing your company's supply chain. It combines powerful analytical optimization approaches provided by IBM ILOG CPLEX together with innovative dynamic simulation technologies to offer you a comprehensive set of tools for end-to-end supply chain analytics. By leveraging both simulation and optimization you have the best set of tools for tackling supply chain challenges, enabling you to gain deep insights into your company supply chain, which is not possible with any other traditional solutions. More about anyLogistics features >>


Course program and schedule
July 17: 9.30 am — 6.00 pm, lunch and coffee breaks included

Seminar: Supply Chain Design and Digital Twinning with anyLogistix
anyLogistix development environment
Facilities location with Greenfield analysis (GFA)

Section overview
Practice drill: Simple GFA
Practice drill: Multi-echelon GFA

Supply chain design

Network optimization
Practice drill: Distribution network
Practice drill: 2-tier distribution network

Master planning

Section overview
Practice drill: Distribution planning
Practice drill: Distribution and production
July 18: 9.30 am — 6.00 pm, lunch and coffee breaks included
Dynamic Simulation

Section overview
Practice drill: Simple simulation model

Supply chain analysis

Practice drill: Capacity estimation
Practice drill: Service level analysis
Practice drill: Risk assessment

Inventory optimization

Section overview
Practice drill: Safety stock assessment
Practice drill: Bullwhip effect analysis
July 19: 9.30 am — 6.00 pm, lunch and coffee breaks included
Extensions and inside 4 walls logic

Section overview
Practice drill: Factory simulation and risk assessment
Practice drill: Customers loyalty and supply chain


Seminar program and schedule
9.30 am – 10.00 am – Registration and welcome coffee
10.00 am – 12.00 pm – Supply Chain Design, Optimization and Simulation Techniques
Introduction to anyLogistix
Supply Chain Optimization: supply chain structure and master planning
Supply Chain Implementation: capacity of the facilities, service level examination, safety stock estimation
Supply Chain Analysis: service level alteration and risk analysis
Business case studies
12.00 pm – 12.30 pm – Q&A session


Course instructor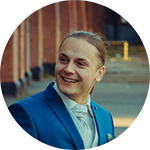 Andrei Nozhenko, anyLogistix Software Developer, The AnyLogic Company
Course Testimonials
Excellent training experience. Extraordinary attention to details make a huge difference. Congratulations and look forward to participating in other sessions!!
Alejandro Nieto, President,
N-GE


Very knowledgeable, not only in the software, but also the supply chain design practices.
LI Wei, Engineer
P&G


Training is very well structured. The whole experience is engaging, and the instructors are very knowledgeable and satisfactorily answered to the questions raised.
Srinivas Kurra

,

Business Analyst
Network Services Company


The pace of the sessions was good, and I learned a lot in a short amount of time.
Conor Goetz, Business Analyst
Network Services Company
Organizer of anyLogistix Software Training Course, Hong Kong — July 17–19
The AnyLogic Company is a multinational team operating from the US and Europe with a global network of partners. We design, develop and market software for business applications.
Our flagship product, AnyLogic Simulation Software, is the standard in multimethod modeling technology which equates to increased efficiency and less risk when tackling complex business challenges. This unmatched flexibility is found in all AnyLogic products allowing users to capture the complexity of virtually any system, at any level of detail, and gain a deeper insight into interdependent processes inside and around an organization.
We enjoy developing best in class technologies to help our customers and partners to solve the business problems they are facing. AnyLogic products are utilized world-wide in thousands of commercial organizations and academic institutions, and in over 40% of Fortune 100 Companies.