Description
This is a 3-day course based on AnyLogic's official training material and is delivered by AnyLogic's UK distributor DSE Consulting. The course is suitable for individuals from industry and academia who want to gain a strong foundation in simulation and AnyLogic. The course features the three main modelling paradigms and concludes with a one-to-one mentoring session to support your modelling needs.
This training follows the AnyLogic Simulation for Business seminar.
Aims
This is a hands-on course, blending conceptual understanding and simulation development via a series of models we construct from scratch. These aim to cover most of AnyLogic's capabilities in a cumulative way, and use the three main modelling paradigms that AnyLogic supports:
discrete-event simulation (DES, also known as process modelling),

system dynamics (SD),

and agent-based modelling (ABM).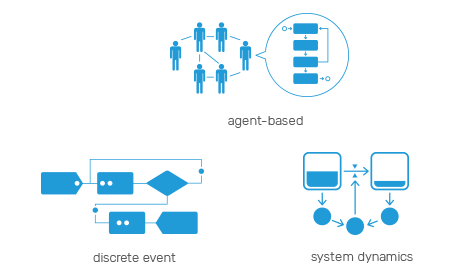 Later in the course, you can also steer your own learning by selectively exploring the use of specialised features relevant to you, including AnyLogic's domain-specific libraries:
pedestrian modelling;

fluid flow;

materials handling;

road traffic;

rail networks.
In particular, there are many AnyLogic concepts and techniques relevant to any simulation you build, and we place a lot of emphasis on understanding this core set.
The course aims to
give you a solid base from which to move forwards with AnyLogic;

provide a good understanding of its architecture and capabilities (including AnyLogic as an extensible, Java-based, platform, and a basic understanding of relevant Java);

give you practical experience using a wide variety of its features and libraries;

help you on your own next step with some 1-1 mentoring during day 3.
We also try to fold in some understanding of the modelling process and how to think about simulation design in AnyLogic, discussing various case studies. Our trainers are all veteran AnyLogic modellers and have all done extensive consultancy work using AnyLogic, giving them lots of real-world experience and examples to help deepen understanding.
Who This is For
This course is appropriate for
newcomers to AnyLogic and simulation;

experienced simulation modellers who are relatively new to AnyLogic;

strategic/management staff wanting a deeper understanding of AnyLogic's capabilities and development 'style';

relatively experienced AnyLogic modellers who want to reinforce or refresh their understanding, especially if you are self-taught and/or your experience is on older versions of AnyLogic. (There have been fundamental changes to AnyLogic in AnyLogic 7 and AnyLogic 8.)
Modellers very experienced with other products and simulation have found this course useful, since AnyLogic has a fairly unique conceptual base in order to seamlessly combine the three modelling paradigms (and its flexibility as an extensible, Java-based, platform opens up lots of interesting ways to do things).
Costs
The standard costs are shown in Eventbrite. This training is free when bundled with a purchase of an AnyLogic Professional license; alternatively, your fee is refunded if you purchase AnyLogic Professional up to 30 days after attending this course. Please get in touch with us via anylogic@dseconsulting.co.uk if you have any questions about purchase options.
What You'll Cover
The timing is flexible and will be steered according to each particular group.
Day 1: Fundamentals (via DES & ABM)
Introduction to simulation and AnyLogic.

Model and experiment fundamentals via a very simple process model.

Process modelling (DES) via a call centre model.

Agent-based modelling (ABM) and multi-run experiments via calibration of a disease spread model.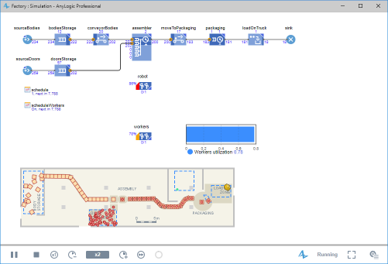 Day 2: Getting a Wider Picture
Java basics for AnyLogic.

A more advanced ABM of a supply chain using spatiality, GIS and data-driven model configuration (via Excel and the AnyLogic database).
A wider view of AnyLogic's architecture, deployment options and AnyLogic Cloud including an overview of system dynamics (SD) and other typically-used advanced features.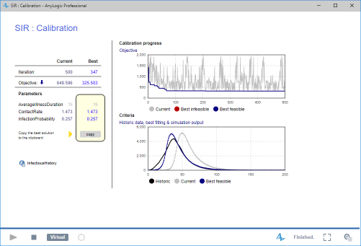 Day 3: Domain-Specific Libraries & Exploration
Pedestrian modelling of an airport, including 3D animation and integration with non-pedestrian ABM.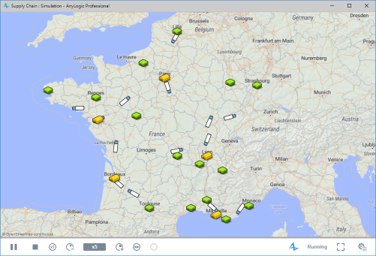 Attendee-led exploration/development of models:

solar panel production line using the Material Handling library;

road traffic in Rome's Piazza del Colosseo;

a fluid flow and rail network hybrid model of an oil refinery;

rail network model of a hump yard;

process model of a call centre (as a 'from scratch' problem without step-by-step instructions);

working on your own model or suggested extensions to previous models.
Mentoring sessions with the trainer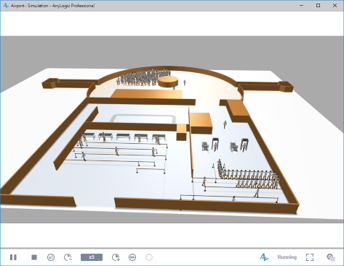 Materials Provided
Printed notes for the core course.

Electronic notes for the core course and the optional modelling exercises.

Completed versions of all models (including per-phase versions so you can start at / see a particular step).
Pre-Requisites
You'll need a laptop with the latest version of AnyLogic installed. If you don't yet have an AnyLogic license, you can use the free Personal Learning Edition (PLE) or (better) get a 60-day evaluation license for the Professional edition. Please note that if you use the PLE version, you will not be able to complete a very small proportion of the exercises.
A mouse is strongly recommended, since using AnyLogic with a trackpad is very fiddly.
We don't require any previous AnyLogic or Java programming experience, but the following are useful preparation before the course if you want to start from a higher base:
Work through a couple of phases of an AnyLogic tutorial (look at the Tutorials section in the help or online at https://help.anylogic.com). We recommend the Job Shop or Wind Turbine Maintenance ones.

Read through Oracle's official tutorials on fundamental concepts in Java and object-oriented programming (most of which we'll see are directly relevant in AnyLogic): the Object-Oriented Programming Concepts and Language Basics topics at https://docs.oracle.com/javase/tutorial/java/index.html.
The Venue & Facilities
The training is held at Millenium Point in Birmingham, UK. This is a fantastic modern venue with easy access by train or tram.
Lunches and tea/coffee are provided as part of the course.
The Trainer
Stuart Rossiter has extensive simulation experience (especially agent-based modelling) in both commercial and academic contexts. He has been one of the main UK trainers for AnyLogic over the last 5 years, teaching both general introductions and bespoke courses on specifics.
His academic work consists of agent-based simulation (of electricity markets), multi-paradigm simulation (of health and social care in an ageing population using AnyLogic) and more methodological studies on ways to understand how to design and develop simulations – spanning computer science, operational research (OR) and social science disciplines.
Commercially, he has worked for the OR/analytics consultancy, decisionLab, where he has developed large-scale simulations for domains including aerospace and power generation. He also does technical sales support and training for the AnyLogic simulation product for DSE Consulting. Prior to his simulation work, he worked in IT for over 15 years as a software developer and architect where he developed a strong knowledge of Java, which underpins AnyLogic, as well as software development best-practices and how they can be applied to simulation development.