AnyLogic In-Depth. An advanced course in the most advanced simulation soft...
Description
3 Days of advanced AnyLogic training for the discerning modeler!
This is designed as a followup course for those having completed the AnyLogic Fundamentals training or the equivalent in practical experience with the software.
There are no explicit pre-requisites but please contact us if you are unsure of your AnyLogic experience -- we may have some alternatives for you.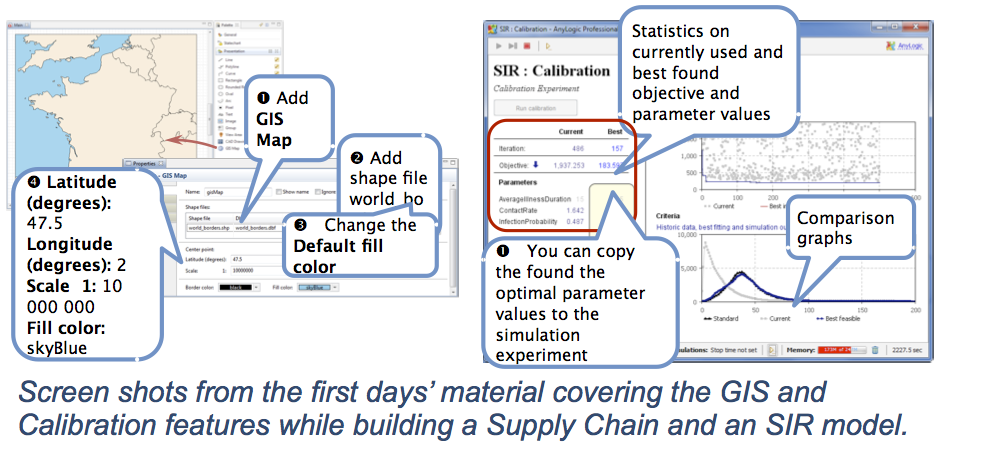 The format of the course follows our usual approach to learning - by- building models with lectures as a supplement and with a high trainer/student ratio. In this course the models are independent of each other and have been selected as good illustrations of the most requested topics.
The instructor:
Scott Hebert, Simulation Consultant at AnyLogic North America
Prerequisites. Some previous programming or modeling experience would be helpful, but is not necessary. Bring your laptops w/ AnyLogic or we can provide a trial version. A mouse is suggested.
An offer you can't refuse! To make your choice easy we have priced our training at an incredible value. You can self-register and pay here on the Eventbrite site and don't forget to take advantage of the early registration discounts.
The course fee includes all training, a 200 page training manual, private consulting sessions, morning and afternoon coffee breaks. Meals and accommodations are the trainees responsibility.
The Course Syllabus
The Supply Chain Model Exercise
Learn about agents living and moving in GIS space
Learn to read/write data from Excel
Combining agents and entities
Fixing runtime rrrors using Console
Using AnyLogic debug tools
The SIR Model Exercise
Learn how to calibrate a model
The Windmill Turbines Maintenance Model
Learn how to set parameter values from simulation page
Optimizing your model using OptQuest optimizer engine
The Railroad Crossing Exercise
Learn to use the Road Traffic Library
Learn to use the Rail Library
Detecting memory leaks using an external profiler
The Airport Model Exercise
Learn to use the Pederstrian Library
Reading data from MS Access
Feeding a model with data from a database using the Query object
Creating active objects with flowchart segments inside
Learn how to create your own custom libraries
Saving/restoring model snapshots
Calling external programs from the model
Learn how to create multiple presentation windows
We will be distributing a training and exercise book covering all this material.
In addition to the training material itself the trainers will be available for private work on your current projects.
Attendees will receive the coveted AnyLogic t-shirt! Their co-workers will be so jealous.
Lodging:
There are 2 reasonably priced hotels right in the area of the AnyLogic New Jersy Office.
Hampton Inn Clinton:
http://hamptoninn3.hilton.com/en/hotels/new-jersey/hampton-inn-clinton-CLNNJHX/index.html
Holiday Inn Clinton:
http://www.ihg.com/holidayinn/hotels/us/en/clinton/connj/hoteldetail?cm_mmc=mdpr-_-GoogleMaps-_-hi-_-connj