AnyLogic Fundamentals Training Course - Orlando, FL

Monday, February 25, 2013 at 9:00 AM

-

Wednesday, February 27, 2013 at 5:00 PM (EST)
Event Details
 Become expert in advanced multi-paradigm modeling
AnyLogic training is a full three days immersion in problem solving and modeling.
Our training focuses on problem solving rather than theory. You are guided through structuring a simulation problem, knowing which modeling paradigm to select, building models in each paradigm, and finally connecting them into a larger hybrid model. You will also learn to build models in 3D, and be introduced to our very powerful drag/drop libraries.
The training is geared to both the new users looking to vault past the learning curve and the experienced modelers who may not be aware of all AnyLogic's features. And during the training you always have a chance to get free professional assistance with your own AnyLogic projects and tips on solving your modeling challenges.
Prerequisites. Some previous programming or modeling experience would be helpful, but is not necessary.  Bring your laptops w/ AnyLogic or we can provide a trial version. A mouse is suggested.
An offer you can't refuse!  To make your choice easy we have priced our training at an incredible value. You can self-register and pay here on the Eventbrite site and don't forget to take advantage of the early registration discounts.
The instructor: 
Scott Hebert, Simulation Consultant at AnyLogic North America
The course fee includes all training, a 250 page training manual, private consulting sessions, morning and afternoon coffee breaks.  Meals and accommodations are the trainees responsibility.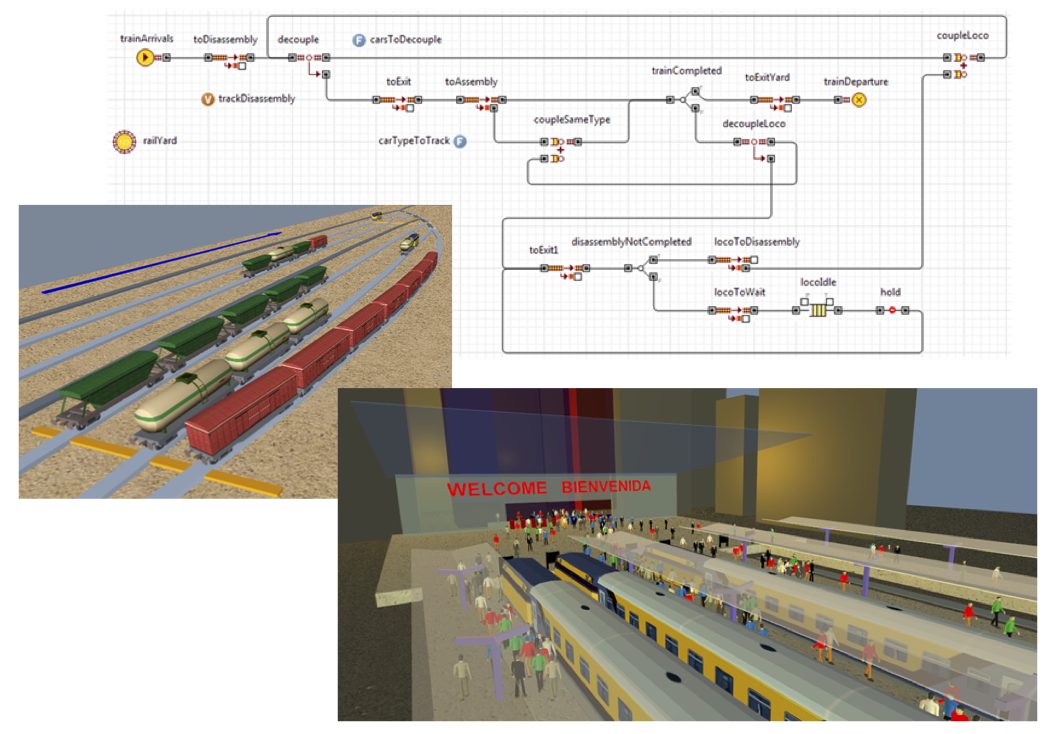 AnyLogic, the Training Class Agenda
Day One
Multi-method simulation modeling classwork and demo
Getting familiar with AnyLogic model development environment – demo
Discrete Event modeling

 

– 

theory

Factory model – Discrete Event exercise
Call Center - self-paced Discrete Event exercise
Day Two
Network-Based modeling – theory
Retailer model – Discrete Event / Network-Based exercise
Java basics for AnyLogic modelers – classwork
Supply chain model (Combining Factory and Retailer) – exercise
Agent Based modeling

– 

theory
Consumer Market model – AB exercise
Day Three
Combining Supply Chain and Market models: AB + DE exercise
System Dynamics

 

– 

theory

Bass Diffusion – SD exercise
Q&A and consulting for your models
AnyLogic, the multi-paradigm tool 
Our customers find that it is far easier, and cheaper, to conduct simulation experiments than real ones!  AnyLogic is the only tool that supports all the most common simulation methodologies in place today: discrete event, system dynamics, and agent based modeling. The unique flexibility of the modeling language enables the user to capture the complexity and heterogeneity of business,economic and social systems to any desired level of detail. AnyLogic's graphical interface, tools, and library objects allow you to quickly model diverse areas such as manufacturing and logistics, business processes, human resources, consumer or patient behavior. AnyLogic's object-oriented design enables the modular, hierarchical, and incremental construction of large models. 
AnyLogic 6 is based on the innovative and flexible Eclipse framework. The Eclipse framework allows AnyLogic to run on all the popular OS's (Windows, Mac, & Linux) with the same native look and feel.
When & Where

Grand Bohemian Hotel
(407) 313-9000
325 S. Orange Ave
Orlando, 32801


Monday, February 25, 2013 at 9:00 AM

-

Wednesday, February 27, 2013 at 5:00 PM (EST)
Add to my calendar
Organizer
AnyLogic North America
AnyLogic is the only simulation tool that supports Discrete Event, Agent Based, and System Dynamics Simulation. Our multi method simulation software provides solutions to complex challenges to many Fortune 500 companies face.
☛ AnyLogic - the first and only tool that brings together System Dynamics, Process-centric (Discrete Event), and Agent Based methods within one modeling language and one model development environment.

Why AnyLogic simulation software?

☛ Reduce development cost and time
☑ Significantly speeds up the development process
☑ Quickly incorporate pre-built simulation elements
☑ Reusability through fully object oriented structure
☑ Easy to convert from other widely used IDEs
☑ Pre-built object libraries show how the experts did it!

☛ Develop more models with one tool
☑ Develop agent-based, system dynamics, discrete-event, continuous and dynamic system models, in any combination, with one tool
☑ Seamless integration of discrete & continuous simulations
☑ Java environment supports limitless extensibility including custom Java code, external libraries, and external data sources
☑ An extensive statistical distribution function set provides an excellent platform for simulating the uncertainty inherent in all systems
☑ A powerful experimental framework, built-in support for Monte Carlo simulations and advanced forms of optimization support a wide variety of simulation approaches

☛ Improve the visual impact of your models
☑ Animation functions allow the development of visually rich, interactive simulation environments
☑ Automatic applet creation allows users to quickly build simulations that can be broadly disseminated

☛ Run models anywhere
☑ Java environment supports Windows, Mac and Linux
☑ You don't need a runtime license — one click & you generate a Java applet that allows users to run a model anywhere
☑ An AnyLogic model is completely separable from the development environment and can be exported as a standalone Java application

☛ Excellent Support and Consulting Services
☑ Unlimited detailed support to hard modeling questions
☑ Services range from training to model development 
We understand the importance of technology and innovation. 
This is why our software is modeled for your business needs. 
o AnyLogic's visual development environment speeds up the process to provide a combination of solutions to complex challenges 
o Our team of technical consultants, business, and marketing professionals is here to assist you 
AnyLogic North America, LLC.
20 N Wacker Dr. Suite 2044 
AnyLogic Fundamentals Training Course - Orlando, FL