AnyLogic Fundamentals Training Course featuring AnyLogic 7 - Jacksonville, FL

Tuesday, April 29, 2014 at 8:30 AM

-

Thursday, May 1, 2014 at 5:00 PM (CDT)
Event Details
Gain knowledge in multimethod modeling
AnyLogic Fundamental training is a full three-day immersive experience in problem-solving and modeling using AnyLogic 7.
Our training focuses on solving problems rather than theory. You are guided through structuring a simulation problem, knowing which modeling paradigms to select, building models in each paradigm, and finally connecting them into a larger hybrid model. This includes building models in 3D, using special wizards and our extensive drag & drop library.
The training is geared to both new users looking to vault past the learning curve and the experienced modelers who may not be aware of all AnyLogic's features. Professional assistance in solving your business problem using AnyLogic 7 software is included in the training. Be prepared to share your specific simulation needs with your AnyLogic trainer –- bringing your own models is encouraged!
Prerequisites: 
1. Attendee Questionnaire (must be filled out prior to attendance)
Click%20here%20to%20take%20survey">
2. Previous modeling experience would be helpful, but is not necessary. 
3. Bring your laptops with the AnyLogic 7 software installed (downloadable from www.anylogic.com).
4. A mouse is highly recommended (makes model building much easier).
An offer you can't refuse!:  To make your choice easier we have priced our training at an incredible value. You can self-register and pay here on the Eventbrite site.
The instructor: Brian Wasson, Sales Engineer at AnyLogic North America
Course fee includes: 3-day training, a 250-page training manual/course book, consulting opportunities, networking, breakfast and lunch (breakfast at 8:30am, lunch at 12:30pm)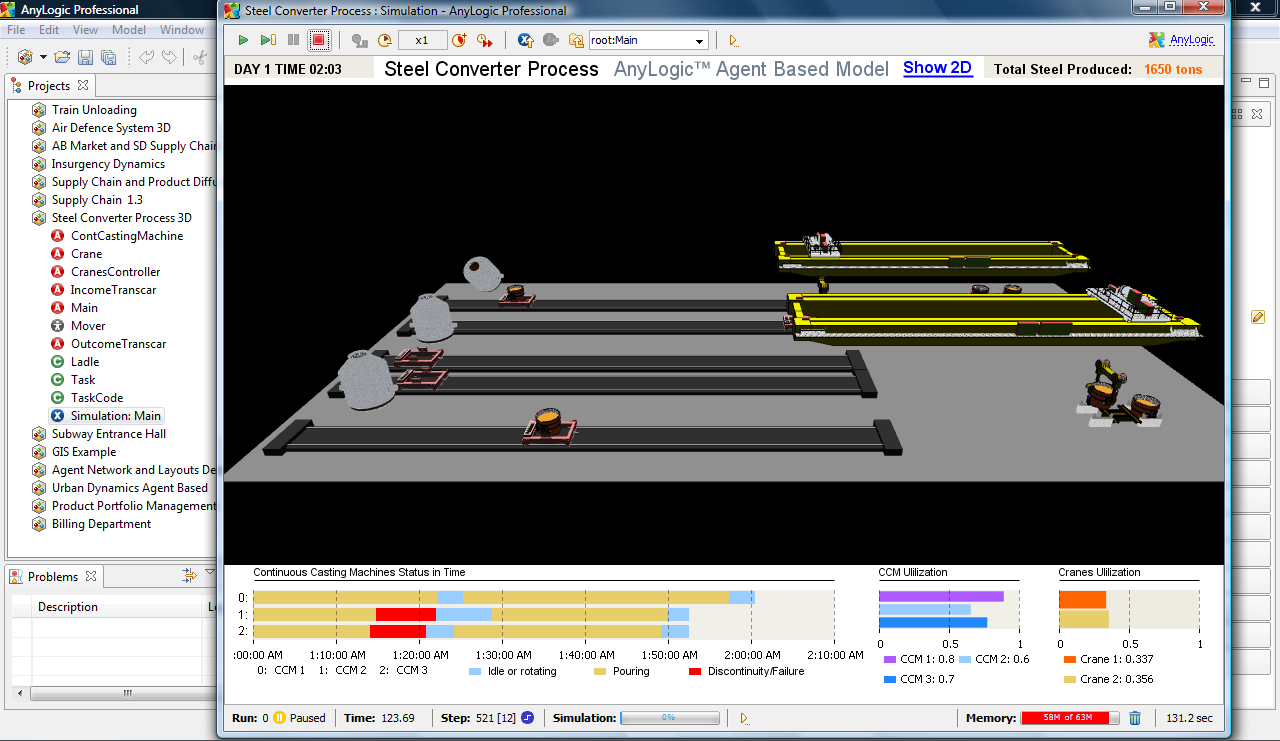 AnyLogic, Fundamentals Agenda
Day One (Breakfast at 8:30am, Lunch at 12:30pm)
Introduction to multimethod simulation modeling – theory and demo

Getting familiar with AnyLogic model development environment – demo

Discrete Event (Process-Centric) modeling – theory

Factory model – Discrete Event exercise

System Dynamics – theory

Bass Diffusion model – System Dynamics exercise
Day Two (Breakfast at 8:30am, Lunch at 12:30pm)
Agent Based modeling - theory

SIR Model. Calibration

Java basics for AnyLogic modelers – theory

Windmill turbines maintenance model. Optimization

Supply Chain GIS model – exercis
Day Three (Breakfast at 8:30am, Lunch at 12:30pm)
Pedestrian modeling – theory

Small airport model – exercise

Call Center model - self-paced Discrete Event exercise

Hump Yard – rail model

Questions & Answers
AnyLogic 7, the only multi-method tool on the market!
Our customers find it is far easier - and more economical - to conduct AnyLogic simulation experiments than to use traditional decision-making and forecasting.  AnyLogic is the only tool that supports all three simulation methodologies in place today: discrete event, system dynamics, and agent based modeling. The unique flexibility of the modeling language enables the user to capture the complexity and heterogeneity of business, economic and social systems to any desired level of detail. AnyLogic's graphical interface, tools, and library objects allow you to quickly model diverse areas such as manufacturing and logistics, business processes, human resources planning, consumer or market behavior, and healthcare. AnyLogic's object-oriented design enables the modular, hierarchical, and incremental construction of large models. 
AnyLogic 7 is based on the innovative and flexible Eclipse framework. The Eclipse framework allows AnyLogic to run on all the popular OS's (Windows, Mac, & Linux) with the same native look and feel.
Travel Details:
The best place to fly in is Jacksonville International Airport (JAX), 2400 Yankee Clipper Dr, Jacksonville, FL 32218. A taxi cab ride from the O'Hare airport to the hotels will be approximately $35.00.
Lodging:  
There are 3 reasonably priced hotels, near the training location.
Hyatt Regency Jacksonville Riverfront
Crown Plaza Jacksonville Riverfront
Parking:
Parking is not available in the CSX lot, but is available very close Bay St. The 3 hotels suggested above are .2-.8 miles from the training location.
Additional Information:
Food allergies or requirements, email rene@anylogic.com.
Please bring your laptop and mouse.
An internet connection is NOT required for training.
Attire is Business Casual.
When & Where

CSX: Room Acosta C
500 Water St.
J315
Jacksonville, FL 32217


Tuesday, April 29, 2014 at 8:30 AM

-

Thursday, May 1, 2014 at 5:00 PM (CDT)
Add to my calendar
Organizer
The AnyLogic Company
The AnyLogic Company is a multinational team operating from the US and Europe with a global network of partners. We design, develop and market software for business applications.
Our flagship product, AnyLogic Simulation Software, is the standard in multimethod modeling technology which equates to increased efficiency and less risk when tackling complex business challenges. This unmatched flexibility is found in all AnyLogic products allowing users to capture the complexity of virtually any system, at any level of detail, and gain a deeper insight into interdependent processes inside and around an organization.
We enjoy developing best in class technologies to help our customers and partners to solve the business problems they are facing. AnyLogic products are utilized world-wide in thousands of commercial organizations and academic institutions, and in over 40% of Fortune 100 Companies.
AnyLogic Fundamentals Training Course featuring AnyLogic 7 - Jacksonville, FL