Description
What:
ANXO, DC's first cidery and pintxos bar opening in Truxton Circle in late 2015, presents diners with a taste of what's to come at ANXO Sighting No. 2,
a four-course dinner event at Boundary Road
on
Monday, August 17th, 2015
. This follows July's first ANXO Sighting event
at the Dolcezza Gelato Factory, which sold out in less than two days.
ANXO is the child of five founders: Managing Partners
Sam Fitz
and
Rachel Fitz,
Executive
Chef Brad Walker, Beverage Manager Tim Prendergast and Cooper Sheehan.
The team focuses on strong relationships with its cidermakers, both locally and internationally, yielding a highly curated selection of cider.
Its also home to DC's first recipients of the Certified Cicerone® title
(Fitz and
Prendergast
), and the fermentation process of ANXO's house-made cider will result in an incredibly unique Mid-Atlantic cider. Executive Chef
Brad Walker
(of Boundary Road) "
will honor the Basque culinary traditions of honesty, simplicity, and quality by showcasing local producers' best efforts." Chef Walker will be joined in the kitchen by Barcelona-born local chef Alex Vallcorba, currently at Obelisk and formerly at Asador Etxebarri, San Pellegrino's No. 13 restaurant in the world.
The night will begin with a pintxos hour with assorted fare such as Gilda (olive, guindilla pepper and anchovy) and Peperonata, all offered with a welcome cocktail and unlimited Basque and Austurian cider pours.
The four-course family-style menu features items such as Mixed Lamb Barbecue with Sausages and Charred Greens, and Olive Oil Poached Lobster Mushroom with Great Northern Beans. Each course is paired with a different beverage. As ANXO works with local farmers, fishermen, ranchers and of course mother nature, all ingredients are subject to availability and reality.
When:
Monday, August 17th, 2015
7:00 p.m.
- Pintxos Hour
Where:
Boundary Road
414 H Street NE, Washington DC 20002
Details:
Tickets will go on sale on
Thursday, August 6th at noon
. They are $85 per person, all-inclusive of all food, beverage, tax and tip. Reservations are limited and must be made here.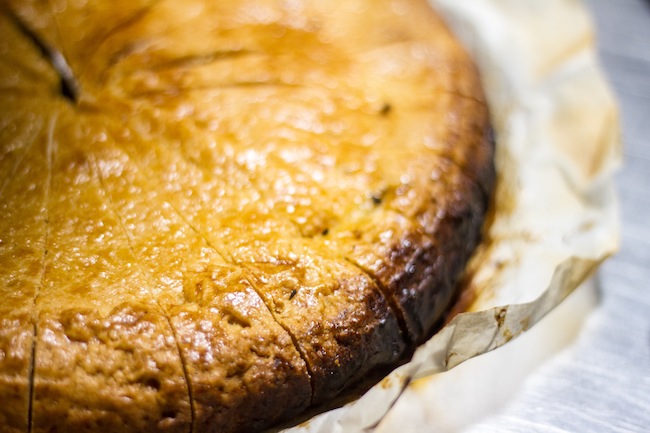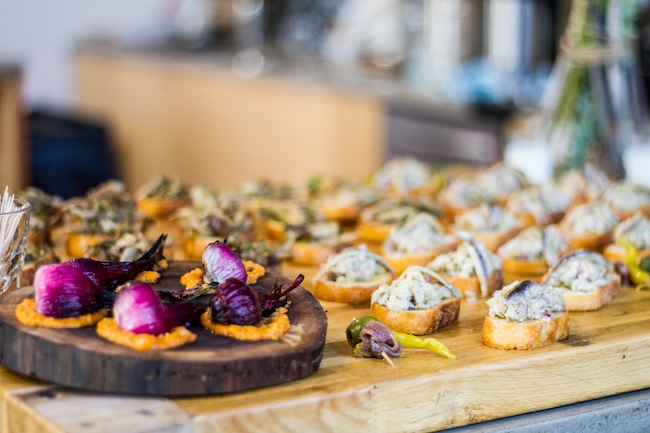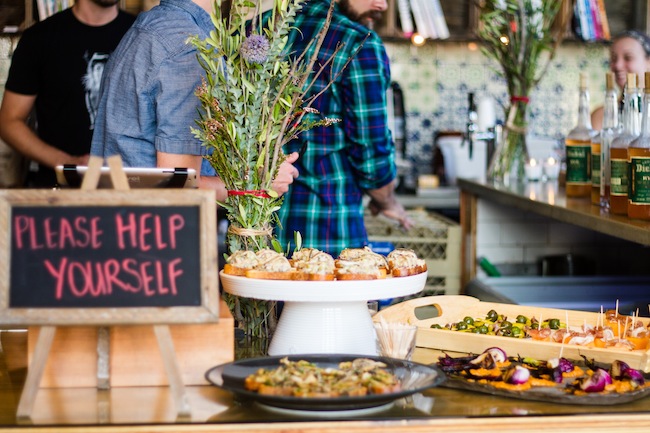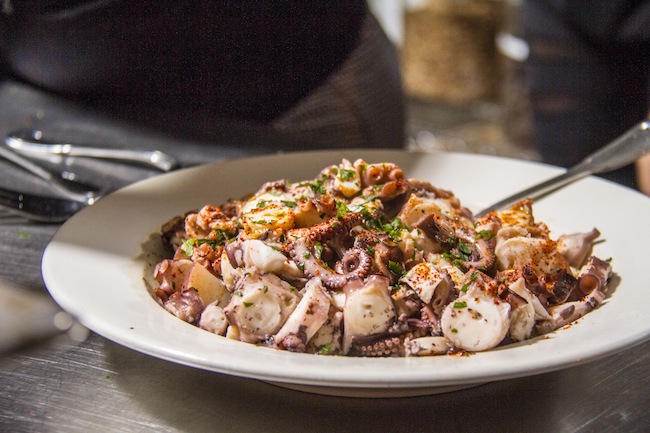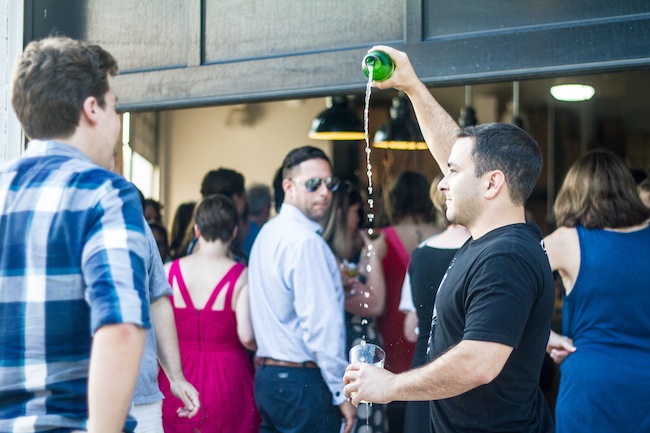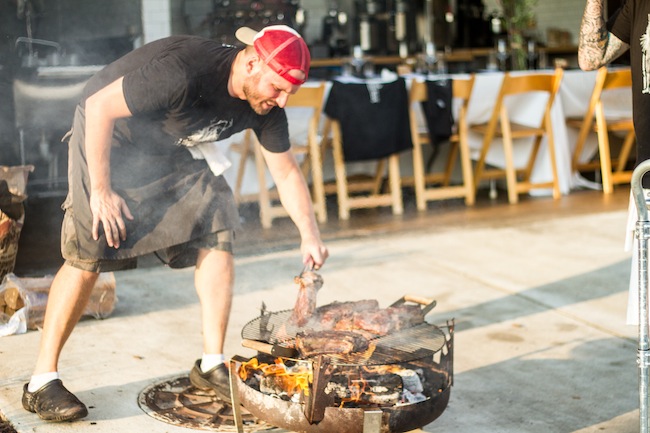 Organizer of ANXO Sighting Cider Pairing Dinner #2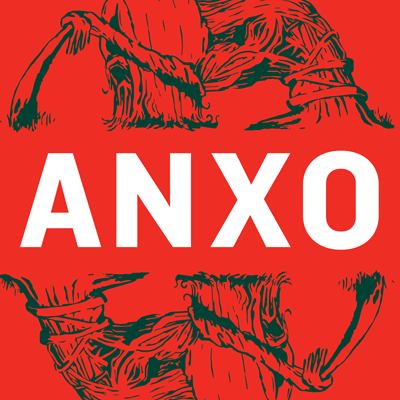 www.ANXOdc.com v @ANXOcider
ANXO Cidery & Pintxos Bar aims to reinvigorate interest in traditional cider, one of the Mid-Atlantic's oldest drinks. A focus on close relationships with local and international cidermakers is central to the ANXO mission, and will enable ANXO to maintain an unparalleled and highly curated selection of cider. ANXO will produce its own cider on-premises with the help of renowned cider-maker Kyle Sherrer of Millstone Cellars. Natural fermentation in oak barrels and a focus on heirloom apple varieties native to the Mid-Atlantic will lead to a limited product that is notably different from the vast offerings ANXO will present from around the world. 
ANXO will honor the Basque culinary traditions of honesty, simplicity, and quality by showcasing local producers' best efforts. The menu will feature pintxos (Basque small bites made to be eaten with cider) as well as heartier dishes one might find at a Basque ciderhouse. In addition to serving house-made cider, ANXO will have an ambitious beverage program featuring more than 20 ciders on draft poured through a custom-built draft system designed to showcase cider as the producers intended. The extensive beverage program will have an additional 20 draft lines dedicated to beer and cocktails, as well as a tightly focused wine program highlighting the lesser-known wines of the Basque Country and surrounding areas.
The Founders:
Sam Fitz (General Manager, Managing Partner) moved to DC in 2006 shortly after graduating from Washington University in St. Louis with a BA in Economics and Psychology. He has spent his time in the District working for the best beer programs, including opening Churchkey and serving as Beverage Director at Meridian Pint, Smoke & Barrel, and Pizzeria Paradiso. He is DC's first Certified Cicerone®.
Rachel Fitz (Managing Partner) graduated from Washington University in St. Louis with a BA in Psychology. She earned her Masters in Social Work from the George Warren Brown School of Social Work, and spent a year working abroad before becoming the Assistant General Manager of Meridian Pint. Rachel is currently working towards her Masters in Public Health at George Washington University.
Brad Walker (Executive Chef) began working in restaurants at the age of 15, at an all-one-cares-to-eat crab establishment. Despite too much higher education, Walker went pro in restaurants over a decade ago. Working through some of DC's best kitchens such as Central, Proof, Cashion's, and Fiola, he opened Boundary Road in early 2012. Dedicated to honest cooking, excellent ingredients, and respectful execution, the Basque cooking tradition is an exciting and natural fit for him. He is looking forward to this unique project.
Tim Prendergast (Beverage Director) began his restaurant career at Meridian Pint in 2011, overseeing the beer program with Sam Fitz. That year he became the second Certified Cicerone® in DC. Since then, he has been honing his craft in the beverage industry at Smoke & Barrel, wine distributor Kysela Pere Et Fils, Boundary Road, and co-founded Caustic Solutions, a draft installation and beverage consulting company. He is excited at the prospect of helping to revive the once lost cider culture of the Mid-Atlantic.
Cooper Sheehan (Bar Manager) graduated from Washington University in St. Louis with a BA in History and minor in Architecture. After several years in various positions at Meridian Pint, Sheehan became the Beverage Director at The Big Stick, in DC's Navy Yard. Along with an unbridled enthusiasm for rare beer and cider, Sheehan contributes a keen sense for design.