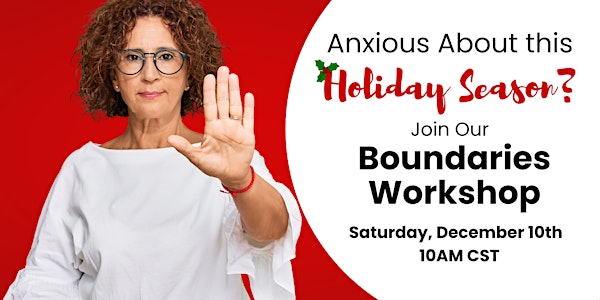 Anxious About the Holidays? Boundaries Workshop
3 -hour workshop for women all about setting & holding boundaries especially around the holidays. Leave with skills you can practice & use!
Refund Policy
Refunds up to 1 day before event
Eventbrite's fee is nonrefundable.
About this event
Boundaries are a challenge for most people in their daily life. During the holidays, lack of boundaries can make your life way more difficult.
Anxious about spending time with your family and friends, especially around the holidays?
Tired of trying to please everyone during the holidays?
Already exhausted and everyone expects you to take care of them for the holidays?
Dreading family members asking personal questions like "Are you dating anyone?" or "Why haven't you quit your job yet?".
SETTING AND HOLDING BOUNDARIES ARE SKILLS YOU CAN LEARN!
This online workshop is designed for women who are tired of saying "yes" when you want to say "no" especially during the holidays and/or have to do everything perfect.
YOU WILL LEARN:
What boundaries are and the difference between boundaries and demands
How to make "Complete Requests" and train the people in your life to help you so you get the support you need.
How to recognize and begin to manage your energy and emotions so you show up in a way that creates meaningful memories instead of regretful interactions
Simple techniques you can do in minutes so that you don't lose your cool in challenging holiday conversations
From KG, 56, college professor: "I visited my brother and sister soon after learning about boundaries with Marilyn. They have a long-standing fight, so I had to see them separately. When they wanted to complain about the other, I said, "I love you both and don't want to discuss anything negative about either of you." They each honored my boundary and it's the first time in years that I had a great visit with each of them."
DATE: DECEMBER 10, 2022
TIME: 10am - 1pm Central Time
Online video training on Zoom. If you can't attend, you get the replay!
Leave this workshop with knowledge of skills and tools you can immediately apply to create deeper connections with the people you care about this holiday season!
From BJ, 58, Business Consultant: I don't like discussing politics with my husband and he teases me by praising the politicians I don't like. He thinks it's funny, but it hurts my feelings. After Boundaries training, instead of complaining, I shared with him why it hurt me and now he hasn't teased me in several weeks. I'm grateful I learned how to share what I wanted respectfully so he heard me, and now we are being more loving to each other."
FACILITATOR: Marilyn Sutherland, Relationship and Communication Coach
She helps women create deeper connections with the people they care about the most. She does this by guiding them through an approach that is part mind, heart, and body, and includes practical skills anyone can use to create the kinds of relationships they dream about. Her commitment is to have her clients have the confidence and skills to show up as their true, authentic selves, and have the love and deep connections they deserve. She creates a safe space, is passionate about her work, and fun to be with.
Current Credentials: M.S. in Organizational Development. Certified Sourced Leader Coach. Trained as Presence-Based Coach. Completed Management in Action 1-year program.
Prior Credentials: Certified Professional in Human Resources. Business Coach and Consultant for over 25 years including IBM, Accenture, and Noah Consulting. Certified as a Personal Transformational Seminar Leader for 12 years for an international educational company.