Anton is a prizewinner at many international piano competitions including the Moscow International Competition for Young Musicians & others
About this event
Date & Time: Saturday November 6 2021, 7:30 p.m.
Venue: Incarnation Episcopal Church, 1750 29th Avenue, San Francisco
Tickets: $25 General, $20 Seniors/Students
Health and Safety
In accordance with health and safety guidelines from the City and County of San Francisco, a face covering is required for all concerts at Incarnation Episcopal church and must be worn at all times. Face masks must completely cover nose and mouth and have ear loops or similar to hold in place. Gaiters and bandanas are not acceptable.
In addition, proof of vaccination is required to attend the concert. Please bring a copy of your vaccination (either a paper copy or digital copy) for admittance into the venue. Children under 12 are exempted from the vaccination requirement. Please click here for full details.
Program
D.Scarlatti Sonata in D minor, L.366, Sonata in F minor, K. 466
W. Mozart Sonata in F Major, K. 332:
F. Chopin Ballade No.1 in G Minor, op.23
J. Brahms Intermezzo in A Major, op.118
S.Rachmaninov Prelude in C-Sharp minor, Op.3 no. 2
N. Kapustin Sonata-Fantasia op.39 in D minor
About the Artist
Anton Smirnov began his piano studies at age of seven in Novosibirsk, Russia. After graduating from Novosibirsk State Conservatory with a Bachelor's Degree, Anton came to the United States in 2006 to further his education. Anton has received his Artist Diploma from the Oberlin Conservatory with Sedmara Z. Rutstein and Peter Takacs as his piano teachers; Professional Studies Certificate at The Colburn School in Los Angeles, CA with John Perry. Mr. Smirnov received his Master's Degree from Yale University in 2015 with help of Boris Berman and Hung Kuan Chen as his primary piano professors.
As a student, he was honored by the Russian government with several special talent scholarships. He has made more than 1000 public performances worldwide at venues that include Carnegie Hall, Lincoln Center's Avery Fischer Hall, Walt Disney Hall, and Metropolitan Museum of Art.
Anton is a prizewinner at many international piano competitions including the Moscow International Competition for Young Musicians, International Russian Music Piano Competition in San-Jose, CA, Oberlin Concerto Competition, Corpus Christi International Concerto Competition, Louisiana International Piano Competition, the NTD International Piano Competition in New York, and many others. He has performed as a soloist with various orchestras including the Novosibirsk Philharmonic Orchestra, Tomsk Philharmonic Orchestra, San Jose Symphony and The Oberlin Orchestra.
Anton is a prominent chamber musician: he performed with members of Quatuor Ebene; Edgar Meyer, Alexander Buzlov, Evgeny Tonkha, Antonio Lysy, Boris Allakhverdyan, Simone Porter, and many others.
Anton has participated in many international music festivals including "International Program New Names" in Moscow and St. Petersburg, Vladimir Spivakov International Festival, Cassalmaggiore International Music Festival in Italy, Banff Master Classes in Canada, and Sarasota International Festival. Anton is a member of the piano faculty at The Heifetz International Music Institute in Virginia. He participates in the "Heifetz on Tour" music series, touring with the finest young string players in the country.
Anton currently resides in Los Angeles, teaching and giving the lectures extensively.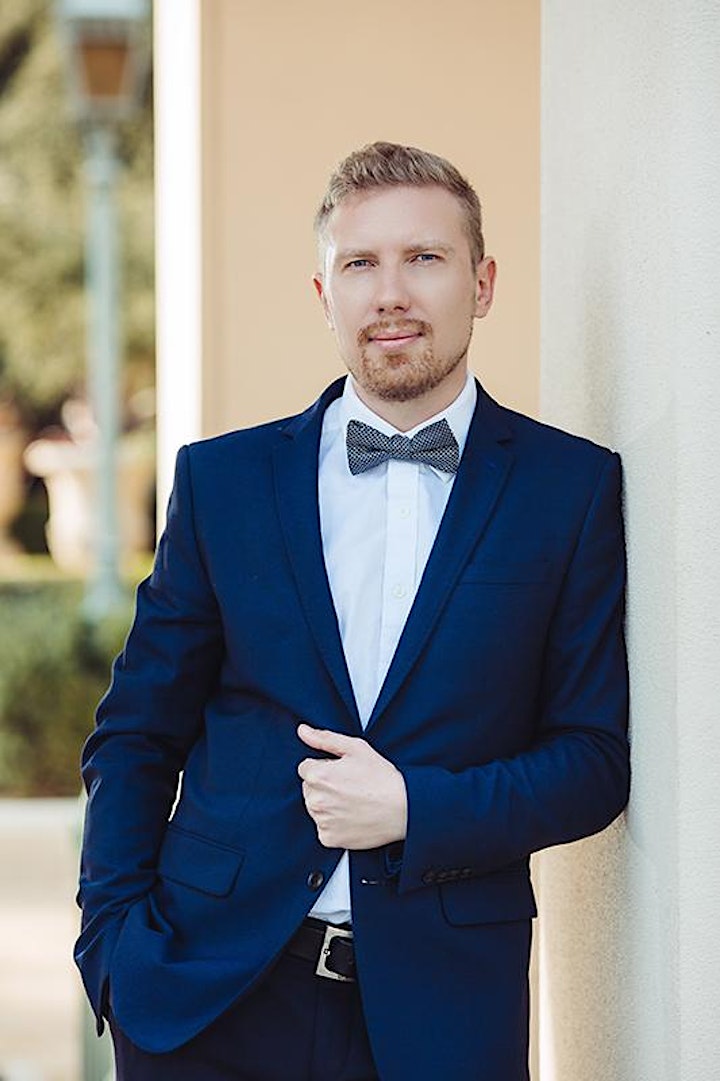 Organizer of Anton Smirnov, piano
The Episcopal Church of the Incarnation, San Francisco, is a welcoming, inclusive community where people come to be fed from the riches of God's love and grace. We live and share the Good News of Jesus Christ through worship, education, fellowship, pastoral care, and service to the world.
As a covenanted member of Oasis California, we commit ourselves to affirming lesbian, gay, bisexual, and transgender people and welcoming them into this Christian community.
The church is located in San Francisco's Sunset district, and worship services are normally offered in both English and Chinese. Our facility is wheelchair accessible, and assistive listening devices are available upon request.
We are a parish in the Diocese of California in the Episcopal Church, which, in turn, is a province of the worldwide Anglican Communion.
For more information visit http://www.incarnationsf.org/