Description
Anton and Ekaterina Daineko, iconographers from Minsk, Belarus, are coming to Jackson, NJ to offer a master class in icon painting and gilding. Anton and Ekaterina (http://www.ikona-skiniya.com), a married couple working together for over twenty years, they will provide intensive individualized instruction in the art and language of the icon. You are invited to witness Anton wirting the St. Nicholas Icon at: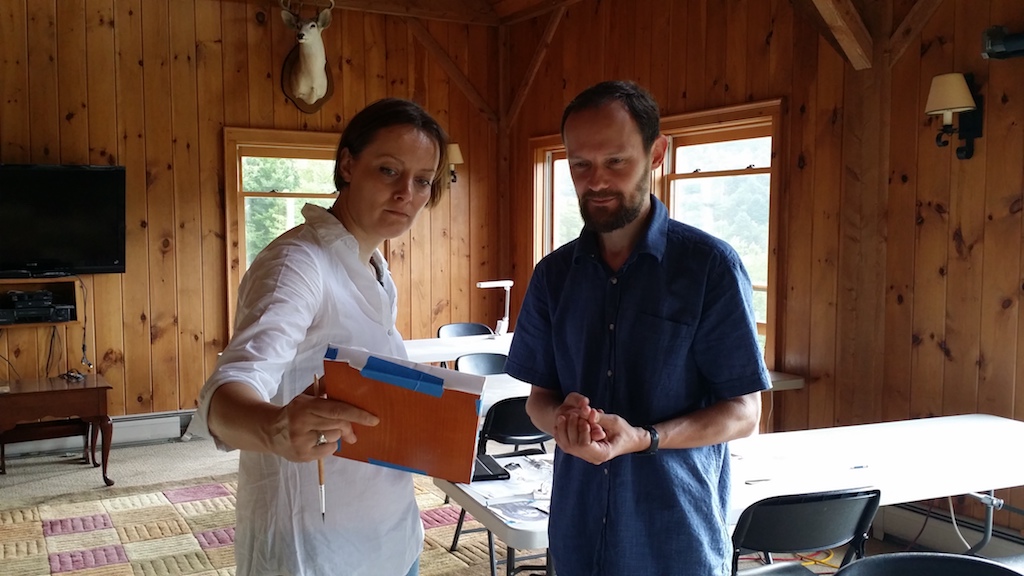 The course will be limited to only ten students who will work for ten days with two instructors, who will guide them step-by-step through the painting and gilding of an icon from beginning to end. The cost for the class is 940.00. Students who choose to do full gilding will pay an additional 50.00 directly to the instructors at the start of the workshop. Registration for the workshop requires a non-refundable deposit of 250.00. The class size is very limited, so early registration is encouraged to hold your place in the class. The balance will be due on or before June 5, 2017. NO PRIOR SKILL is necessary, both beginners and advanced students can benefit from the intensive and highly individualized instruction offered in the class.

Materials Provided: The finest old world handcrafted Gesso Boards will be provided as well as the finest natural pigments such as lazuritis and Cinabar are included.
Since brushes are tools that serve as an extension of the artists hand each should bring along their favorite brushes. If you do not have brushes the instructors will have some fine Russian Blue Squirrel brushes available for purchase for a nominal fee.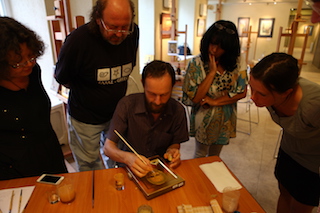 The main goal of the master-class is for students to acquire, develop and improve good, practical icon painting skills while gaining a deeper sense of the art, beauty and meaning of icons.
All aspects of making an icon will be covered in the class, including:
INDIVIDUAL MASTERY OF DETAILED FREEHAND DRAWING
GILDING THE ICON BACKGROUND
METHODS OF PREPARING EGG TEMPERA FROM MINERAL PIGMENTS
DIFFERENT TECHNIQUES FOR APPLYING LAYERS OF COLORS, CREATING SHADOWS AND HIGHLIGHTS
VARNISHING THE COMPLETED ICON
Please visit the website: www.ikona-skiniya.com for more class details.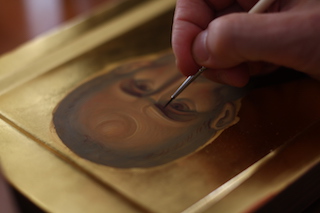 ***
Meals and lodging are up to each student to arrange as they choose.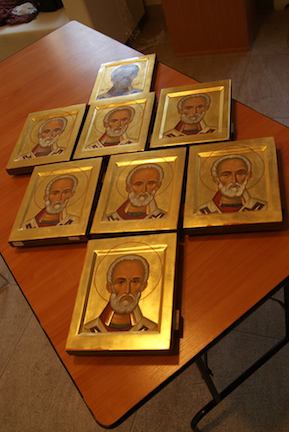 Reviews from Previous Workshop
"I recently attended the 10-day Icon Class in Vermont on July 24 through August 3, 2016. It was an experience of a lifetime. I have attended other classes like this, but there is no comparison. Anton's patience was amazing! Our icons were beautiful at the end of the workshop. This was by far a top-of-the-line workshop. I would recommend this class to everyone. if you want to end up with a soft looking, spiritual, beautiful icon." - Barbara Thornton
"The icon work shop with Ekaterina Daineko & Anton Daineko is a highly, advanced, educational experience, not to be taken lightly, with high quality materials, demonstrations of technique an artist longs for and can only be realized in a masters studio. While certainly not for the faint of heart, if your serious about learning the art of iconography this is the workshop for you." -Grace Zazzaro, USA
"Words cannot express my gratitude toward Anton and Kate for the incredible instructions and assistance given to me and fellow students during the 10 day workshop. Both of these beautiful people are Master Iconographers with a true gift of both painting and teaching. Both carry a sincere love for God and the art and their students. The knowledge I gained is priceless as was the honor and privelage of watching Anton and Kate paint - true Masters! Thank you so very much and may our Lord bless you and those who you touch with your gift! -Mary Veltrop (USA)

"I recently took a class with Anton and Ekaterina in Vermont. I was very happy with the quality of their instructions. Especially their discussion of beards, hair, and the "grape cluster" model of highlights and shadows/contours. Because icons are stylized, it is common for some iconographers to forget some basic artistic sensitivity. The Dainekos teach how to put the sensitivity they learned in classical art training into the icon. I am looking forward to practicing these new techniques at home. Thank you!!!" -Yvonne Anne Hajdu-Cronin (USA)
FAQs
Are there any limitations limit to attend the workshop?
Participants must be 18 years of age or older. Class size is limited to 10 students so the 2 instructors have intensified personal attention to each student. Students need only a desire to learn the ancient art of Icon painting. No prior skill or knowledge is necessary. The Workshop is open to those who have no prior experience and advanced students, all will learn something and all will go home with a beautiful sacred image. The Daineko's are not only highly skilled teachers but also very patient teachers.
What accomodations are available nearby?
Airbnb for Jackson, New Jersey. As close as across the street, varies.
Rental cabins-camping-or tenting at the following sites in Jackson: Tip Tam Camping Resort, LLC 732-363-4036; 3.3 Miles/7min. Butterfly Campiing Resort 732-928-2107; 4 miles/8min. Indian Rock 732-928-0034; 8.6miles/8min. Timberland Lakes Campground 732-928-0500; 13miles/19 min. In Freehold; Pine Cone 732-462-2230; 5.4 Miles/10min.
Hotels: In Howell -At 9 Motel 6 East 3rd Street, 732-370-4333; 4.2 miles/7min. In Freehold -Radison 50 Gibson Place, 732-780-3400; 10.6 miles/17min. In Toms River -Ramada Inn 2379 US Highway 9, 732-905-2626; 10.2 miles/19 min. In Lakewood -Hilton Garden Inn 1885 Route 70, 732-262-5232; 10.4 miles/25 min. In Hamilton -Hiton Garden Inn 800 US 130, 609-585-6789; 22.4 miles/24 min.
What are my transport/parking options getting to the event?
The Church has ample onsite parking. It is centrally located on the 195 Corridor. Access from the New Jersey Turnpike take 195 East, from the Garden State Parkway take 195 West. From the South Route 9 North, from the North take Route 9 South. Bus service from Newark and New York is via NJ Transit, exit at the Aldrich Road Bus Stop on Route 9 South. Train Service via Amtrack or NJ Transit into either Trenton Station or Hamilton Station (Hamilton is closer).
Airports are in order of closeness: Trenton-Mercer (25 min), Newark Liberty (1 hr), Atlantic City International (1hr) or Philadephia (1hr 20min).
What can/can't I bring to the event?
You can bring your family and make it a vacation! Jackson has one of the largest amusement parks; Six Flags Great Adventure complete with safari, waterpark and amusements. We have the Jackson Outlet Stores, Freehold Raceway Mall, Ocean County Mall, Monmouth Mall, Jersey Shore Premium Outlet Mall, Belmar Beaches, Point Pleasant Boardwalk, Amusements and Beaches, Seaside Boardwalk, Amusements and Beaches. Your family can take a day trip to Beautiful Cape May, NJ(1hr 20min), Atlantic City(1hr), New York City(1hr) or Philadelphia (1hr).
Take a 5 mile stroll around the Manasquan River Reservoir or visit one of the many Ukranian or Byzantine Catholic Churches or one of the Russian, Greek and Coptic Orthodox Churches or Cathedrals in the Jackson, Howell, Brick, Toms River Area to see beautiful Icons.
Bennetts-Mills Road is also called West Veterans Highway in the West of Town and on the Eastern side it becomes Aldrich Road in Howell, NJ.
Convenient Bus service to New York City Port Authority Bus Terminal is at the Aldrich Road Bus Stop one Mile from the Church. The Bus will take you into the heart of Manahattan and the Port Authority Bus Terminal has links to all NYC Subway lines.
Where can I contact the organizer with any questions?
frbambrick@saintaloysiusonline.org
Phone: 732-370-0500 x218