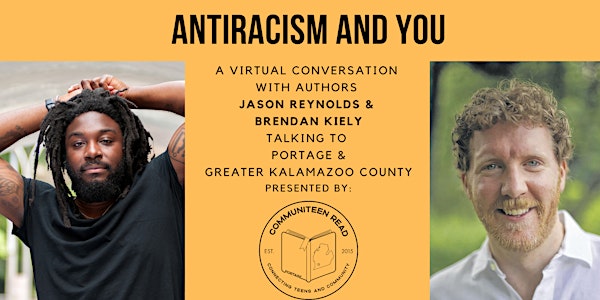 Antiracism & You: Online Conversation w Jason Reynolds and Brendan Kiely
Come hear two authors who have inspired and lifted movement towards racial justice with their honest and powerful storytelling.
About this event
This event is co-hosted by Portage Public Schools, Portage District Library, and this is a bookstore | Bookbug
Last year, students throughout Portage read and discussed "Long Way Down," written by Jason Reynolds in anticipation of hosting him for a March 2020 Portage CommuniTeen event. Though that event could not take place, the enthusiasm for Jason's work was palpable from both youth themselves and a broad scope of the CommuniTeen community, which welcomes all families, educators, and individuals across Kalamazoo County into conversations inspired by a single book.
We are now thrilled to welcome Jason back for a newly-envisioned format and a dedicated live online conversation with his close friend and co-author of "All American Boys", Brendan Kiely.
Jason and Brendan will speak to their experience of both creating a necessary story and their charge to build better understanding across distinct American coming-of-age experiences. Their conversation will offer a glimpse into their friendship, creative collaboration, and continued work towards greater racial justice in America.
Copies of Jason's and Brendan's books can be purchased via this link.
Thanks to Miedema & Associates for its generous support of this program.
If you prefer to view this event via live stream, it will also be available on the Portage Public School YouTube Channel on March 16th, beginning at 6pm