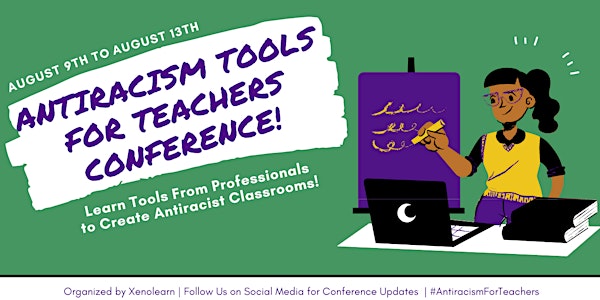 Antiracism Tools For Teachers Conference
The Antiracism Tools For Teachers Conference is a series of workshops by DEI, antiracism and education professionals.
Refund Policy
Refunds up to 7 days before event
About this event

Do you want to make a difference in your classroom, but don't know where to start? Are you "doing the work"of educating yourself, but don't know how to translate it to the classroom? Do you struggle to find  antiracist lesson plans or teaching guides? 
Xenolearn is organizing a conference for teachers, called Antiracism Tools for Teachers. The goal of the Antiracism Tools for Teachers Conference is to provide teachers with a series of tools, techniques and strategies that they can use in their classrooms to foster antiracist classrooms that value diversity, equity and inclusion. At the end of each workshop, I want the teachers and educators attending to leave equipped with a concrete, tangible resource(s) like lesson plans, teaching guides, handouts, PowerPoint presentations, novel study guides, etc.
You'll start the school year prepared with new tools, skills and resources. Start this school year off on the right foot feeling empowered, capable and confident!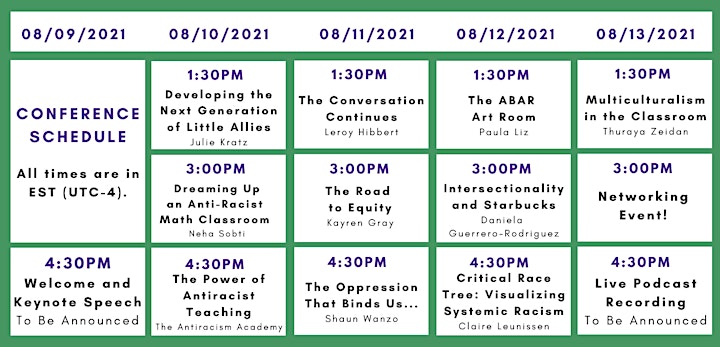 Click on the conference page to see schedule in CST, PST and BST times. [link]
Discover Our Workshops!
(Workshops have been listed in chronological order.)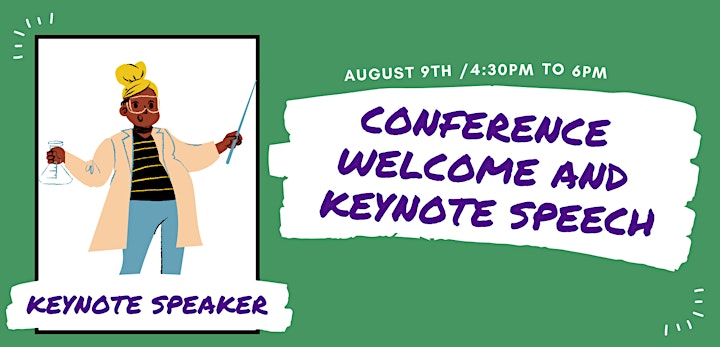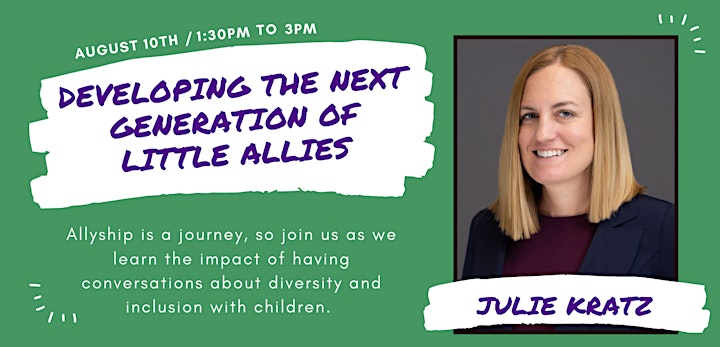 Developing the Next Generation of Little Allies
Presenter: Julie Kratz (Inclusion Leadership Trainer and Author of the storybook Little Allies)
Description:
In this highly collaborative session, inclusive leadership speaker and trainer Julie Kratz will share stories, ideas, and research from her new children's book, Little Allies. We'll discuss the importance and impact of having conversations about diversity, inclusion, and allyship earlier with the children in our lives. Julie wrote this book in response to difficult conversations about racism at home with her own daughters. Little Allies and this session are meant to be a resource to help parents and people leaders everywhere guide little ones along this journey towards allyship.
In this workshop, we'll cover:
Why we need to talk to kids and start this conversation earlier.
What being an ally means - allyship starts at home and kids naturally enjoy diversity.
How to be an ally - Allyship is a journey, and adults are modelling it everyday.
Commitments - Little allies that write down goals are far more likely to succeed.
Date & Time: Tuesday, August 10th, at 1:30pm (EST)
Resource: Worksheets
Click the link to learn more! [link]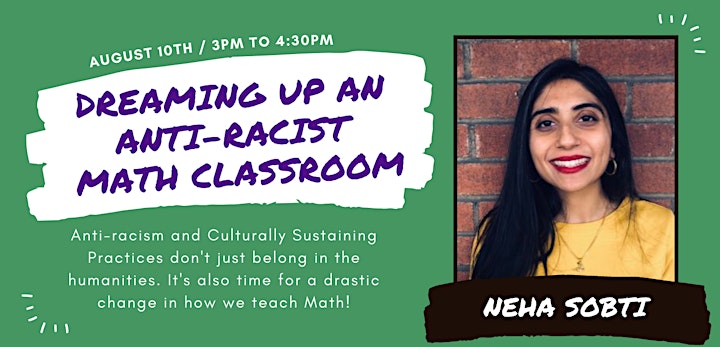 Dreaming Up an Anti-Racist Math Classroom
Presenter: Neha Sobti (Doctoral Candidate and Educational Administrator)
Description:
Come create the Math classroom we all needed in our youth!
This workshop for educators of all types will sharpen your anti-racist lens and engage you in anti-racist practices for the Math Classroom. It's an introduction to what an anti-racist Math classroom could look and feel like. We will racialize what it means to be a "mathematician" and explore ways dominant Math curriculum and pedagogy cause harm to BIPoC students. Grounded in a shared understanding of anti-racist values, we will explore ways to adopt a culturally sustaining approach to Mathematics. We will draw from our own experiences as Math educators, as well as the research of Dr. Gholdy Muhammad, Dr. Zaretta Hammond and Dr. Chris Emdin. The goal is to leave the session inspired, dreaming and ready to start engaging in anti-racist work with the Math geniuses in your community.
Come dream with me, learn from our ancestors, and create anti-racist Math classrooms that affirm students of all identities.
Date & Time: Tuesday, August 10th, at 3pm (EST)
Resource: Handouts
Click the link to learn more! [link]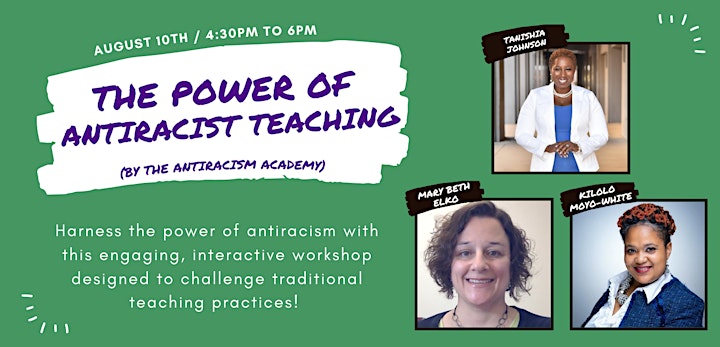 The Power of Antiracist Teaching
Presenters: Tanishia Johnson, Kilolo Moyo-White and Mary Beth Elko of The Antiracism Academy Team.
Description:
"Not racist" is not enough. We have to actively create antiracist spaces for a more equitable world.
This workshop will take participants through a process of exploring the question: What is antiracist teaching? We will use mindfulness exercises, video, discussion, and self-reflection to examine examples of racist mistakes teachers have made and explore tools for what antiracist teaching looks like and sounds like. Participants will leave with a developed understanding of what antiracist teaching is and how it can transform their teaching practice.
Join us for an engaging, interactive workshop designed to challenge traditional teaching practices and learn how to harness the power of antiracism.
Date & Time: Tuesday, August 10th, at 4:30pm (EST)
Resource: Checklists and examples
Click the link to learn more [link].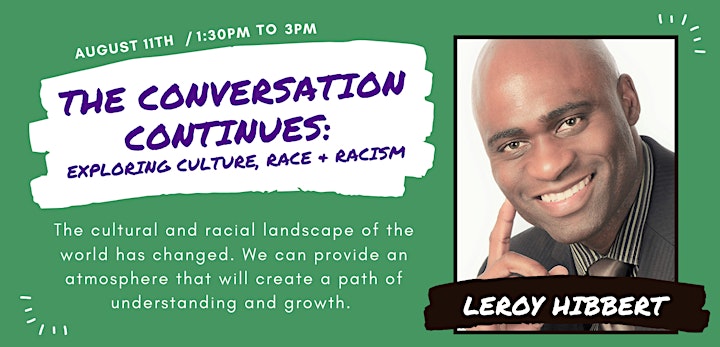 The Conversation Continues: Exploring Culture, Race & Racism
Presenter: Leroy Hibbert (Antiracism Educator and Consultant)
Description:
During this conversation participants will gain insight into the complexities of race, racism, cultural misconceptions, microaggressions, and unconscious proclivities. Through this reflective discussion, attendees will be provided with practical tools that can serve as a catalyst for building healthy cross-cultural and racial relationships.
The cultural and racial landscape of the world has changed. While it's an adjustment for many we can provide an atmosphere that will create a path of understanding and growth.
Date & Time: Wednesday, August 11th, at 1:30pm (EST)
Resource: Curated list of resources
Click the link to learn more! [link]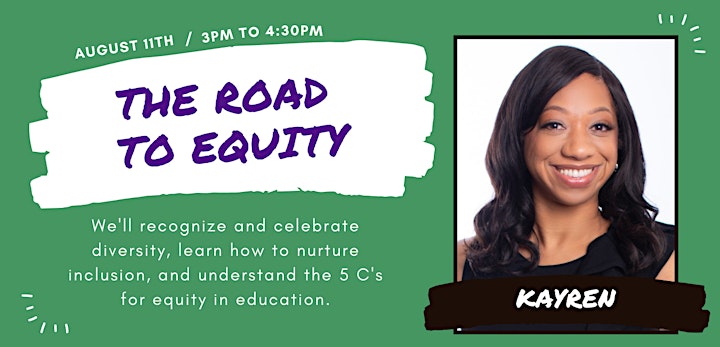 The Road to Equity
Presenter: Kayren Gray (Consultant, Barrier Breaker, Author of "The Road to Equity")
Description:
To set all students up for success, leaders must begin a conversation to celebrate and recognize diversity, nurture a culture of inclusion, and understand equity in education. In this conversation, participants will self-identify their individual role in implementing cultural change and learn the Five C's to Construct an Equitable Classroom, Campus, and Community. Embark on the journey to understand the importance of DE&I in our schools – creating access and opportunity to set each student up for success.
Join us to break barriers and set your classroom up for success as we identify, implement, and inspire real change to create more inclusive, and equitable spaces for all students to thrive. Be a Barrier Breaker on #theroadtoequity.
Date & Time: Wednesday, August 11th, at 3pm (EST)
Resource: Worksheets
Click the link to learn more [link].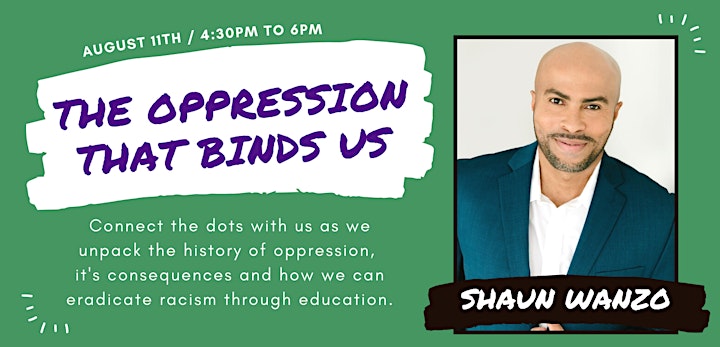 The Oppression That Binds Us...
Presenter: Shaun Wanzo (DEI Consultant)
Description:
The goal is to inform administrators and teachers about the atrocities that have been perpetuated against the BIPOC community, Jews, and other historically marginalized groups. (This also includes certain immigrant populations who were told they had to earn their whiteness. However, this shall be done without diminishing the experience of Blacks, Latinx, Asians and other POC.)
The workshop will emphasize how this form of education educate about the amount of oppression that has been levied at each ethnic group but it will also help minds to connect the dots of how micro our differences really are. The goal is to help adults help future generations understand the division that keeps us from improving the human race.
Date & Time: Wednesday, August 11th, at 4:30pm (EST)
Resource: Handouts
Click the link to learn more! [link]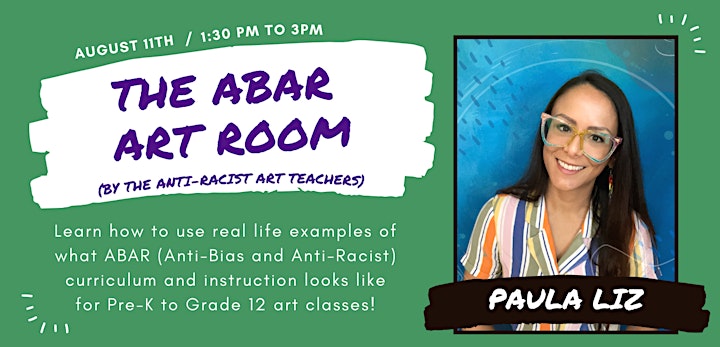 The ABAR Art Room
Presenter: Paula Liz of (Art Teacher and Founder of The Anti-Racist Art Teachers)
Description:
The purpose of this session is to give art educators real life examples of what ABAR (Anti-Bias, Anti-Racist) curriculum and instruction looks like within the art classroom.
Resources provided include an ABAR workbook to help guide educators towards removing biases, stereotypes, and false narratives in their art curriculum and instruction. Participants will also be provided with a list of relevant artists, books, articles, and resources they can use when developing an ABAR curriculum. As well as examples of PreK-12 lesson ideas that engage students in critical conversations about voice, power, bias, equity, diversity, and inclusion in the art room.
Date & Time: Thursday, August 12th, at 1:30pm (EST)
Resource: Worksheets
Click the link to learn more [link].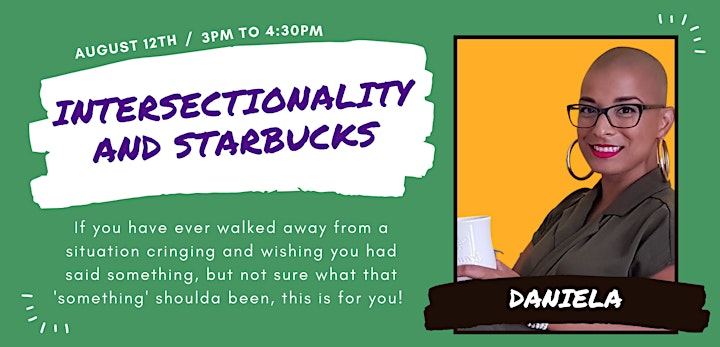 Intersectionality and Starbucks
Presenter: Daniela Gerrero-Rodriguez (Decolonzation Advocate, Educator and Consultant)
Description:
We are all amazingly unique and (judging from you reading about this workshop) interested in creating change in our communities. How we understand change and our opportunities to create it are also unique to us.
In this workshop we will look at:
Our identities and how they inform our experiences so that we understand the framework for the way we engage in society
Intersectionality and how this helps us identify where we hold privilege and power so that we can create change in a sustainable way
The development of capitalism and the concept of power in our society so that we understand our relationships better
Alternative economies and relationships so that we can begin to design the change we want to see in our communities
Date & Time: Thursday, August 12th, at 3pm (EST)
Resource: Worksheets
Click the link to learn more! [link]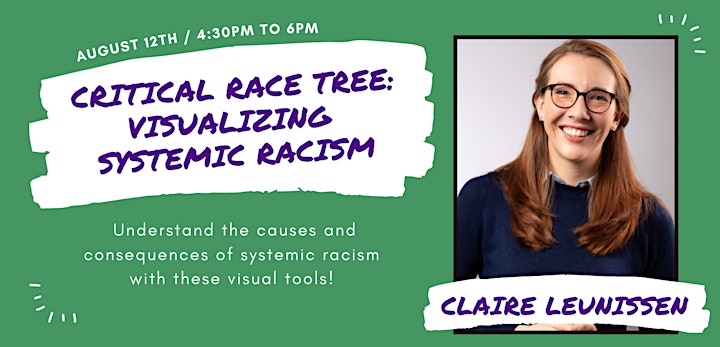 Critical Race Tree: Visualizing Systemic Racism
Presenter: Claire Leunissen (Xenolearn Founder and Director)
Description:
What is Critical Race Theory and why is it so controversial right now? Critical Race Theory is an academic framework to help us understand racial injustice in the present by analyzing the racist ideologies, policies and actions of the past. This workshop that will equip educators with 4 new visualization exercises. We'll begin by understanding our own identities and experiences, and how they intersect with one another.
Learn to define and identify racism, systemic racism, and antiracism.
Understand the causes and effects of oppressive systems, particularly systems of racism and colonization.
Use visualizations to make systemic racism tangible and understandable.
Recognize one's individual identities and biases, and how these influence the way you see and interact with the world.
Practice exercises that demonstrate the consequences of racism in your school context and how you can address the causes with a new perspective and solutions.
Date & Time: Thursday, August 12th, at 4:30pm (EST)
Resource: Teaching Guide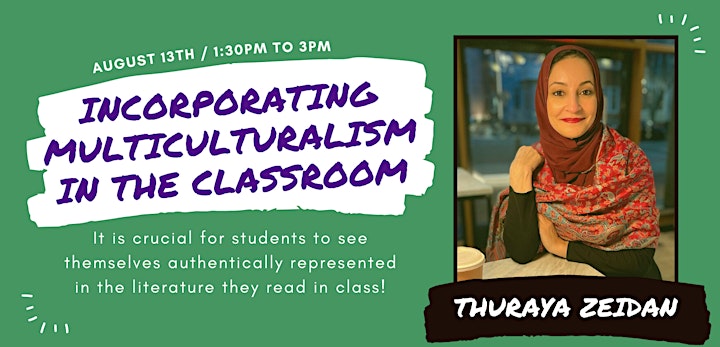 Incorporating Multiculturalism in the Classroom
Presenter: Thuraya Zeidan, Educator
Description:
The purpose of this presentation is to provide educators with lessons and strategies in order to incorporate multicultural learning in their classroom. It is not sufficient for educators to simply "throw in" a lesson that appears to have diverse characters, without being sure first that the text is authentic. Our students deserve to be, and should be, part of the learning process. This includes Black, Indigenous, People of Color, people with disabilities, refugees, immigrants, people who identify with LGBTQA+ and any other people who are marginalized and underrepresented in school curricula.
Teachers will learn why it is crucial to include all students in the learning process, marginalized students in particular, and on the consequences of not including marginalized students. We will discuss lesson plan samples, and teachers will have an opportunity to begin creating some of their own lesson plans.
Date & Time: Friday, August 13th, at 1:30pm (EST)
Resource: Handouts
Click the link to learn more! [link]
More Workshops To Be Announced!
*PLEASE NOTE*
Conference passes will be sold in USD. Please bear with us as we sort out some technical issues with Eventbrite and change the currency from EURO to USD.
Single Workshop Pass: $79.99
Two Workshop Pass: $149.99
Early Bird Conference Pass: $199.99
Conference Pass (after July 19th): $249.99
**THIS CONFERENCE CAN BE CLAIMED AS A WORK EXPENSE. SCHOOLS AND SCHOOL BOARDS CAN REIMBURSE THE COST OF YOUR CONFERENCE PASS(ES)!
See the conference page to read about features and extras included per pass type. [link]
See You At the Conference!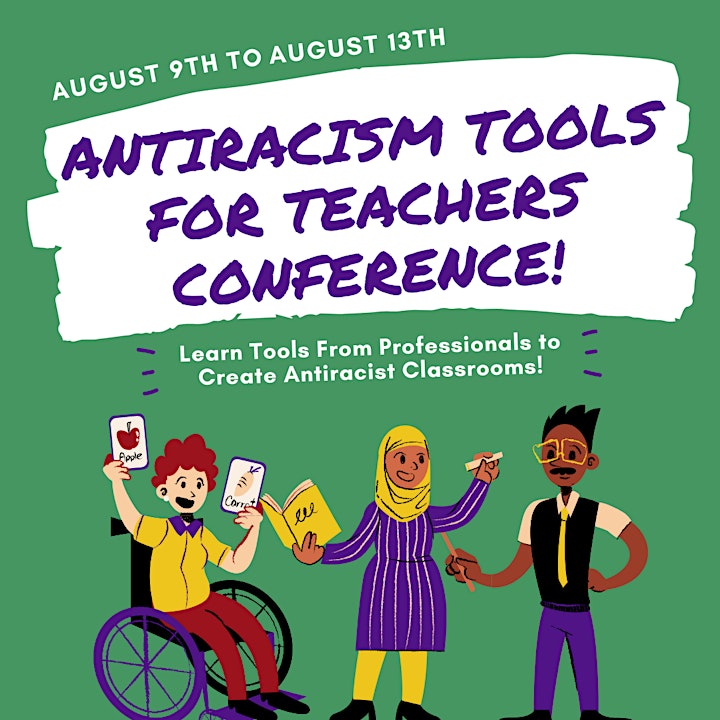 If you have any questions, please email xenolearnbookclub[at]gmail.com .