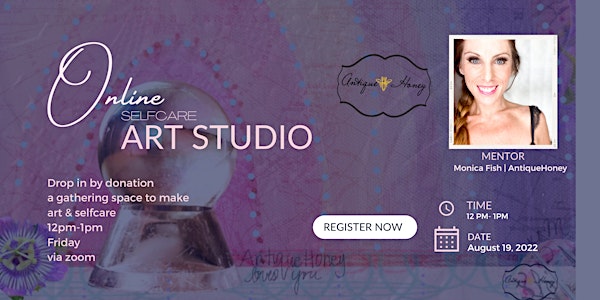 AntiqueHoney Online Selfcare Art Studio
Antique honey Art Studio is a gathering space to make art as an act of self-care. Cultivating your own soul hive with sweetness & light
Refund Policy
Contact the organizer to request a refund.
Eventbrite's fee is nonrefundable.
About this event
WHO IS THE STUDIO FOR?
You might enjoy AntiqueHoney Online Self Care Art Studio if you want...
to schedule time in your week to hang out with yourself - without pressure to be productive.
creative tools for preventing burnout.
a space to make things without thinking of it as "content" or work.
to return to a creative project you've been meaning to make time for.
to slow down and choose your own pace.
ideas and inspiration for new ways of exploring your art practice.
an opportunity to practice releasing attachment to outcome (Incomplete art! "Bad" art! Messy art!)
to stay accountable to your self-care by co-working or "body doubling".
to shake things up if your art practice feels stale or rigid.
to explore art materials without much direction. (*Note: this does not mean you need any art skill or training!)
ABOUT
AntiqueHoney Online SelfCare Art Studio is a gathering space to make art as an act of self-care. Join us in taking an intentional break from producing, performing, and perfecting to just be in a creative practice - together.
Making things is a way to slow down and reconnect to ourselves. Capitalism, social media, and hustle culture sell us the lie that we always have to be more productive, monetizing our hobbies, and striving for perfection. This pressure can make it almost impossible to make things just because making things feels good. AntiqueHoney Art Studio is a creative co-working space where we can reclaim time to express, explore, and play - using creativity as real self-care.
Drop-in on Zoom is by donation. Come to one session or join us every week. No art experience required!
THE DETAILS
You can make whatever you like during AntiqueHoney Online Art Studio. Each week there will be a new theme and creative prompts if you're looking for inspiration. This open studio is more like co-working than a therapeutic group. The focus will be on sharing space while creating, and less on processing or sharing.
The group meets on Friday from 12PM-1PM on Zoom EASTERN STANDARD TIME
You are welcome to come and go as you please. Come to one session or join us every week!
This space is open by donation. I suggest $5-$15 per session or $25-$75 if you plan to come each week.
EventBrite requires a minimum donation of $1. They do charge me fees for donations.
Please pay whatever is possible and comfortable for you. My goal is to make this space as accessible as possible.
Each week there will be a new theme and creative prompts.
You can follow the prompt or make something else. Write your morning pages! Break out your saxophone! Finish your quilt! Make a play-doh space ship! You can use this space to work on projects you've been meaning to make time for.
Members can use the Zoom chat function to connect and share about their process.
There will be a chance to hold up your art and be witnessed by others at the end. This is optional!
You can use whatever art materials you like. You won't need anything fancy or expensive! I will send a list of suggestions and always offer prompts that use recycled/found materials.
Members will receive an invite to our Facebook Group. This is a space to connect with others outside of session time. You can share images of your art there if you like!
WHAT HAPPENS IN THE STUDIO?
12 PM EST
Quick introduction and chance to introduce ourselves in the chat.
The week's theme and prompts for art-making.
12:05PM EST
Art! Make whatever you feel called to make. It's okay to make something you don't like. It's okay to make a mess. It's okay to make things that aren't "art."
12:30 PM EST
Halfway check in: optional stretch/dance/headstand/coffee break.
12:55 PM EST
check-out, witnessing and brief sharing in the chat.
COMMUNITY + CARE EXPECTATIONS
We will be muted so that others can choose to focus on their art or listen to music. The chat will be open to connect with other people.
The confidentiality of this space cannot be guaranteed. To support a sense of safety, please do not record, photograph, or take screen shots of the group.
Sessions will not be recorded.
While art making can feel therapeutic, this group is different from therapy. The emphasis will be on setting aside personal time for creative self-care. There will not be an opportunity to process or share in-depth.
Please take care of yourself and feel empowered to choose a creative process that feels safe for you. If you are looking for therapeutic support I would be happy to direct you to a group or therapist.
We expect folks to be respectful towards everyone in the group, and we will not tolerate abuse of any kind.
FAQ
I'm not an artist! Is this for me?
Absolutely. The point of this group is not to make "good art." It's to use creativity as a practice of tuning in and taking a break.
I'm looking for mental health support. Can I find it here?
This space may become an important tool in your mental health toolkit! Creating art is a powerful way to care for ourselves. Joining a community can also help us feel a sense of belonging. While I am art therapist, I will not be able to offer individual support during the studio. If you are looking for a space to debrief your art or be supported by a mental health professional, I am happy to offer recommendations or referrals.
I want to get better at art! Will I learn new techniques?
Nope! I will offer simple "jumping off points" based on the weekly theme, but you will not be taught skills or techniques. Instead, you will have the chance to explore and experiment without the pressure to improve.
I have a creative project/hobby I have been neglecting. Can I work on it here?
Yes! You are welcome to follow the prompts or work on anything else you like. Some people will use this space as an accountability tool for completing their own creative projects.
Can I just come to one session?
Yes! Feel free to come as many times as you like during the month.
I suggest $5-$15 per session or $25-$75 if you plan to come each week.
I need to arrive late, can I still come?
Definitely. You can come and go as you please! I'll admit you to the Zoom space no matter what time you arrive.
I don't love being on camera. Can I keep mine off?
Totally. You're welcome to keep your camera off.
I love what I made and I really, really want to post it online. Is that against the rules?
Not at all! If it would feel empowering to post the art you've made in Ant-Hustle Art Studio, go for it! You can also tag @antiquehoneyart if you would like me to see what you've made.
I'm nervous about showing my art to other people. Do I have to?
Nope! There is no pressure to share, show your art, or be on camera. You're welcome to be in the studio in any way that feels comfortable.
I love showing my art to other people! Do I get to?
Yes! At the end of each session there will be a chance to hold up your art and be witnessed by other group members.
REFUNDS + CANCELLATIONS
I am not offering refunds for this event. If you are unable to attend you can gift your ticket to a friend!