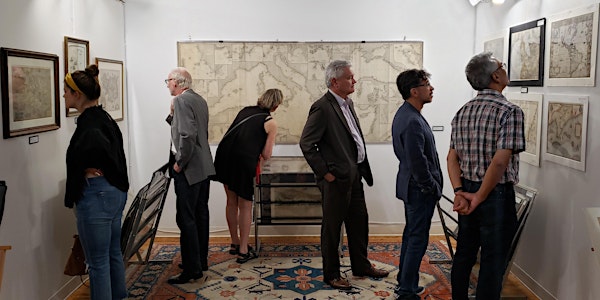 Antique Map and Print Gallery: Open House
An open house showcase, featuring thousands of antique maps and prints spanning five centuries of history, cartography, and print making
When and where
Location
New World Cartographic Antique Map & Print Gallery 1932 South Halsted Street #Ste #200 Chicago, IL 60608
About this event
Join us on the afternoon of Saturday, November 5th for a Antique Map and Print Open House featuring authentic material from two local dealers; New World Cartographic and Curtis Wright Maps. A wide variety of historic material spanning the 15th-20th centuries will be on display and available for purchase at the New World Cartographic Gallery from 12:00 p.m. - 5:00 p.m.
The event will be capping off an exciting few days of scholarship in Chicago, notably the 21st Annual Kenneth Nebenzahl, Jr. Lectures in the History of Cartography. This year's series will address Mapping as Performance - considering the way the way people create and share maps through action in space. Twelve presentations focusing on four different topic, will take place on Friday and Saturday morning (11/4 - 11/5) at the Newberry Library and streamed live online
Topics Covered at the Nebenzahl Jr. Lectures include the following...
Surveying as Performance
Performing Space, Place, and History in Indigenous North America
Mapping Dance
Travel as Mapping
Whether or not you plan on attending the Nebenzahl Lectures, we hope you can join us on Saturday afternoon for a casual event featuring some really interesting maps. Feel free to contact us an email with any specific requests or areas / subject matter of interest. With thousands of maps and prints on hand, there is likely to be something for everyone.