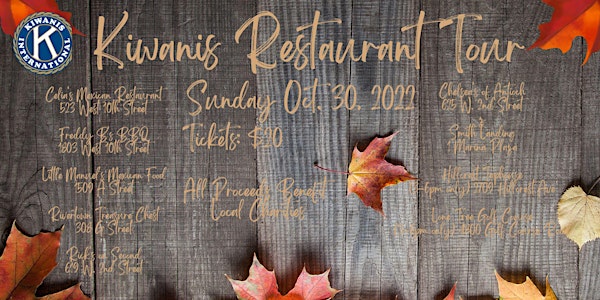 Antioch Kiwanis Restaurant Tour 2022
The Kiwanis Club of the Delta-Antioch is putting on our Annual Restaurant Tour on Sunday Oct. 30th 2022 from 1-5pm for $20
About this event
Kiwanis Club of the Delta - Anitoch Proudly Presents our Kiwanis Restaurant Tour on Sunday, October 30th, 2022 from 1-5PM. Tickets prices are $20. (If paying through EventBrite, there will be a processing fee)
Sample Food from NINE of Antioch's Best Restaurants! A special thank you to our contributing restaurants!
Celia's Mexican Restaurant
523 West 10th Street
Freddy B's BBQ
1803 West 10th Street
Little Manuel's Mexican Food
1509 A Street
Rivertown Treasure Chest
308 G Street
Rick's on Second
619 W. 2nd Street
Chelsea's of Antioch
625 W. 2nd Street
Smith Landing
1 Marina Plaza
Hillcrest Taphouse
(3-6pm only) 2709 Hillcrest Ave
Lone Tree Golf Course
(3-6pm only) 4800 Golf Course Road
The Proceeds from the fundraiser benefit local charities! The restaurants may be visited in any order. Please patronize our sponsors! Remove no food or alcohol from restaurants.
To purchase tickets, pelase contact;
Kay Power 925-202-3519
Argentina Davila-Luevano 925-813-2178
Allison Norris 925-642-5404