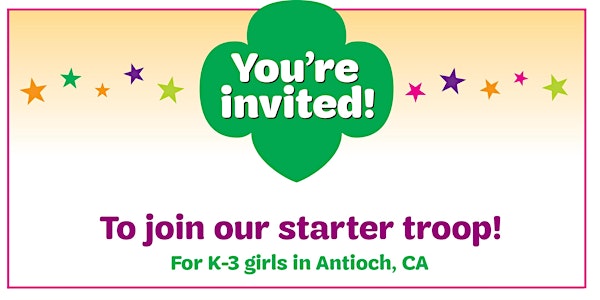 Antioch, CA | Starter Troop
K-3 girls in Antioch are invited to join our starter troop! Girls will participate in meetings while parents learn how to run a troop.
About this event
Calling all girls in grades K- 3 from Antioch, CA!
Join our starter troop where girls will participate in virtual troop meetings, while parents learn how to run a Girl Scout troop!
We will have fun experiencing a variety of Girl Scout activities focused on self esteem, Girl Scout traditions, games, songs, and community service.
This troop will be staff-led for 4 meetings, after which parents will be trained to take over the troop leadership and continue the troop. Girls and parent will need to be registered as Girl Scouts, and parents will complete a background check prior to the 4th meeting.
Meetings will not start until we have enough girls to form a troop, so spread the word to your friends!
Registering for one session ensures you are signed up for all 4.
Questions? Contact Anna Lomas | alomas@gsnorcal.org