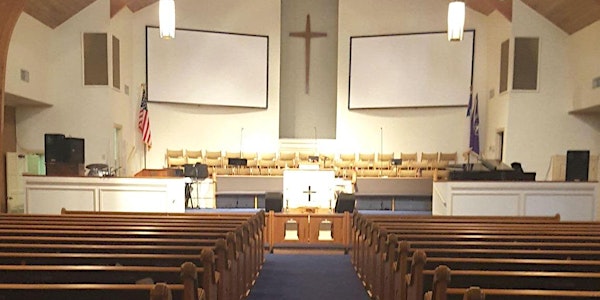 Antioch AME Church - Sunday 10am Worship Service
Antioch AME Church - Sunday 10am Worship Service
When and where
Date and time
Starts on Sunday, December 19, 2021 · 10am EST
Location
Antioch AME Church 765 South Hairston Road Stone Mountain, GA 30088
About this event
Please order a FREE ticket (per person) if you plan to attend the 10am worship service on Sunday. We are now asking EVERYONE to order a ticket (including staff/choir/volunteers, etc.) so that we may have a record of everyone in the church. Due to COVID-19 prevention guidelines, there is limited seating capacity, so get your tickets today. Hope to see you at Antioch!
FACE MASK REQUIRED
Assumption of the Risk and Waiver of Liability Relating to Coronavirus/COVID-19
The novel coronavirus, COVID-19, has been declared a worldwide pandemic by the World Health Organization. COVID-19 is extremely contagious and is believed to spread mainly from person-to-person contact. As a result, federal, state, and local governments and federal and state health agencies recommend social distancing and have, in many locations, prohibited the congregation of groups of people.
Antioch AME Church has put preventative measures in place to reduce the spread of COVID-19; however, Antioch AME Church cannot guarantee that you or your child(ren) will not become infected with COVID-19. Further, attending Antioch AME Church activities could increase your risk and your child(ren)'s risk of contracting COVID-19.
"COVID-19 is an extremely contagious disease that can lead to severe illness and death. According to the Centers for Disease Control and Prevention, senior citizens and persons with underlying medical conditions, i.e., persons who are morbidly obese, diabetic, suffer with chronic lung issues, moderate to severe asthma, serious heart conditions, chronic kidney disease, liver disease and immunocompromised (cancer treatment, smoking, bone marrow, organ transplant, poorly controlled HIV or AIDS or other immune deficiencies) are especially vulnerable."
"BY ENTERING ANTIOCH AME CHURCH YOU VOLUNTARILY ASSUME ALL RISKS TO EXPOSURE TO COVID-19." You can be assured that Antioch AME Church is proactively exercising all the precautions and safety measures as recommended by the Centers for Disease Control and Prevention to ensure the safety of our members and visitors.