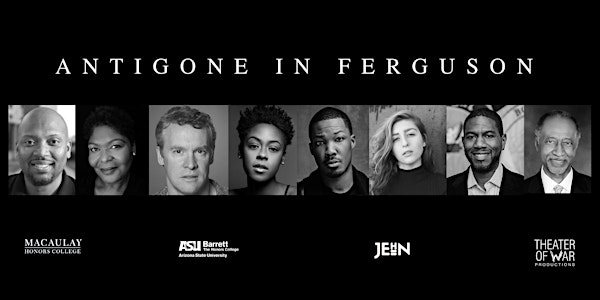 Antigone in Ferguson: CUNY
A performance of Sophocles' Antigone as a catalyst for an audience discussion about racialized police violence.
About this event
Antigone in Ferguson is a groundbreaking project that fuses dramatic readings by acclaimed actors of Sophocles' Antigone with live choral music performed by a diverse choir, from St. Louis, Missouri and New York City culminating in powerful, healing discussions about racialized violence, police brutality, systemic oppression, gender-based violence, health inequality, and social justice. The project was conceived in the wake of Michael Brown's death in 2014, through a collaboration between Theater of War Productions and community members from Ferguson, MO, and premiered at Normandy High School, Michael Brown's alma mater, in September of 2016, and has since toured the country and the world.
In light of the uprising and protests catalyzed by the killings of Ahmaud Arbery, Breonna Taylor, George Floyd, Tony McDade, Dion Johnson, and many others; and the disproportionate impact of the COVID-19 pandemic on black and brown communities, Antigone in Ferguson aims to generate dialogue, consciousness, compassion, outrage, understanding, and positive action at this critical moment. This special presentation of Antigone in Ferguson on Zoom will foreground the perspectives of people from the City University of New York (CUNY) and the New York City Community whose lives have been impacted by police brutality, community violence, and the COVID-19 pandemic.
Translated and directed, and facilitated by Bryan Doerries
Music composed and conducted by Dr. Philip Woodmore
Co-facilitated by De-Andrea Blaylock Johnson
Featuring performances by Moses Ingram, Corey Hawkins, Tate Donovan, Marjolaine Goldsmith, Jumaane Williams, Willie Woodmore, De-Rance Blaylock, Duane Foster, John Leggette, Marcelle Davies-Lashley, Gheremi Clay, and The Antigone in Ferguson Choir.
This event is hosted by Macaulay Honors College, CUNY, Barrett Honors College, the Justice and Equity Honors Network, and ASU, and is open to the public.
The event Zoom link will be distributed and available to registered attendees starting 2 days prior to the event.
All of Theater of War Productions' events follow the same format:
The cast and choir will perform the play.
Four community panelists will kick off the discussion with their gut responses to what resonated with them.
We will open the discussion to the audience, facilitated by Bryan Doerries and De-Andrea Blaylock Johnson. During the discussion, please raise your hand using the button at the bottom center of the screen. If called upon, you will be promoted to speak and you will be visible and heard by the entire audience for the duration of your comments. If you would prefer not to be seen, please disable your video when entering the event.
To experience this event:
Please download Zoom to your laptop or mobile devicehttps://zoom.us/download