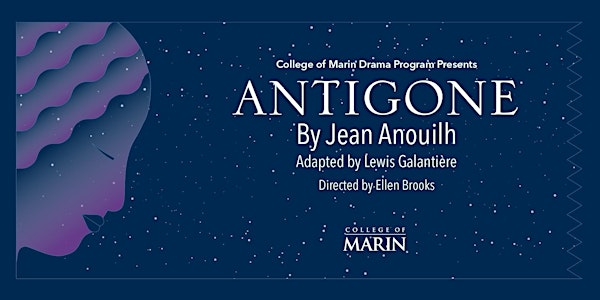 Antigone by Jean Anouilh, translated by Lewis Galantiere
Event Information
Location
College of Marin
835 College Avenue
Kentfield, CA 94904
Antigone is such a classic tale! Guest Director, Ellen Brooks will take you on this journey through tragedy, deceit, love, and disaster.
About this event
Jean Anouilh's Antigone (adapted by Lewis Galantiere) was written during WWII when Paris was under Nazi occupation. It bares the effect that a disastrous war has had on a powerful family whose ambitions, jealousies, deceits, and politics create a tyrant! It is also the story of the resistance of a young woman to a decree that is both cruel and inhuman and who knows her act of disobedience will only lead to her death. Antigone will be performed live in the Performing Arts Studio Theatre (PA32).
All attendees must provide proof of COVID-19 vaccination at the door by showing an original vaccination card or digital proof (QR code) from the State of California's Digital COVID-19 Vaccine Record website. All patrons attending indoor events are required to bring and wear masks at all times regardless of vaccination status.
You will be placed on a guest list which we will access on the day of the performance(s) you choose. Please note that you won't receive an actual ticket, but once you're checked in, you will receive a program which will act as your ticket. Thank you.
Location
College of Marin
835 College Avenue
Kentfield, CA 94904
Refund policy