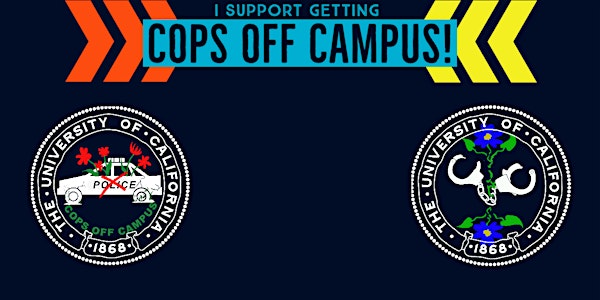 Antiblackness, the University, and Policing: A Cops Off Campus Teach–In
This event combines an in-person direct action with a livestream teach-in on the university's reinforcement of antiblackness and policing.
About this event
FACEBOOK FEED FOR EVENT LIVE NOW: CLICK HERE
HELLO ALL! We are thrilled at the outpouring of excitement about the event! The organizers would just like to let you know that due to the abundance of interest, we are no longer accepting registrations for the event. Instead, we would like to direct you to several locations that you can visit in order to view it. Those who have registered will receive links to the Zoom Teach-In or YouTube at 12:55pm Pacific on 10/1.
BUT NO WORRIES IF YOU HAVEN'T REGISTERED! You will still be able to view the event LIVE. It will be available, streamed, at The Critical Resistance Facebook page.
Some may be wondering why we are not sharing links in advance. Simply put, this kind of event is unprecedented. Those who are used to webinars are likely used to events in which participants primarily log in from individual computers. However, because this event involves preparation for an on-site direct action and an in-person component, it requires some extensive pre-production onsite at UCR. Event planners will need to do some testing and trial-running prior to the event. This also means we'll need to limit access to the links so that we can do so. Thank you for your understanding! Feel free to follow the UCRFTP Twitter for more detailed updates!
What's this Event?:
Critical Resistance Abolitionist Educators present a Teach-in Series on Abolition and the University co-sponsored by UC Riverside Cops Off Campus, Scholars for Social Justice, American Studies Association (ASA), Riverside Faculty Association and the UCFTP collective:
Antiblackness, the University and Policing -- October 1, 2020
Where's it Happening?
You can attend this teach-in in two ways.
Online via Zoom (link provided on day of event to registered attendees)
Socially distanced, in person at UC Riverside, CHASS Interdisciplinary Studies Building South Lawn. MASK REQUIRED. Please register for more detailed information.
UCR campus parking for Lot 1 can be purchased through the Park Mobile App (#2483 for Lot 1) ($12/day)
When?: 1-2:30pm (PST) | 3-4:30pm (CST) | 4-6:00pm (EST)
What will it be addressing?
This first webinar addresses how the university -- in the name of 'higher education,' and enlightenment -- has historically functioned to reproduce and sanction antiblackness and policing. This panel of scholar-activists discusses how antiblackness has been foundational to the structure, organization and policies of the university and has operated to police bodies, disciplines, knowledges, movements and activism, often under the cover of rhetorics that promote liberal 'multicultural inclusion and diversity.
Who will be participating?
Precious Fasakin, Sofia Rivas, and Cynthia Ayala of UCR Underground Scholars Initiative
Cathy Cohen (University of Chicago)
João Costa Vargas (UC Riverside)
Savannah Shange (UC Santa Cruz)
Lester Spence (Johns Hopkins University)
Moderator: Dylan Rodriguez (UC Riverside)
Accessibility: We will have simultaneous ASL/captioning and the sessions will be recorded and captions fixed and uploaded to the ASA Freedom Course YouTube Channel .
An in-person direct action will follow the teach-in at 3pm. It will begin with a Car Caravan (meeting in Lot 1 and Lot 24). At 3:00 there will also be a rally at the UCR police station. Everyone is encouraged to participate. Wear a mask, bring a friend, stay safe.
COPS OFF CAMPUS! #UC_FTP
Please click here for more information on the Abolition and the University Teach-In Series!