Anti-Semitism, the State of Israel and the Gospel
Description
Why is the Middle East so volatile? How do we make sense of the history—both ancient and modern—without being manipulated by special interest groups? What is a Christian position on Israel and why does it matter? We will address these critical questions, and more, in this one-of-a-kind learning event.
Join your friends at JC Studies in welcoming David Pileggi, shepherd of the oldest protestant presence in the Middle East (Christ Church in Jerusalem). Our Haverim Lecture Series features this remarkable man exploring a relevant subject, Anti-Semitism, the State of Israel and the Gospel. David brings biblical scholarship, unique experience, and Spirit-sensitivity to help 21st century people of faith understand the complexity of life in the Middle East and how to discern a way forward that is pleasing to Jesus—the Jewish Messiah and rightful King of the Nations.
"I implore everyone, of all ages, to take these matters seriously and get better educated by someone whose life is characterized by being part of the solution." - James Whitman, President, CJCS
Anti-Semitism, the State of Israel and the Gospel

Session One: Old New Hate
A look at anti-Semitism in the 21st century with an emphasis on Islamic opposition to the Jews and the State of Israel. In addition, we will show how anti-Semitism has changed from a traditional "Christian" fear of the Jew, to an obsessive hatred of the Jewish people as a collective as represented by the State of Israel.
Session Two: The Holocaust. Predictable? Avoidable? Repeatable?
A look at some of the myths and faulty understandings surrounding the Holocaust, ("It was all Luther's fault" ; "Jews should have seen what was coming and left Germany") and what lessons we might learn for our times.
Session Three: A Matter of Life and Death: Anti-Semitism, the State of Israel and the Gospel
Can we formulate a mature Christian response to these issues that avoids the pitfall of uncritical support for Israel, dispensationalism and apathy for the well being of the Jewish people?
Saturday, November 11th, from 9am to 1:00pm
This event is hosted by our friends at Church of the Messiah in Xenia, and is suitable for teens as well. Bring a friend and a cup of coffee. We look forward to seeing you there.
Meet Anti-Semitism, the State of Israel and the Gospel presenter David Pileggi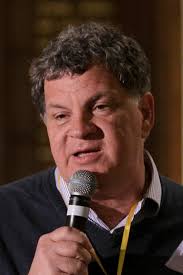 David Pileggi lives in Jerusalem with his wife Carol and their three adult children where he is the rector of Christ Church in the Old City of Jerusalem. They have lived in Israel for over 33 years where David has worked as a journalist/researcher and for 19 years was director of a study program dedicated to teaching Christians about the Jewish context of their faith. David has an M.A. from the Hebrew University in Jewish Studies and is a licensed tour guide. Fascinated by Eastern European Jewish life that existed before the Second World War, David has led a number of trips to Poland, Austria and the Czech Republic, designed to teach Christians about Jewish life in the modern era. Ordained by Archbishop Henry Orombi of Uganda, he has been the rector of Christ Church Jerusalem since 2008. David also has been active in helping Palestinian children get medical care in Israeli hospitals, promotes education to prevent genocide and stop human trafficking. He also takes a keen interest in Kurdish-Jewish relations.
David is teaching as a public service—all sessions are provided for you by JC Studies at no cost. Because seating is limited, reservations are required. Register on this site for free tickets.
---
Traveling in for this event? Call us for recommendations on where to stay: (937) 434-4550
---