Anti-racism and Whiteness Training for White Helping Professionals
Sales Have Ended
Registrations are closed
Thank you for completing the questions. You will receive a personal confirmation from me, which will include next steps. - Irene
Sales Have Ended
Registrations are closed
Thank you for completing the questions. You will receive a personal confirmation from me, which will include next steps. - Irene
Antiracism and Whiteness Training for White Helping Professionals
About this event
This training is sold out. Add your name to the waiting list by following the registration process.
FREE - A 20-hour anti-racism training for white socially conscious mental health and social service workers.*
A serious and intentional dive into our anti-racism work.
• Increase our racial literacy
• Understand our whiteness
• Examine the colonization of the mental health and social work fields
• Develop our anti-racist perspectives into actual anti-racist practices
_______________________________________________________________________________________
To decolonize therapy is to reconnect to the humanization of therapy, to reclaim therapy, to include systems and oppression into our therapy practices and analysis, and to re-humanize therapists (bring them down from some pedestals), as well as to center the person and their cultural and political identities back into the work. It is snatching psychology, social work, and counseling back from the wrinkled white hands of European men…To decolonize our therapy, we have to work on decolonizing our darn selves FIRST and really looking at our education, decisions, ways of living, and how we are part of the exploitation of resources (Mother Earth), and people (labor). - Jennifer Mulan
______________________________________________________________________________________
2020 is a unique moment in time for European-American helping professionals to do our anti-racism work with intention.
We may think the compassionate nature of our work means our professions are above systematic white supremacy. Realistically, we white mental health and social work practitioners participate in and benefit from education, training, testing, evaluation, and service provision rooted in racism, white patriarchy, capitalism, anti-Blackness, assimilation, and colonialism
As socially-conscious white helping professionals, we have decisions to make about if and what we will do; and when we will do it.
Some of us don't know where to start. Or are overwhelmed or too busy. Some of us could use support, structure, and guidance. Some of us haven't thought about it. Some of us have been doing "the work" and desire deeper exploration and self-reflection. Some of us haven't figured out when or what.
Join us. We all start somewhere. And hopefully, we don't stop until all of us are free.
Winter life during COVID-19 may provide unforeseen opportunity to hunker down and commit to your racial justice growth.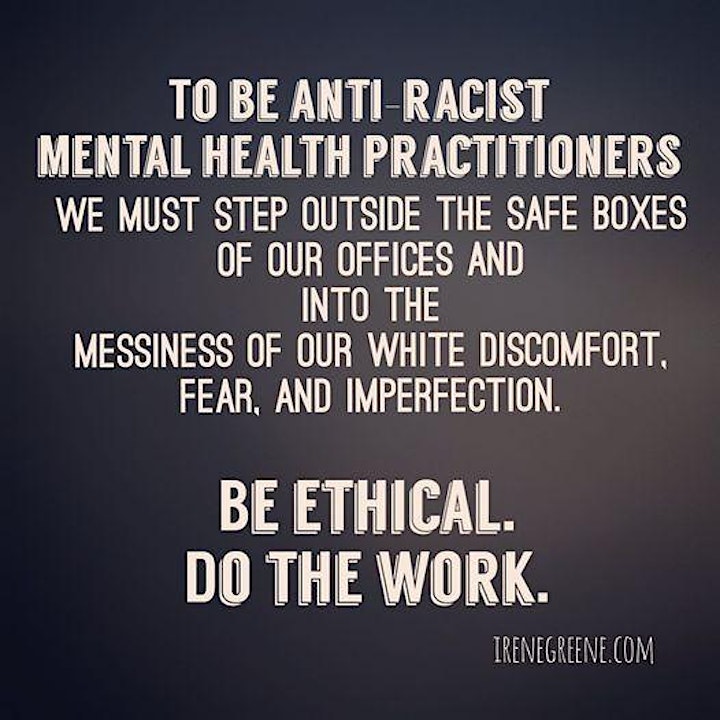 To help create a more meaningful and personal connection, the training is capped at about 15 members.
*"White helping professionals" includes therapists, nonprofit mental health workers, CD counselors, social workers, psychologists, mental health counselors, marriage and family therapists, wellness coaches, school and career counselors and social workers, community health workers, etc. This includes, graduate students or interns, or folx who are working in group practices, agencies or private practice, or unemployed, or retired. Participants from throughout the USA and beyond are welcome.
If you are interested in participating but don't fit into any of the above categories, contact Irene to discuss whether or not the program would be a good match for you.
Please see below for Why is this anti-racism training a white affinity training space?
Dates: Friday, November 20 - Sunday, November 22, 2020. Friday is noon to 5. Saturday is 9am - 5p and Sunday is 9-430p. CST. There are generous breaks throughout. It's a commitment and investment of time and energy!
Zoom is the virtual platform. Specific information about the topics, terms, and concepts, as well as the writers, trainers, researchers, etc. are listed below in the Appendix.
The 20-hour weekend training will incorporate lecture, video, storytelling, large and small group discussion, personal reflection time, role-playing, somatic body check-ins, homework, personal sharing, and racial bias assessments. Using template options, each participant will create a plan for specific, meaningful, and realistic anti-racist action and accountability in their personal and professional lives.
Participants are invited to:
- commit to confidentiality and active participation
• stretch our personal and professional comfort edges with each other
- examine how completely white supremacist culture influences and benefits us personally and professionally
• strive for congruence with our professional ethics and personal values
- bring a willingness to be open to our and others' mistakes, healing, risks, change, and growth
• address our conflict-avoidant "white niceness" and "white is right" defensiveness
- develop meaningful and realistic plans for anti-racist actions and accountability
Facilitator and developer: Irene Greene MSED | Greene Growth & Training | Irene works and lives on Anishinabe land, which is commonly known as Minneapolis, MN | www.irenegreene.com | This training is an expanded version of similar trainings Irene has offered. See the Appendix for more information.
Register through Eventbrite. When you register, you will be asked to complete a list of questions. See the Appendix.
Fee: Free / Pay what you can. Note: No one is turned away for inability to pay. Contact Irene at irene@irenegreene.com if you have any questions.
The MN LGBTQ+ Therapists' Network will match each member's registration towards a scholarship fund for QBIPOC students in the fields of mental health and social work.
Tech help is needed: Irene is in need of someone to do tech assistance during the weekend training, i.e., coordinate Zoom break-out rooms, post on The Chat, etc. If you are interested, contact irene@irenegreene.
Any profits will be donated to MN Indian Women's Resource Center, 2300 15th Avenue South, Mpls, MN 55404
CEUs or College Credit: Depending on your profession, you may receive up to 20 Continuing Education Units (CEUs), including the Ethics requirement. CEU forms to submit to your boards are available from Irene. Check with your board to confirm your board's particular requirements for topic acceptance and CEU allotment for the number of covered workshop hours. College independent credit may also be possible. Check with your educational institution.
Provided: Throughout the training, you will receive handouts with definitions and concepts, worksheets, articles, self-assessments, and an extensive resource bibliography.
Another similar training for LGBTQPIA+ helpers: This weekend training is Noon, Friday, December 4 through 430pCST, Sunday, December 6, 2020. For White LGBTQPAI+ Helping Professionals: Facing Our Whiteness, Unlearning Racism, and Decolonizing Mental Health This training also addresses: Understanding Our Queer Whiteness in the context of our LGBTQPA2SI+ communities.
General points:(1) In this training, (as with all of Irene's workshops and trainings) our diversity is nurtured, valued, and celebrated, including, though not limited to, the richness of our varying sexual, affectional, gender, spiritual, racial, ethnic, class, age, educational, employment, size, ability, and family configurations.
(2) Why is this training a white affinity training space? This program is designed for people of European descent.
[BIPOC helping professionals: please note this particular training may not be a fit for you because it is designed for European-American (white) people. Hopefully, the text below will explain why. Feel free to contact me to discuss. I may know of similar trainings that may be more helpful.]
There are many training formats available for white people to address our whiteness and anti-racism work. There are differing opinions about anti-racism trainings being taught by a white trainer or being geared towards only white people. Based on my experiences of giving and receiving anti-racism trainings in various configurations, I have found unique value for some white people to do some of "their work" in a white affinity space format.
When white people "do our work": When we white people do our educational work in white affinity or white caucus spaces, we can more appropriately center the needs, experiences, feelings, and perspectives of our whiteness. We are often more honest and vulnerable in unpacking our conscious and unconscious internalization of white supremacy. We can directly encourage ourselves and each other to shift to anti-racist and liberation-based insights and practices. We can directly address our desire to be "the best white person," "the best white ally," or "the most anti-racist."
In white affinity spaces, we white people more honestly grapple with our inevitable micro-aggressions and racial biases. We can address our stumbling reactions in the company of other white people, i.e., over-apologizing, over-explaining, guilt, white tears, shame, anger, blame, denial, etc. In these white spaces, we will not be able to look to BIPOC for permission, forgiveness, education, responsibility, validation, or comfort. Doing our privilege work together may help reduce at least some of the pain and disrespect our unexplored whiteness may cause BIPOC.
When we racial ally-intentioned white people develop supportive connections with similar white people, we may more effectively process our white perfectionism, white exhaustion, mistakes, and discomfort. We are often more open to examining our racial stereotypes and assumptions. Together, we can claim the growth and liberation that come with accepting our anti-racist responsibility and accountability.
A white affinity space offers white people an opportunity to muck around in our messiness, fear, and upset. We have space to heal our inter-generational moral injury, guilt, shame, and loss. Additionally, together we can learn to understand the roots of our white identity development and increase appreciation for our own ethnic background. (Connecting with our European ancestry often decreases white people's tendency to appropriate BIPOC culture.)
Note: It is essential to understand that too much time in white-only spaces can keep us in a safe, artificial allyship bubble. If we are protecting ourselves from taking risks, we are continuing to center our whiteness. Being in only white spaces significantly reduces our potential to build personal and professional relationships with people of the global majority. Additionally, it minimizes potential professional and personal alliances in our commitment to decolonizing mental health and social work and limits our agitating together for justice and liberation. True allyship is a verb, not a noun.
Irene Greene (I am happy to talk about other ways to view white affinity training spaces. irene@irenegreene.com)
- The Emperor Has No Clothes: Teaching About Race and Racism to People Who Don't Want to Know by Tema Okun
- White Anti-Racism Affinity Groups: I Used to Be a Skeptic, But Now I'm an Evangelist (blog post by Justin C. Cohen) http://www.justinccohen.com/blog/2016/10/28/white-affinity-groups
- Guide to Race-Based Affinity Groups (UUA Youth and Adult Ministries) https://www.uua.org/sites/live-new.uua.org/files/race_based_affinity_groups.pdf
Definitions:
• LGBTQPIA+: Lesbian, Gay, Bisexual, Transgender, Queer, Pansexual, Intersex, Asexual / LGBTQPI2SA+: Lesbian, Gay, Bisexual, Transgender, Queer, Pansexual, Intersex, Two-Spirit, Asexual
• QBIPOC: Queer Black Indigenous and People of Color
Appendix A:
Topics, terms, and concepts we will address or reference during the 20-hours include:
Decolonizing mental health and social work | white savior complex| The Pathology of Whiteness | Healing Ethno-Central Trauma (HEART), Healing-Centered Engagement | Moving beyond Trauma-Informed Care | Healing justice, racial justice, reparations | Intersectional feminism| Professional ethics and personal values | The intersections of environmental justice, queer justice, disability rights, women's rights, gender justice, health justice, religions freedom, and economic justice | Land acknowledgment | personal, cultural and systematic racism | Collective liberalism and liberatory consciousness: Awareness, Analysis, Action, Accountable Ally-ship | Complacency is Complicity| White racial identity development | Decentering whiteness, "calling in" and "calling out" | Multi-culturalism, white humility, cultural humility| Inter-generational white moral injury | Racial equity, racial equality, racial justice | Racist, non-racist, and anti-racist | Impact over intention | Dismantling the imperialist, white supremacist, capitalist, and patriarchal systems of oppression| Defunding the police, abolition, transformative justice, state violence, and the prison pipeline | Colonization, imperialism, fascism, white nationalism | White Liberalism, "white lady" liberalism, white woman violence, white feminism , "white women's tears," Karenism | Cultural appropriation, appreciation, and assimilation | Whiteness, white-body privilege, white violence, white gaze, white defensiveness, complacency and complacency, white fragility, white entitlement | Being the "good white person," performative allyship, earning allyship | White fear, trauma, and our psycho-biology and brain science: flight, fight, freeze, fawn and face| Systematic racism and COVID-19| Anti-Blackness, transmisogyny, and the killing of trans women of color | Racial bias and microaggression | Racial trauma, racial exhaustion, Black rage, and post-traumatic slave syndrome | Why ally is a verb; not a noun.
Resources and references will include the writings, blogs, speeches, art, videos, interviews, research, concepts, papers, and trainings by QBIPOC, BIPOC, and non-BIPOC:
Kay Cheng Thom, Jennifer Mulan, Resmaa Menakem, Ijeoma Oluo, bell hooks, Rachel Cargle, Janet Helms, Tema Okun, Kenneth Jones, Angela Davis, Cara Page, Malcolm X, Martin Luther King, Pema Chodron, Mary Pender Greene, Paul Levine, Judy Ryde, Staci K. Haines, Megan R. Gerber, Tyler McKinnish, Claire Burgess, Colleen Sloan, Joy DeGruy, Tiffany Jana, Renee Linklater, Jordan Flaherty, Ibram Kendi, Stephanie Jones-Rogers, Daina Ramey Berry, Kali Nicole Grow, Ta-Nehisi Coates, Beverly Daniel Tatum, Lama Rod Owens, Robin DiAngelo, Jennifer C. Nash, Layla F. Saad, Zeshan Mustafa, Reni Eddo-Lodge, Barbara J. Love, Paul Kivel, Ali Michael, Mary C. Cooper, Adam Getachew, Babe Kawaii-Bogue, Akala, Patrisse Khan-Cullors, Asha Bandela, Susan Raffo, Kenneth Hardy, Atum Azzahir, Manijeh Daneshpour, Jose G. Luiggi-Hernandez, R. Brockman, Paul Gorski, Noura Erakat, Catrice M. Jackson, Elisa Lacerda-Vandenborn, Mimi Khuc, Lambers Fisher, Patrick Grzanka, Keri Frantell, Ruth Fassinger, Vikram Kolmannskog, Ruth King, Brene Brown, Sonya Renee Taylor, Tarana Burke, Bree Newsome Bass, and more.
Appendix B:
Irene Greene MSED | Greene Growth & Training | Irene lives and works on Anishinaabe land, which is commonly known as Minneapolis, MN
I am a European-American (Irish, German, and Roma Gypsy) cisgender older woman, an "out" lesbian for over 35 years, a survivor, an intersectional feminist, a single parent by creative means, an avid Women's National Basketball Association (WNBA) and MN Lynx Basketball fan, a community organizer and activist. I hail from a small conservative Catholic farming community in rural Minnesota. My mother was a schoolteacher, and my father was a farmer on land stolen from the Anishinabe, the Indigenous people who originally lived in this part of the Midwest. I am the third child of eight siblings. With all of their colliding lessons, these identities inform my motivation and dedication to the services I provide, and the communities I choose to serve.- Irene
Irene has 29+ years as an individual and relationship therapist, positive psychology wellness coach, activist, and educator. The majority of her clients identify as LGBTQ2SPIA+, BIPOC, QBIPOC, social justice activists, and health and wellness professionals. Irene has facilitated dozens of trainings on the topics of political trauma stress, compassion fatigue, burnout, vicarious trauma, resiliency, oppression fatigue, wellness during COVID-19, and anti-racist allyship. Irene facilitates a support group for Twin Cities Executive Directors (EDs) of LGBTQ+, HIV-AIDS & Social Justice Nonprofits. She is the Chair of the MN LGBTQ+ Therapists Network and a psychological first-aid street medic trainer. Irene is a past member of the MN Women in Psychology's steering committee and the first Director of the UM-Twin Cities Aurora Sexual Violence Program.
Specialized training and education
Kente Circle Training Institute: http://www.kentecircle.com/KenteCircleTrainingInstitute.en.html
Reclaiming Our Humanity and Voices through PROTEST: Responding to Racial Trauma and Violence by Kente Circle Training Institute – Fall Conference 2020
Order for A Communal Discourse: Embracing Racial Consciousness by Kente Circle Training Institute - Fall Conference 2019
Keeping the Faith: In the Midst of Racial Oppression by Kente Circle Training Institute - Fall Conference 2018
Healing in Community: Shifting the Burden of Dismantling Racism by Kente Circle Training Institute - Fall Conference 2017
Advanced Equity Skills for Clinicians by Rebecca Davis and Shea Lowery Anti-Racist Trauma-Informed Care by artic LLC (Anti-Racist Trauma-Informed Care)
Movement Trauma Healer Training Program, School of Global Citizenry https://schoolofglobalcitizenry.com/courses/movement-trauma-healer-certification-program-level-1-practitioner-training/
Understanding Movement Trauma for Healers TRACC (Trauma Response and Crisis Care) 4 Movements by Teresa Mateus https://www.eventbrite.com/e/the-cycle-of-movement-trauma-understanding-movement-trauma-for-healers-tickets-108918403878#
Racial Trauma by Lilian Daz, American Psychologists Association
White People Confronting Racism 20-hour training by Training for Change https://www.trainingforchange.org/
Multi-cultural Awareness and Diversity: Strategies to Advance Rapport and Cultural Competency by Lambers Fisher
A Therapists' Path for Exploring Implicit Bias and Racial Trauma https://therapywisdom.com/a-therapists-path/ with Janina Fisher, Debra Chatman-Finley, and Gliceria Pérez
White Fragility and White-Body Supremacy by Resmaa Menakem https://www.resmaa.com/about and Robin DiAngelo https://www.robindiangelo.com/
Journey to Allyship by Catrice Jackson http://www.catriceology.com/
Training the Trainer Anti-Racism Project for nonprofit programs of MN Coalition of Battered Women and MN Coalition Against Sexual Assault Services
Post-Graduate Certificate in Positive Psychology Well-Being Coaching, (PPWBC) National Board Certification Training Program, College of Executive Coaching
Master of Science in Education Degree with a concentration in Guidance and Counseling: Community Counseling & Counseling Women from the University of Wisconsin-Superior's Guidance and Counseling Program of the Educational Leadership Department, Clinical Mental Health Counseling Track, Highest Honors
Appendix C:
Registration Questions
Answering these questions is part of the registration process. Brief answers are welcome. Understandably, some concepts may be unfamiliar. These questions will give you a window into our discussion topics. Hopefully, your answers will offer you clarity about where you are and hope to be in your personal and professional journey of unlearning racism and decolonizing your work. Your answers will also help me to get to know you.
1. Please share a bit about yourself. If you know, include your ethnic and racial background.
2. The Deeper Than Skin Deep program asks participants to commit time, effort, and openness to their training experience. What will make this easy or challenging for you?
3. What are you hoping to gain from your participation in Deeper Than Skin Deep?
4. What concerns, if any, do you have about participating in Deeper Than Skin Deep?
5. Participants in Deeper Than Skin Deep will be at different places in our understanding of racism, whiteness, white supremacy, anti-racism, decolonization, and liberation. How will this be for you?
6. What is a race-related issue you grapple with? (i.e., guilt, looting during protests, blue lives matter, slavery, defunding the police, talking with white clients or family about race, talking with BIPOC clients about race, police at Pride)
7. When we white people are doing our anti-racism work, we often become self-protective. This can show up as fear, denial, anger, competition, discomfort, guilt, dissociation, or shame. How might you react?
c 2020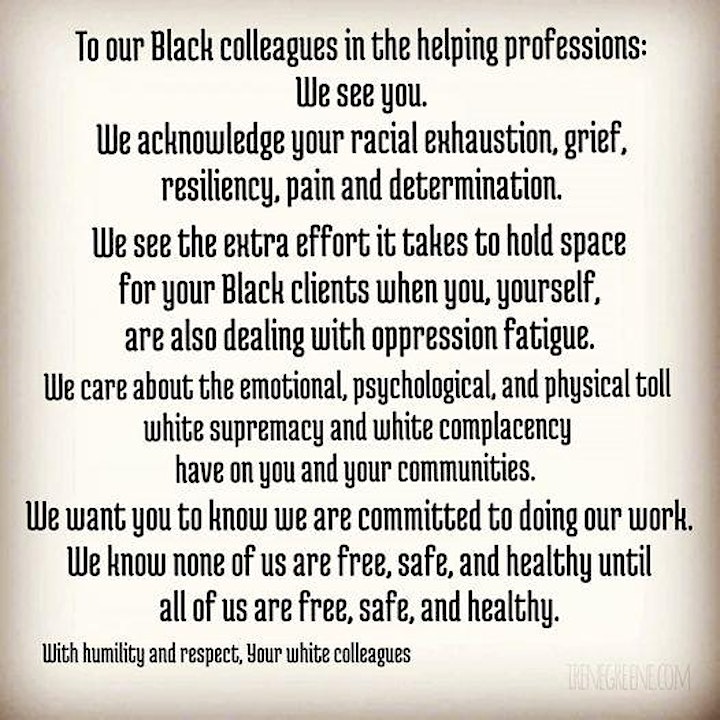 Organizer of Anti-racism and Whiteness Training for White Helping Professionals
Irene Greene MSED has 30+ years of experience as a psychotherapist, consultant, wellness coach, and educator. (During the coronavirus all services are offered online and through telehealth.)
 Irene incorporates a healing-centered engagement and socially-conscious progressive approach. She acknowledges how the layers of cultural and systematic oppression and trauma adversely impacts personal, interpersonal, and community health and well-being; and the healing power of inter-personal and collective connection. She is affirming and inclusive of the fluidity and varieties of sexuality, sexual and gender expression and identities, and relationship configurations. 
 "I am an Irish, German and Roma Gypsy cisgender older woman, a lesbian from way back, a survivor, an intersectional feminist, a parent by creative means, an avid MN Lynx WNBA fan, and community organizer. I hail from a small conservative farming community in Minnesota; my mother was a school teacher and my father was a farmer. These identities, with all of their colliding lessons, inform my motivation and dedication to the services I provide and the communities that I choose to serve."
Irene has designed hundreds of trainings for social service, mental health and medical professionals, educators, community members, and social justice organizers and volunteers.
 Training and Consultation Topics
- organizational wellness and trauma-informed care for staff and supervisors
- professional and personal self-care, health and wellness
- burnout, vicarious trauma, and secondary trauma
- moral injury and compassion fatigue
- oppression fatigue
- political trauma stress
- trauma-informed care and healing-centered engagement
- cultural humility and anti-racism literacy for white helping professionals
 Psycho-Educational Coaching Support Groups 
Self-Care, Resiliency, and Wellness for Helping Professionals During the Coronavirus and Beyond*
Self-Care, Resiliency, and Wellness for Social Justice Community Organizers During the Coronavirus and Beyond*
Self-Care, Resiliency, and Wellness for Educators During the Coronavirus and Beyond*
Coming Out Later in Life for Women
Sexual Abuse Survivors' Skills and Healing Group for Women
Twin Cities LGBTQ+ Executive Directors (ED) Support Group
 *CEU Certificates are available. All groups are anti-racist, LGBTQ+ welcoming, and trauma-informed. 
Irene's community involvement and activism includes being the Chair of the MN LGBT+ Therapist's Network - the professional organization in Minnesota for LGBTQ+ mental health professionals, a past member of the steering committee of MN Women in Psychology, the first Director of the Sexual Violence Program at the University of MN-Twin Cities (now Aurora), a psychological crisis street medic trainer, and a former Chair of the MN Coalition Against Sexual Assault.
 Contact Irene Greene for more information about her trainings, groups, consultation, and coaching: irene@irenegreene or text or call: 612.874.6442