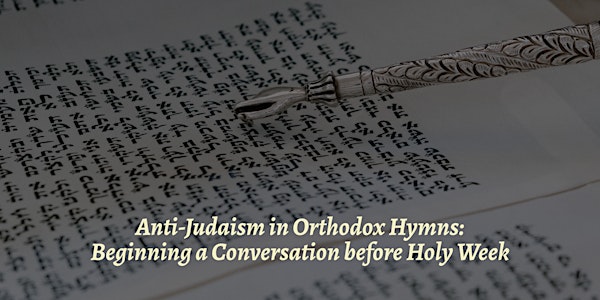 Anti-Judaism in Orthodox Hymns: Beginning a Conversation before Holy Week
Join us for an online conversation as we begin to assess and tackle anti-Jewish hymns within the Byzantine rite of the Orthodox Church
By Orthodox Theological Society in America
Date and time
Sunday, April 2 · 12 - 2pm PDT
About this event
The issue of anti-Jewish texts within the Byzantine rite is longstanding and complex. The Orthodox Theological Society in America is establshing a working group of liturgical scholars and specialists in Jewish-Christian theological dialogue to study and make recommendations for liturgical renewal within the Orthodox Church.
To launch this endeavour, and in advance of this year's Holy Week, a time when many of these anti-Jewish hymns are most prominent, our panelists will introduce some of the main issues involved and suggest some practical advice that can be implemented in local parish usage.
Sunday 2 April, 3pm to 5pm ET (Zoom videoconference)
Panelists:
Fr Geoffrey Ready, chair
Dr George Demacopoulos
Fr Dcn Michael Azar
Svetlana Panich
Fr Geoffrey Ready, chair
Fr Geoffrey is the director of Orthodox Christian Studies at Trinity College, University of Toronto, where he teaches liturgical theology, pastoral studies, and both Old and New Testament. His research interests include the narrative of God and Israel in the Orthodox liturgy, second Temple Judaism and Jewish-Christian origins, the "parting of the ways," and Orthodox Christian theological dialogue with Judaism today.
Dr George Demacopoulos
George is Fr John Meyendorff & Patterson Family Chair of Orthodox Christian Studies at Fordham University. He is Co-Founding Director of the Orthodox Christian Studies Center and Co-Founding Editor of the Journal of Orthodox Christian Studies. His presentation on the "Anti-Jewish Rhetoric in the Good Friday Hymns" at the recent OTSA conference in Volos, Greece – which he will present again during this online event – was the catalyst for the establishment of the new working group on anti-Jewish hymns in the Orthodox liturgy.
Fr Dcn Michael Azar
Fr Dcn Michael is Associate Professor of Theology/Religious Studies at the University of Scranton. His current book project (tentatively titled, Orthodox Christianity and the Reframing of Jewish-Christian Relations) focuses on ancient and modern Christian-Jewish interaction, particularly in light of Orthodox Christian hermeneutics and historic presence in the Holy Land. His other scholarly pursuits focus on New Testament studies, especially apocalyptic thought and the "parting of the ways," as well as the effects that contemporary sociopolitical policies have on scholarly understandings of the ancient world.
Svetlana Panich
Svetlana has worked as a journalist, a coordinator for the Association of Christian Schools International, a researcher at the Institute of Jewish Studies and the Centre of European Studies in Humanities of the National University "Kiev-Mohyla Academy," a lecturer in Literature at St. Andrew's Biblical Theological Institute, and as a researcher at the Alexander Solzhenitsyn Centre of Russian Emigré Studies.