Description
With Nutrition Consultant Madia Jamgochian, & Anti-Inflammatory Chef Magali Brecke, Co-Founder and Nutritional Director of Kitchen Witch Bone Broth
You may have heard than inflammation is the root cause of all disease, but did you know that what you eat has a profound effect on feeding or fighting the issue? In this 4-week series, Anti-Inflammatory Chef Magali Brecke and Holistic Nutritionist Madia Jamgochian will lead you through the basics of eliminating inflammation through diet and lifestyle. You will learn how to heal Leaky Gut, reverse autoimmune conditions, and get back on track to vibrant health. The four-class series breaks down as follows:
1. October 3: Intro to Inflammation, Leaky Gut, & Autoimmunity. In this two and a half hour class, Magali and Madia will provide a presentation on how inflammation affects the body, including what foods cause the biggest inflammatory response. Cooking demonstration & meal included.
2. October 10: Elimination Diets: There are quite a few anti-inflammatory diets out there these days. This class will go over how to choose the right elimination diet, and what's in a name. We will cover the Autoimmune Protocol, (AIP) Gut and Psychology Syndrome (GAPS) Wahls Protocol, Traditional Foods, and the Paleo diet to help you decide which one is the most realistic and beneficial fit for you. Cooking demonstration & meal included.
3. October 17: Meal Planning for Success! To complete a successful elimination diet, preparation is key. Magali & Madia will go over meal planning a week at a time, demonstrating batch cooking techniques that will make throwing together dinner easy! Cooking demonstration & meal included.
4. October 24: Hands on Cooking. In our last class together, classmates participate in creating an anti-inflammatory recipe from scratch. We will discuss techniques, resources, and do a series review plus Q &A on what you have learned from the class. Full meal included.
Testimonials from past Anti-Inflammatory Series:
"I never imagined that my body could detox so dramatically and heal my inflammatory symptoms by eliminating certain foods from my diet for four months. I started the class thinking only that I might learn to cook some new recipes, but thanks to this class my swollen finger joints and painful stiff fingers are now the pain-free, flexible fingers of my forties!"
"This class exceeded my expectations! I am very happy with the class and feel fortunate to have attended this series."
"Very informative and qualified instructors. Excellent class, I learned so much!"
"This class made me feel empowered to take health and injury into my own hands with a foundation of what and why and with practical support."
Class meets every Wednesday, October 3- October 24, 6pm-8:30pm. Ticket price covers all 4 weeks. Sign up for first date only.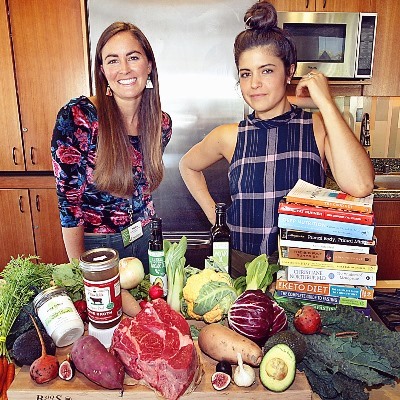 About the Instructors:
Madia and Magali started off teaching single anti-inflammatory lessons when it became apparent that there was too much info to cover, and that this class should really be taught as a series. They launched their first Anti-inflammaotry series in October of 2016, and it was so successful they decided to offer it again in February. This class has now become a regular offering through New Leaf's Westside Community Classroom. The 4-week series provides a structured learning space and support group to get on board with the anti-inflammatory diet, and on your way to better health.
Madia graduated from Bauman College of Holistic Nutrition in 2013 after completing her BA in Environmental Studies and Exercise Sports Science at UCSB. Shortly after, she started her personal consulting business My Healing Habits. She enjoys educating on how to heal inflammatory and autoimmune conditions, and believes in the food-as-medicine approach.
Magali uses her background in Traditional Chinese Medicine to cook anti-inflammatory meals for personal clients, tailoring each menu to their dietary needs. She founded the Kitchen Witch Bone Broth company, which started in response for the need to provide high quality, healing nourishment to the community.