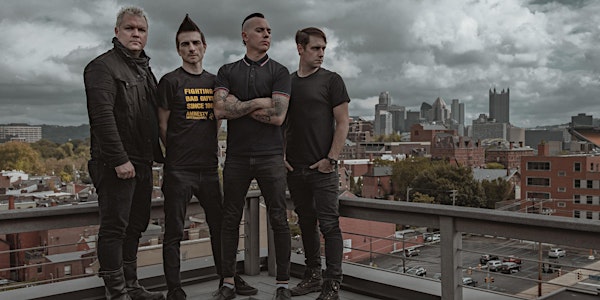 Event Information
Performers
Anti-Flag
Dog Party, Grumpster, Oxymorrons
Location
Grog Shop
2785 EUCLID HEIGHTS BLVD
CLEVELAND HEIGHTS, OH 44106
Anti-Flag / Dog Party / Grumpster / Oxymorrons
About this event
Wednesday, September 15
Doors 7pm / Show 7:30pm
$20 adv / $22 dos
+$2 at door if under 21
Anti-Flag is a political punk band, which is obvious from their name alone. But over the course of 12 albums across more than 25 years together, they've rarely set their sights on singular individuals in songs. Unlike their punk predecessors in the 80s, who made targets of Reagan and his cronies, Anti-Flag has always opted not to date their work with current references, instead focusing on fighting ongoing oppression and dismantling deeply rooted systems of injustice. But on their new album, 20/20 Vision, the band is drawing a big, fat line in the sand.
"We have actively chosen to not attack Presidents directly, either with album art or songs about certain times in history, because we recognize that the issues we're dealing with are cyclical," says bassist Chris #2. "But this record in particular, we kind of said, well fuck that, we need to be on the record in opposition to the policies of Donald Trump and Mike Pence."
"This record is a warning to people holding neofascist ideas or people who are enabling these types of positions, whether you're outright racist or you're enabling racism or sexism or homophobia or transphobia," adds guitarist Justin Sane. "You need to make a choice at this point. What we've seen with this White House is that there's no grey area anymore."
Produced by From First to Last's Matt Good, 20/20 Vision (Spinefarm Records, January 17, 2020) kicks off with a soundbite of Donald Trump speaking at a rally. And while just about anything the man has said over the last few years would make for a fitting sample on a punk record, Anti-Flag were deliberate in their choice. "In the good old days, this doesn't happen, because they used to treat them very, very rough," Trump is heard saying over the opening track, "Hate Conquers All." "And when they protested once, they would not do it again so easily."
"What I found compelling about that particular Trump sample is that it's the quintessential move that he pulls, which is: Say the thing into the world early, so that when it happens later, people are already accustomed to it," says #2, who believes that dissenters like journalists, protestors, and punk bands are not far down on the list of those who will eventually be rounded up and detained. "We've always cautioned that if you're not standing up for the most marginalized and the most oppressed then you're not truly free."
"Hate Conquers All" seeks to dissect the lexicon we use around racism to hold ourselves more accountable. "The song is a kneejerk reaction to the idea of Love Trumps Hate and this idea that love can beat back
hatred," notes #2. "That equates racism with hatred. That's a false equivalence of what the language should be. If you're racist, you're racist. You don't just hate people. It should be considered a much more vile term."
Later on the album, "Christian Nationalist" calls out those hiding behind religious zealotry to mask their neofacism, and the chorus makes it clear that these people will be held accountable: "We all know who you are!"
"When you listen to David Duke talk, you're listening to Donald Trump talk," Sane says of the track. "These people hide behind the veneer of suits or speaking well and the various ways in which they hide their bigotry, but the reality is that they're just as bad as the fascists in the 1930s or the segregationists in America.
"I'm not saying doxxing is OK, but I think it is important to let a community know that their neighbor is a racist who was chanting, 'Jews will not replace us! There has to be accountability."
On 20/20 Vision's title track, the band takes a deliberately poppy approach to grappling with a tough pill they've had to swallow recently: Seeing elements of the framework that punk bands like Anti-Flag have established over the last couple of decades as it is coopted and used as talking points by the alt-right.
"The roadmap that we created in the 90s, of alternative media and forms of communicating, was a left-wing strategy to bring truth to power," says drummer Pat Thetic. "The right wing has very effectively taken all those skills we learned in the 80s and 90s and turned them against the left. That's been a challenging thing for us, to see the strategies that we grew up with being used against us in such an effective way."
And while the newscycle moves faster than ever before, 20/20 Vision aims to take a step back and stare down the most pressing problems of our time: kids in cages, the fentanyl crisis, rolling back EPA restrictions. It's a record that at once feels both timely and forward thinking. 20/20 Vision is a work that Anti-Flag hopes will serve as an immediate form of communication with those who are politically engaged as well as a document of our modern times for a future generation.
As #2 puts it: "We hope that when someone trips over this record in the sand of the post apocalypse, they'll know that there were people who once stood in opposition to all of this."
https://www.instagram.com/antiflag/
https://www.facebook.com/anti.flag.official
https://www.youtube.com/c/antiflag
https://open.spotify.com/artist/30sqtiTKIb1oDve0SdYayT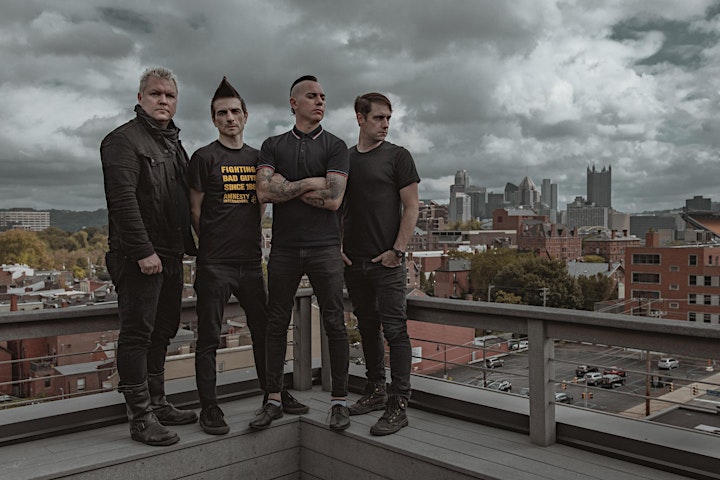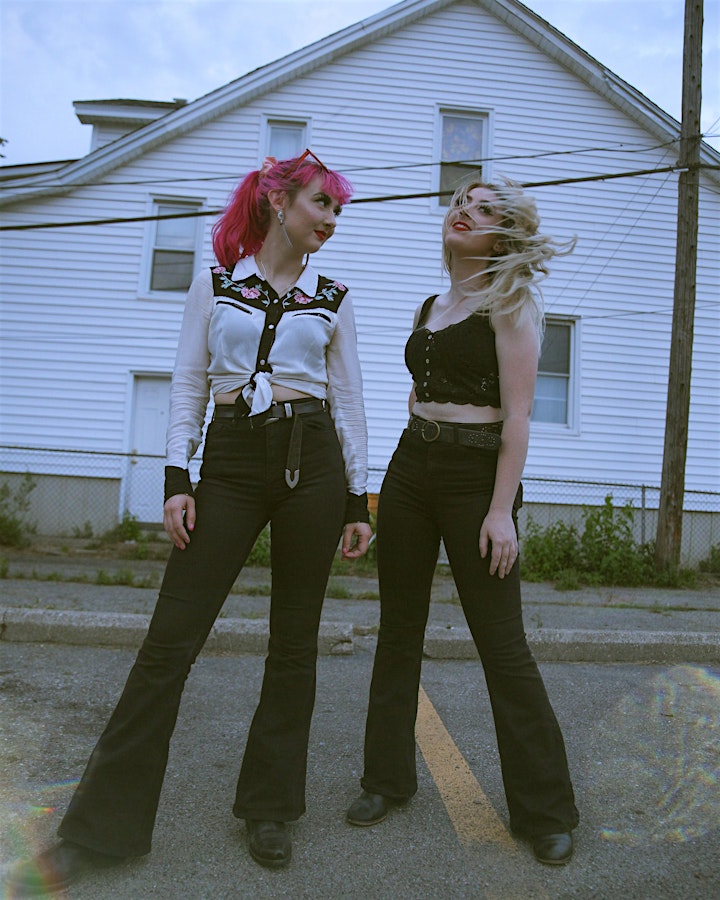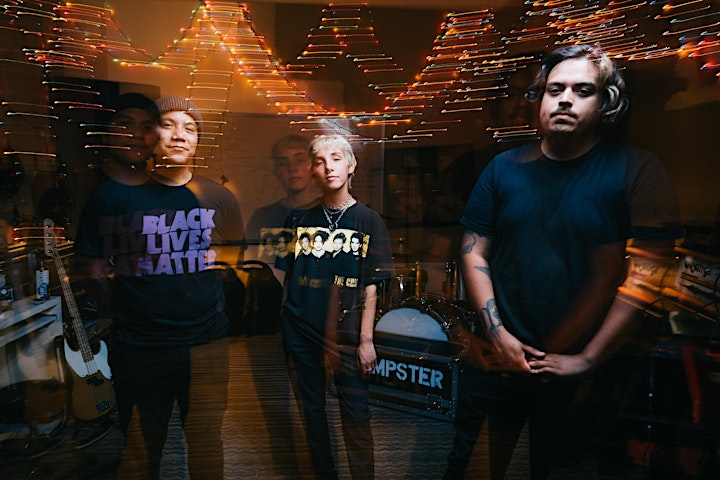 When you think about Alternative music Oxymorrons undoubtedly come to mind. The New York-based boundary-pushers have made a name for themselves in the spirit o fchange - building a movement from years of being told they were too rock for hip-hop,too hip-hop for rock. They boldly committed to creating music that defies arbitrary rules of classification, cementing the band as early pioneers of the modern genre-blendingrevolution.
Oxymorrons began as a collaboration between Kami (K.I.) and Demi (Deee), two Queens-bred brothers profoundly touched by the power of music at an early age. "Frommy dad playing Lionel Richie to Phil Collins, to our older brother playing Biggie toMetallica, I was definitely an MTV baby," recalls K.I. "I would watch videos from actslike Soundgarden and Nirvana and pretend to be a rock star, even breaking my bed afew times, lol."
Meanwhile, their neighborhood was always full of hip hop stars like Onyx, Lost Boyz,AZ, 50 Cent and Nicki Minaj, and seeing their successes let K.I. and Deee know what was possible. Still for the two brothers it was always about finding a way to think outsidethe box as an artist and carving their own path. "It was acts like NERD, Jay-Z, TheDiplomats, Kanye West, Outcast, Jamiroquai, Lupe Fiasco and Kid Cudi that reallyinfluenced us the most," says Deee. "They inspired us to be ourselves."
The lineup expanded with the addition of drummer extraordinaire Matty Mayz who seemingly fell from the sky into their laps at just the right time. "Matty was an intern at amanagement company we used to work with early on and he overheard how ourdrummer at the time had just flaked on an upcoming gig," recalls K.I. "He immediatelytold us he could play and so we gave him 8 songs to learn in just 2 days. He crushed itand has been with us ever since."
Guitarist Jafé Paulino was a well known musician/vocalist from the underground NYC music scene who made a name for himself playing with a wide variety of local Brooklyn-based acts. So when a mutual friend showed Deee a video of Jafé doing his thing, hewas extremely impressed. "We met up for coffee and quickly realized there was a lot ofsynergy in what we all were doing and stood for," says Deee. Jafé immediately becamean intricate part of the band and the lineup was finally set.
Oxymorrons are no stranger to the big stage. They have toured and shared the stage with the likes of Lupe Fiasco, Fever 333, Fishbone, Gym Class Heroes, OutKast, EnvyOn the Coast, Foxy Shazam, Waka Flocka, Rihanna and more. They have also gracedthe stage at notable festivals such as Warped Tour, Afro Punk, Firefly, SummerFest andFunkfest to name a few. Their high energy performance and versatile sound makes fora potent combination that never disappoints.
Yet it's not just the live show where Oxymorrons have left their mark. They have received co-signs from Billboard, Kerrang!, The Fader, Alternative Press, Complex,Hypebeast, Ebro of Beats 1 Radio, Daniel Carter BBC1 Radio and manymore. Their larger than life songs have been used in ads for ABC's 'The Mayor' andConverse, and featured on ESPN's First Take. They have also found synergy in brand partnerships with Dr Martens, HUF, Microsoft, Taco Bell, Hot Topic and beyond.
As the newest addition to Jason Aalon Butler's (Fever 333) Artist Collective '333Wreckords Crew', Oxymorrons have expanded their sound with their first release"Justice", putting forth a powerful message during these tumultuous times. "We have a lot to say with 'Justice', and it's more than just the lyrical content, it's about the actionsbehind it," explains Matty. Jafé adds, "We have chosen to designate all profits from thissong to grassroots organizations that are fighting for social justice with their boots onthe ground. It aligns us with the movement of time, regardless of the times." Nevershying away from using their voices for social change, they have also used theirplatform to give back to causes they support including Jed Foundation and Hip-HopHacks.
Although 2020 was the year of the pandemic, it was still a very productive year for Oxymorrons as they solidified their base, finished a new album and are in prime positionto bring the noise in 2021. Be on the lookout for their next single "Green Vision" to drop at the top of the year....you have been warned.
https://www.facebook.com/Oxymorrons/
https://twitter.com/OXYMORRONS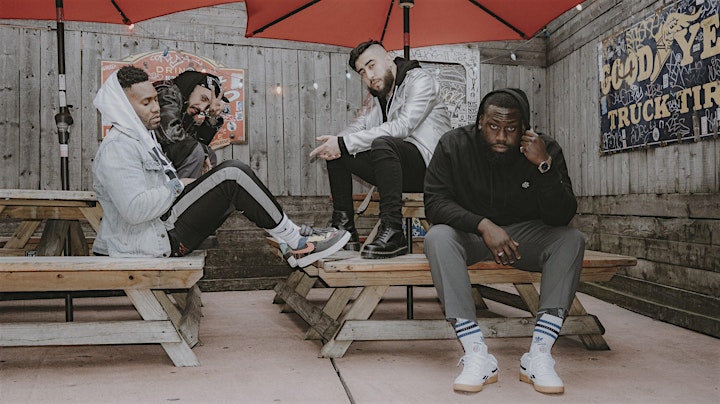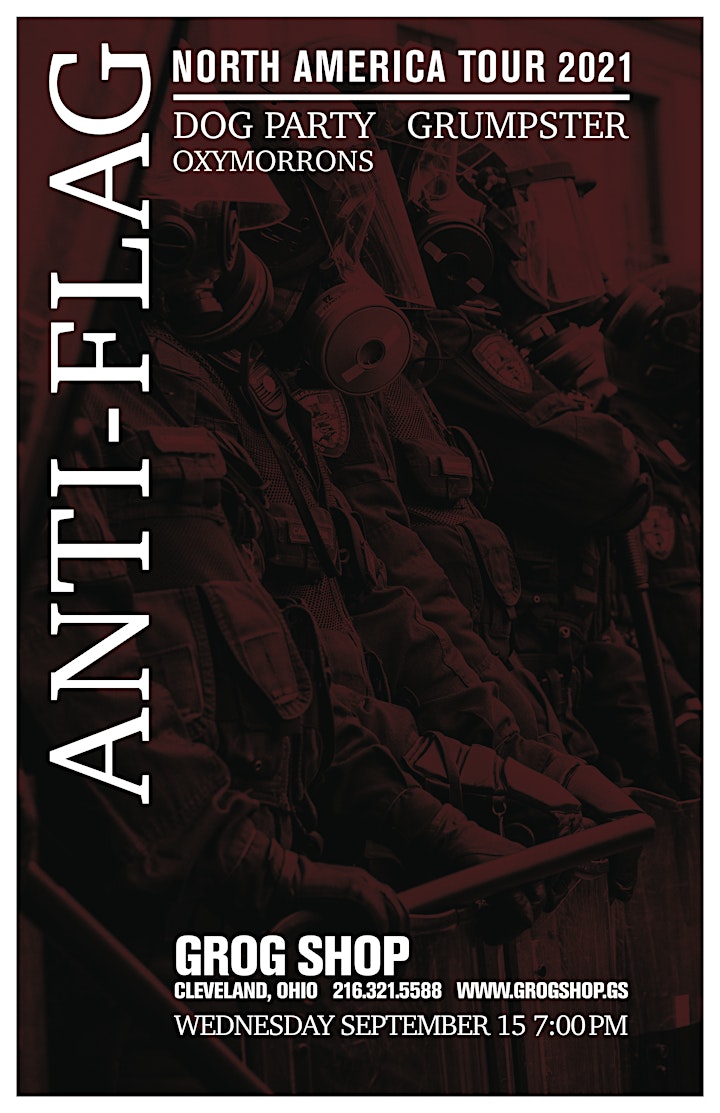 PLEASE NOTE UPDATED COVID-19 SAFETY PROTOCOLS
We care for nothing more than the safety of our staff, patrons, and performers. All ticket buyers for this event must show proof of Covid-19 vaccination or a negative PCR test 48 hours prior in order to gain entry. Proof of vaccination may include a physical card or a photo of a complete vaccination card that matches the patron ID. Proof of a negative test may be a printed or digital test result that matches the patron ID. For more information please visit the "FAQ" page on our website here: https://grogshop.gs/faq/ We appreciate your understanding and support - thank you!
Performers
Anti-Flag
Dog Party, Grumpster, Oxymorrons
Date and time
Location
Grog Shop
2785 EUCLID HEIGHTS BLVD
CLEVELAND HEIGHTS, OH 44106
Refund policy