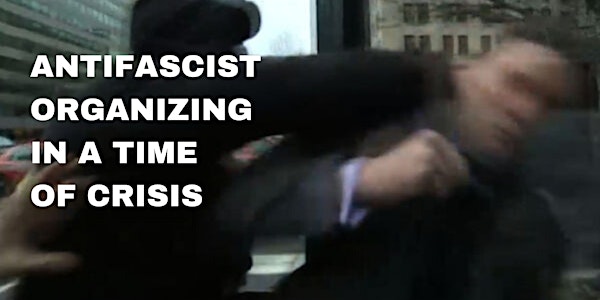 Anti-fascist organizing in a time of crisis
Description
An online teach-in on anti-fascist organizing during moments of crisis with Natasha Lennard, Kim Kelly, Shane Burley, and Mark Bray.

While all of our events are free, we ask that those who are able make a solidarity donation which will be split among the speakers.

-------
Please join us for an online teach-in on anti-fascist organizing during moments of crisis with Natasha Lennard, Kim Kelly, Shane Burley, and Mark Bray.

Friday, May 1, 2020, 3:00 PM EST (12:00 PM PST, 8:00 PM, GMT)

Register through Eventbrite to receive a link to the video conference on the day of the event.

-------
During moments of crises huge shifts in society suddenly seem possible. In this moment of pandemic and economic shock, how can we learn from historical crises to resist the threat of fascism? What can activists do to practice everyday anti-fascism?
How do we challenge the notion that what we need is a return to "normal"? How can we come out of this crisis with a movement better equipped to challenge neoliberal capitalism?


Natasha Lennard is a journalist and essayist. She is a columnist for The Intercept, an editor of Commune Magazine, and her work has appeared regularly in the New York Times, Nation, Esquire, and the New Inquiry, among others. She teaches Critical Journalism at the New School for Social Research. She is the co-author of Violence: Humans in Dark Times with Brad Evans and the author of Being Numerous: Essays on Non-Fascist Life (buy the book on Verso's website for 20% off)
Kim Kelly is a freelance journalist and organizer based in Philadelphia. She is the labor columnist at Teen Vogue, a regular contributor to the Baffler and the New Republic, and her writing on labor, class, and culture has appeared in the Guardian, the Washington Post, and the New York Times. She is a councilperson for the Writers Guild of America, East, a member of the IWW Freelance Journalists Union, and the author of a forthcoming book on capitalism for AK Press.
Shane Burley is a writer and filmmaker based in Portland, Oregon. He is the author of Fascism Today: What It Is and How to End It (AK Press, 2017) and Why We Fight (AK Press, 2021), and editor of a forthcoming anthology on antifascism. His work has been featured in The Independent, The Baffler, In These Times, Truthout, Jacobin, Bandcamp, Protean and Commune. He is a member of the National Writer's Union, the IWW Freelance Journalists Union, and CWA 7901.
Mark Bray is a historian of human rights, political violence, and radicalism in Modern Europe at Rutgers University. He is the author of Antifa: The Anti-Fascist Handbook and Translating Anarchy: The Anarchism of Occupy Wall Street. His work has appeared in the Washington Post, Foreign Policy, Salon, and ROAR Magazine.