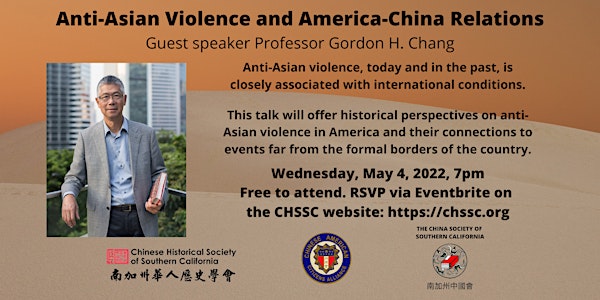 Anti-Asian Violence and America-China Relations
This talk will offer historical perspective on anti-Asian violence in America and their connections to events far from the formal borders.
About this event
Gordon H. Chang is a professor of History at Stanford University and the Olive H. Palmer Professor of Humanities. He is currently serving the University as the Senior Associate Vice Provost for Undergraduate Education and is the Stanford Alumni Association Fellow in Undergraduate Education. He is the former director of the Center for East Asian Studies and of the Asian American Studies Program. He has been on the Stanford faculty since 1991.
In 2019, he published Ghosts of Gold Mountain: The Epic History of the Chinese Who Built the Transcontinental Railroad and, as co-editor, The Chinese and the Iron Road: Building the Transcontinental. These books draw from more than seven years of work conducted by the Chinese Railroad Workers in North America Project at Stanford, which he has co-directed. His other books include Friends and Enemies: The United States, China, and the Soviet Union, 1948-1972; Morning Glory, Evening Shadow: Yamato Ichihashi and His Internment Writings, 1942-1945; and Fateful Ties: A History of America's Preoccupation with China. He teaches courses in American history, trans-Pacific history, U.S-China relations, and Asian American history.