Join Rielle Events for a Black America Summit event that promotes Black American & AAP cross-cultural solidarity. Allies are welcome.
About this event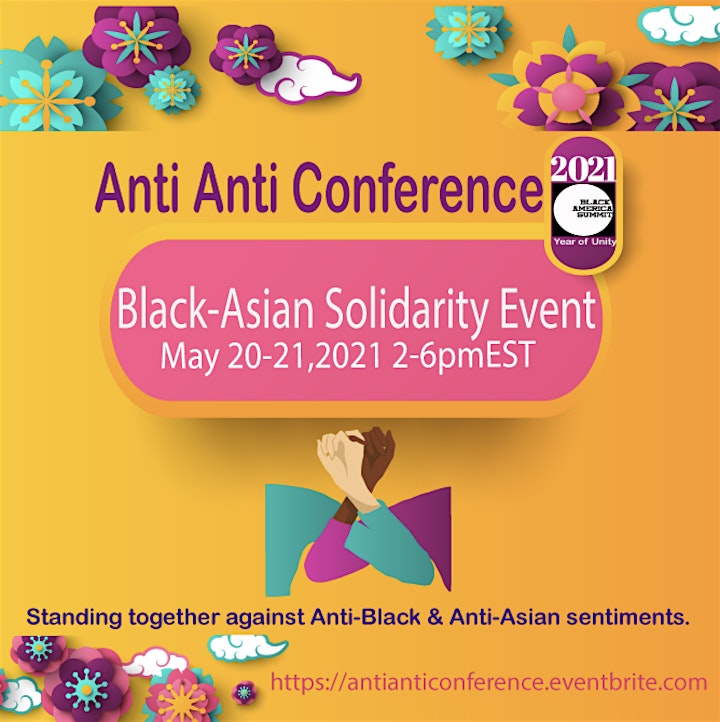 Rielle Events is hosting a Black America Summit solidarity conference centered around the Black American and AAPI experience. Over two days interact with unique guests and experts from Black and AAPI communities across America through our interactive panels. We'll explore anti-Black and Asian sentiments within our communities, ways to combat them and tools to build lasting solidarity.
Once you register, please follow the link to the event: https://hopin.com/events/anti-anti-black-asian-solidarity-conference
Anti Anti Conference 2-Day Event Agenda + Speakers
Day 1: The World.
Panels on the first day explore the external world and how the world and cultures depicts AAPI and Black American cultures and people. Topics include Reparations in the US, the role of "othering" in AAPI and Black communities, and representation in film.
2pmEST Reparations in the US
Reparations for Black Americans has been a hot topic over the last decade. Many sentiments about the possibility of reparations hover between impossible to barely possible. In this panel, we talk about reparations given to communities of Asian descent, the community discourse around said reparations and current conversations about reparations for Black Americans.
Panelists:
Cecilia Conrad (Moderator) is CEO of Lever for Change and a Managing Director at the John D. and Catherine T. MacArthur Foundation. Previously, She served as Associate Dean of the College (2004-2007), as Vice President for Academic Affairs and Dean of the College (2009-2012), and as Acting President (Fall 2012).  From 2007-2009, she was interim Vice President and Dean of the Faculty at Scripps College.  
Kirsten Mullen is a folklorist and the founder of Artefactual, an arts-consulting practice, and Carolina Circuit Writers, a literary consortium that brings expressive writers of color to the Carolinas. She and William A. Darity, Jr. are the authors of From Here to Equality: Reparations for Black Americans in the Twenty-first Century (University of North Carolina Press, 2020) which has received the inaugural 2021 book prize from the Association of African American Life and History and the 2020 Ragan Old North State award for nonfiction from the North Carolina Literary and Historical Association.
William A. ("Sandy") Darity Jr. is the Samuel DuBois Cook Professor of Public Policy, African and African American Studies, and Economics and the director of the Samuel DuBois Cook Center on Social Equity at Duke University. Darity's research focuses on inequality by race, class and ethnicity, stratification economics, schooling and the racial achievement gap, North-South theories of trade and development, skin shade and labor market outcomes, the economics of reparations, the Atlantic slave trade and the Industrial Revolution, the history of economics, and the social psychological effects of exposure to unemployment.
Tracy Jan covers the intersection of race and the economy for The Washington Post, a beat she launched in December 2016 that encompasses racial economic disparities, immigration, housing policy and other stories that hold businesses and politicians accountable for their decisions and promises. Her work has delved deeply into reparations for slavery, systemic racism in America, and the economic and health impact of the coronavirus pandemic on Black, Asian, Latino and immigrant communities.
Susan H. Kamei is the author of When Can We Go Back to America? Voices of Japanese American Incarceration during World War II (Simon & Schuster, 2021), a narrative history of the wartime incarceration of 120,000 persons of Japanese ancestry, told through first-person accounts of more than 130 incarcerees. The granddaughter and daughter of incarcerated persons, Kamei was a volunteer leader in the campaign for the Civil Liberties Act of 1988 that acknowledged the wrongfulness of the incarceration and provided token reparation payments to the surviving incarcerees.
3pmEST "Othering" in Black and Asian Cultures
Anti-Black rhetoric in white cultures can be relatively easy to identify. However, anti-Black sentiments can be found in Asian cultures too. We explore how Blackness is depicted in South Asian and AAPI cultures and strategies to combat those stereotypes. We'll explore the positionality of AAPI people within Black America and the economic interdependence of Asian businesses and Black American consumerism.
Panelists:
Ikhlas Saleem(moderator) is a writer, storyteller and digital media strategist, with a passion for religion, culture and education. Ikhlas serves as the Director of Digital Content for Education Post, a communications nonprofit focused on improving public education. In this role, she manages editorial and digital content, and produces and co-hosts Education Post's podcast, Voices4Ed. She also created, produces and is co-host of Identity Politics, a podcast on race, gender and Muslims in America.
Roseann Liu is Assistant Professor of Education Studies at Wesleyan University. She engages broad audiences through producing short films and writing op-eds that have been featured in Colorlines, The Philadelphia Inquirer, and Hechinger Report. Dr. Liu received her Ph.D. from the University of Pennsylvania, earning a joint degree in education and anthropology. Drawing from critical race and abolitionist frameworks, Liu teaches and researches structural inequalities in education, including its effects on communities of color and the organizing strategies used to enact change.
Bakirathi Mani is a scholar of Asian American Studies, Postcolonial Studies, and Transnational Feminist/Queer Studies, Bakirathi Mani has taught at Swarthmore since 2002. Mani is also the author of two books in Asian American Studies: Unseeing Empire: Photography, Representation, South Asian America (Duke University Press, 2020) and Aspiring to Home: South Asians in America (Stanford University Press, 2012).
Themis is known for his YouTube channel "Themis & Thoth" with an accompanying blog by the same name, Themis engages in political and cultural commentary. Themis studied Political Science, International Relations, and Sociology at university in Atlanta Georgia. Later he went to China for graduate school where he studied international and Chinese Law. Themis further continued his education in D.C. at Georgetown Law  to study for his J.D., upon completion took and passed the N.Y Bar.
4pmEST Hip Hop's Influence one Asian Music
The influence of Hip-Hop and R&B's sound and aesthetic on popular East Asian music has drastically increased in recent decades. Has the rise of Black culture within East Asian cultures changed Asian's understanding of Blackness in America? Is this cross-cultural musical influence a form of appreciation or cultural appropriation?
Panelists:
Ashlee Mitchell is a Gen-Z writer with a focus on Black and Korean pop culture. Her work can be found in publications like Teen Vogue, GRAMMY.com, MTV News, and Dazed. She is also a Communications student at Northwestern University with a concentration in African-American Studies.
Ashley Griffin also known as "Multifacetedacg" is a diverse content creator. She specializes in Hallyu Wave entertainment, with an emphasis on K-pop and music production commentary.
5pmEST Identity in Film
We speak to film industry producers and creatives about how their work challenges white washing of their culture. Gain inspiration from current artists who are telling stories that preserve unique experiences through time and culture.
Panelists:
Rielle Jones (moderator) is the Founder of Black America Summit and Rielle Events, LLC. She graduated from Wellesley College with a Bachelors of Arts in International Relations and Sociology. Mandarin is her second language. Her focus of study was cultural diplomacy, Sino-African relations and diplomacy.
Boafoa Offei -Darko is a television writer based in Los Angeles, California. Born and raised in PG County, Maryland she enjoys writing about Black/African Diasporan women exploring sex and intimacy. She has worked on shows such as Queen Sugar, David Makes Man, and For the People. She currently is a staff writer on Freeform's Good Trouble.
Dr.Kiona is an Asian American data activist, multi-media educator, and filmmaker. She runs the digital educational travel platform called How Not To Travel Like A Basic Bitch and the spin-off podcast How Not To Travel which has hit #1 in 13 countries. Dr. Kiona is currently working on a documentary called Barrio Chino documenting the contributions of Chinese Cubans.
Sampson McCormick is one of the most in demand voices of diversity in comedy for two decades. He has headlined venues including The National Museum of African American History and Culture and Hollywood Improv. He's appeared on BET, TV One, VICELAND, FOX Soul and the Amazon Prime film "Love The One You're With" (2021).
Day 2: The Individual
Panels on the second day explore our inner world and the personal experiences of Black and AAPI citizens. Topics for day 2 include reproductive justice and medicine, desirability and redefining masculinity, and tools for building solidarity.
2pmEST Reproductive Justice and Medicine
Breakthroughs in American reproductive medicine are linked to the inhumane treatment of the Black female body. Despite centuries of exploitation, Black women and people with reproductive organs consistently fight for full sovereignty of their bodies. Explore how reproductive justice translates in today's climate and how Asian Americans have joined the fight.
Panelists:
Rielle Jones (moderator) is the Founder of Black America Summit and Rielle Events, LLC. She graduated from Wellesley College with a Bachelors of Arts in International Relations and Sociology. Mandarin is her second language. Her focus of study was cultural diplomacy, Sino-African relations and diplomacy.
Vanessa Siverls is the Founder & CEO of BUPeriod P.B.C, an early-stage startup in femtech, that provides innovative menstrual health products and services for girls, women and all who menstruate who may be at risk for heavy flow causing iron deficiency anemia. Siverls also volunteers her time and business services for amazing and phenomenal non-profit teams of vibrant young people: We Build Black, Black Girls Code, FlowTech4Girls, Life Project 4 Youth and Technovation.
Tiara Mack is a recently elected senator who identifies as Black, queer, formerly low income, Ivy League educated activist and educator. Starting their work in activism, teaching sexual health education in Providence public schools, Mack now works as a youth organizer, empowering young people to engage in local and national social issues. They currently serve on the board of Women's Health and Education Fund (WHEF), an abortion fund in Rhode Island.
3pmEST Desirability and Dating
Representation in the "other" has impacted how Asian and Black people are deemed as desirable romantically within each other's culture. We explore how desirability differs across gender identity and sexuality as well as race and ethnicity. Our audience and panelists will imagine the dating landscape without stigmas.
Panelists:
Kaden Mohamed (Moderator) serves as Positively Partners' Client and Community Impact Manager acting as a liaison between our organization, clients, and communities. Through a lens of intersectionality and equity, he helps to foster and strengthen authentic partnerships and relationships with clients and provides project management, content delivery, training, and facilitation support. Kaden has participated in numerous panels, has been interviewed about trans issues and rights by the New York Times, WBUR, the Rainbow Times, The Boston Sunday Review, and TBF News, and was featured in Spirit magazine's 2017 Young Trailblazers list for activists under 30.
Sophia Mo Hailing from Boston, Massachusetts, Sophia Mo earned her undergraduate degree in French and International Relations at Wellesley College. In 2016, she joined the PhD program in French and Comparative Literature. Outside of her academic work, Sophia is also an active organizer for the Graduate Workers of Columbia union. Through the union, she and her colleagues advocate for institutional changes that are anti-racist, abolitionist, and feminist.
Ranier Maningding is the writer behind The Love Life of an Asian Guy. He is also the founder and Chief Brand Officer at LLAG Media, an Branding and Content Marketing Agency for POC Artists, Activists, and Entrepreneurs.
Steph Graham is a relationship-driven finance and management professional who thrives in an entrepreneurial environment, making a strong business impact. Demonstrated history of process improvement and utilizing ingenuity to problem solve. Constantly cultivating leadership skills in professional and community team environments as a member of Uber's Strategic Finance team.
4pmEST (Re)Defining Masculinity
In America, the concept of manhood and access to masculinity has historically been gatekept by white Americans. We speak with Asian and Black American men across gender identities and sexual orientation about redefining masculinity without gatekeeping.
Panelists:
Auw Sheen (moderator) obtained MSW from KU in Spring 2021, Youth Advocate at Synergy House (youth shelter), Volunteer/Intern at Kansas Suicide Prevention HQ.
Thomas Stevenson-Shannon earned his undergraduate degree in Chinese Language(Mandarin) and American Studies from Oberlin College and has a Master of Public Administration & Certificate in Chinese Studies from Middlebury Institute of International Studies. Thomas has studied, taught and worked in a variety of locations in China including Běijīng, Qīngdǎo and Xī'ān. Currently, he is assistant director of Study Abroad at the University of Cincinnati.
Kevin Ma born and raised in Boston's Chinatown, Kevin studied Business Management at Boston College as a Bill and Melinda Gates Millennium Scholar. Kevin seeks to deconstruct and reimagine professional spaces to make them more accessible for marginalized communities. His advocacy work has been recognized by the MAIP community, where he was named MAIPer to Watch. Today, he is a Strategist at BBH where he provides effective solutions to his tech and entertainment clients without ever compromising creative excellence.
Gold  Manning attended undergrad at Wellesley College and graduated in 2014 with a degree in education and sustainability. They've spent the past five years growing fruits, farming fish and educating youth. Currently they manage the ECOmmerce department for an Albertsons company retailer. They've started a tutoring business and are working to expand the breadth of content they can provide to empower the youth they partner with. As a non binary trans masculine individual my masculinity is something I'm aware of even if I'm not thinking of it because everyone around me is.
5pmEST Tools for Building Solidarity
We will explore the history of Black and Asian solidarity as well as current efforts domestically and internationally. We also unravel anti-Black sentiments and ways to combat them. Gain tangible tools from grassroots organizers on ways to ally to combat hateful sentiments in personal conversation within our families and communities.
Panelists:
Meredith Clark (Moderator)  is Lead Organizer at IHAF. She trains and leads a team of young people around racial and economic justice, focusing on the ending of mass incarceration. Meredith believes that everyone, regardless of race and socioeconomic status, must uplift the voices of marginalized young people to create a world where all people have equal opportunity to thrive. Meredith is an alum of the Life Together program of the Episcopal Service Corps and graduated magna cum laude from Wellesley College ('17) with a degree in Psychology and Education Studies.
Amanda Robinson founded Real Live Connection (RLC), a local non-profit, whose mission is to provide an all-inclusive safe space to educate, develop, and connect youth. In addition to standing by this mission, RLC host various events and programs for youth to connect with not only one another but to community organizations that are able to help them reach success. Some of these include: Teen Pride, Youth Day of Remembrance: Celebration of Life,  and Cup of Confidence. Amanda currently serves the community as a Board Committee Member for: the Alan Ross Pride Parade, Family Pride Zone, and NTARuPT. She has been the recipient of the 2015 Ambassadors of Justice Award.
William Chin is a proud DMV native, raised in Prince George's County Maryland. After obtaining his degree in City Planning from MIT, he has spent the last 10 years building a career in the community development industry, He is a licensed realtor in Maryland and DC. William's professional and volunteer experience includes affordable housing development, homelessness prevention, community organizing & engagement, as well as housing policy research. In 2020, he was honored with a Public Service Award.
Tri V Mo has provided enthusiastic labor for many BIPoC led small businesses, mission-led orgs, and political initiatives. Tri counts themselves among the new generation of baby Leftists trying to share the gospel of building strong communities beyond our profit-driven economies. Tri loves punk music, craft beer, a good piece of children's literature, and building up his new Leftist, APIDA, Midwest region focused podcast, GLAMMUMP.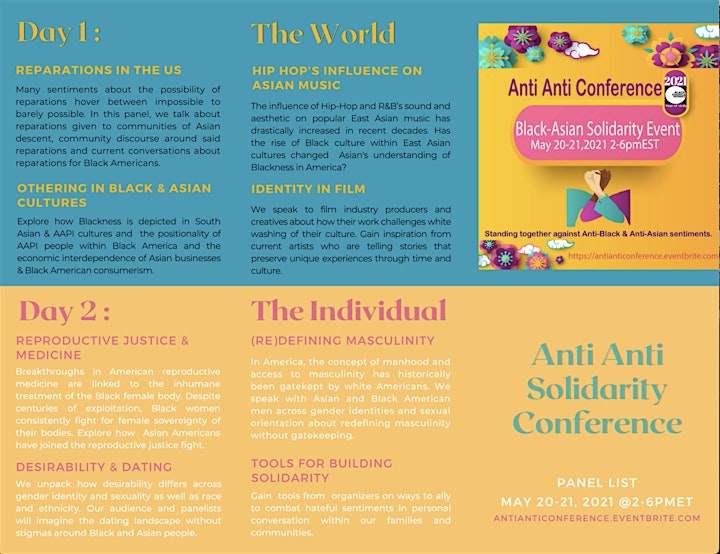 Black America Summit is a sponsoree of Arts Business Collaborative which provides us our 501(c)3 status.
Organizer of Anti Anti (Black-Asian) Solidarity Conference