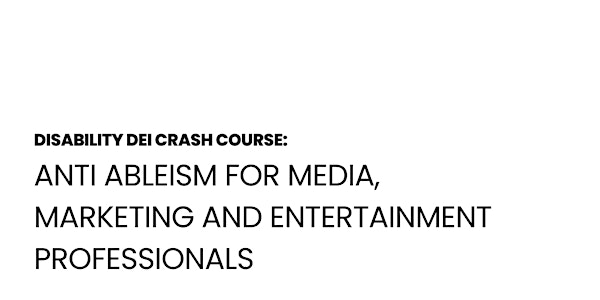 Anti Ableism for Media, Marketing and Entertainment Professionals
Learn about the disability human and civil rights crisis and how our industry is yielding one of the best tools to combat it.
About this event
Despite disability being the largest minority group in the world, only 4% of companies have a plan to include disabled people in their DEI efforts.
Additionally, while the CDC reports that disabled people make up over 25% of the America's population, we are only represented in media, marketing or entertainment up to a maximum of 3.1% of the time.
These numbers are alarming on their own, but when paired with the injustices that disabled people face across the world - and at home here in the USA - we see that a lack of inclusion, prioritization and authentic representation is upholding systemic oppression and implicit bias that have held back disabled people from their basic human rights for centuries.
Around the world disabled people are:
- 7x more likely to be victims of sexual assault.
- more than 2x as likely to experience violence
- Mortality for children with disabilities may be as high as 80%
- 90% of children with disabilities in developing countries do not attend school
Simultaneously, inclusion of disabled people into our media, marketing and entertainment isn't just the right thing to do morally - it's the right thing to do for business. Companies that prioritize disability within the workplace saw:
Plus, with so few companies prioritizing disability within DEI or marketing efforts, it leaves a huge untapped market. In fact the Global Disability Market has an untapped potential of $13 Trillion.
Come and learn from disability activist Kelsey Lindell who has split her career between on the ground international advocacy for people with disabilities all over the world and in media, marketing and entertainment industries here in the USA. You'll glean practical, tactical insights to take the next steps to make sure the content you create doesn't contribute towards ableist beliefs and systems, and starts to break down barriers that oppress disabled people.