Description
* This concert is sold out *
The Museum of Russian Art is honored to present
Anthony Ross in Concert
Featuring Anthony Ross, (MN Orchestra Principal) cello, and Denis Evstuhin (TMORA Classical Music Curator), piano.
Experience the unique opportunity of enjoying Russian classical masterpieces in the beautiful main gallery of The Museum of Russian Art. The program will feature music for cello and piano by Borodin, Prokofiev, Tchaikovsky and Rachmaninoff. Join us for what will certainly be a memorable evening!
Piotr Tchaikovsky: Pezzo capriccioso, Op.62
Sergei Rachmaninoff Vocalise, op. 34 No. 14
Alexander Borodin: Sonata for Cello and Piano
Sergei Prokofiev: Sonata for Cello and Piano, op. 119
Thank you to our generous sponsor

ABOUT THE MUSICIANS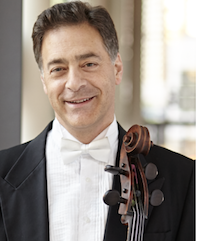 Anthony Ross, Principal Cello
John and Elizabeth Bates Cowles Chair
Principal Cello Anthony Ross joined the Minnesota Orchestra in 1988 and assumed the principal cello post in 1991. He has been a soloist many times with the Orchestra, performing concertos by Schumann, Dvořák, Victor Herbert, James MacMillan, Beethoven, Saint-Saëns, Elgar, Bloch and Shostakovich, as well as many chamber works. He was most recently featured as soloist in in January 2018 performing Tchaikovsky's Variations on a Rococo Theme.
In recent seasons Ross has performed Prokofiev's Sinfonia concertante for Cello and Orchestra, the Walton Cello Concerto and the Brahms Double Concerto, the latter alongside former First Associate Concertmaster Sarah Kwak. In April 2014 he was soloist in performances of Eric Whitacre's The River Cam, with the composer conducting. At Sommerfest 2014 he performed Prokofiev's Sonata for Cello and Piano with Sommerfest Artistic Director Andrew Litton.
Before joining the Minnesota Orchestra, Ross was principal cello of the Rochester Philharmonic. Away from Orchestra Hall, he is active as a chamber musician, festival performer and educator. He is a member of Accordo, a chamber group made up of principal string players from the Minnesota Orchestra and Saint Paul Chamber Orchestra. He also performs with the Chamber Music Society of Minnesota. He has appeared in the Mostly Mozart, Music in the Vineyards, Cactus Pear (San Antonio), Bach Dancing and Dynamite Society (Madison) and Orcas Island festivals, and has performed on stages from Pensacola, Florida, to Rhodes, Greece. He has taught at the Eastman School of Music, the Aspen Festival and the Grand Teton orchestra seminar.
Ross' recordings include Bernstein's Three Meditations with the Minnesota Orchestra under Eiji Oue, the George Lloyd Cello Concerto with the Albany Symphony under David Alan Miller, and works of Rachmaninoff and Elliott Carter for Boston Records.
A graduate of Indiana University, Ross earned a master's degree at the State University of New York, Stony Brook. In 1982 he was awarded the bronze medal at the prestigious Tchaikovsky Competition, and he received McKnight Fellowships in 2001 and 2005. Together with his wife Beth Rapier, the Minnesota Orchestra's assistant principal cello, Ross produces the annual "Harmony for Habitats" benefit concert at St. John's Episcopal Church in south Minneapolis.
Denis Evstuhin
TMORA Classical Music Curator
Hailed as "one of the finest pianists in the young generation," Denis Evstuhin has earned international acclaim for his vibrant artistry, remarkable sound quality and brilliant virtuosity by audiences and critics alike. His "sonorous, dark sound, clear textures, a fine sense of balance and an elegance of line" together with his ability to find "the expressive heart of each piece even as he made crisp and fluent work of the technical demands," have prompted critics to hail the Russian pianist as "a true artist" and "a natural musician" who has "virtuosity tempered with an old-world style…"

Denis has performed in major cities and venues throughout Germany, Austria, Spain, Russia, France, Switzerland, Finland, Poland, Estonia, and the USA. He has appeared on stages of the world's most prestigious venues, including Walt Disney Concert Hall in Los Angeles, the great Tchaikovsky and Rachmaninoff Halls in Moscow, the Mariinsky Theater and Philharmonic Halls in St. Petersburg, in Warsaw and Bydgoszcz, as well as Orchestra Hall in Minneapolis. Evstuhin appeared as a soloist with the Mariinsky Theater Orchestra, Minnesota Orchestra, San Diego Symphony, and the Sioux City Symphony. He worked with conductors Henry Charles Smith, Philip Mann, Mark Russell Smith, Tugan Sokhiev, and Vladimir Ziva. Recent highlights include a New York debut at the International Keyboard Institute and Festival and a recital at the Dame Myra Hess Memorial Concerts in Chicago.

He has also appeared on radio and television in Russia, Europe and the US, including Russian National Television and Radio, Polish Radio, Minnesota Public Radio, WFMT in Chicago, and WCLV in Cleveland, performing works by Bach, Haydn, Mozart, Schubert, Chopin, Liszt, Rachmaninoff and Prokofiev. In 2010 Denis was a guest on Garrison Keillor's "A Prairie Home Companion."

Denis has earned prizes in a number of international competitions such as the Paderewski International Competition (Poland, 2010), Iowa piano Competition (USA, 2009), Andorra International Competition (Spain, 2007), Balakirev International Competition (Russia, 2006), Rachmaninoff International piano Competition (Los Angeles, USA, 2005), Minnesota International Piano-e-Competition (Minneapolis/ St. Paul, USA, 2004), and Maria Yudina International Piano Competition (Russia, 2003). He also became a semifinalist at the 2007 Tchaikovsky International Competition in Moscow.

Denis has participated in master classes, performing for the most distinguished pianists of our time, including Yefim Bronfman, Philippe Entremont, Elisso Virsaladze, Dmitry Bashkirov, Jerome Rose, Lev Naumov, and Mikhail Vosskresensky.

Denis holds a B.M and M.M. from the St. Petersburg Conservatory (studio of Professor Eduard Bazanov). While in the USA, he received an Artist Diploma from Hamline University in St. Paul, Minnesota as well as M.M. and DMA degrees in Piano Performance at the University of Minnesota, where he studied with Professor Alexander Braginsky.

Besides his solo career Denis enjoys to collaborate with opera singers. He had performed with acclaimed Russian and American singers including Daniil Shtoda, Ekaterina Semenchuk, Vladislav Sulimsky, Marina Poplavskaya, and Maria Jette.

After a successful performance at The Museum of Russian Art in Minneapolis in July 2009, Denis was invited to organize and serve as Artistic Director of "Music at the Museum," a concert series featuring a wide range of Russian classics.
This activity is made possible by the voters of Minnesota through a Minnesota State Arts Board Operating Support grant, thanks to a legislative appropriation from the arts and cultural heritage fund.