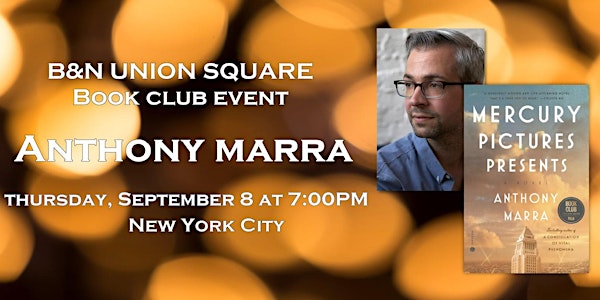 Anthony Marra discusses MERCURY PICTURES PRESENTS at B&N - Union Square
B&N Union Square welcomes Anthony Marra for a book club event to discuss MERCURY PICTURES PRESENTS on Thursday, Sept 8, 2022 at 7 PM ET!
When and where
Location
Barnes & Noble 33 East 17th Street New York, NY 10003
About this event
Not in New York, but want to join virtually? Click here to purchase tickets to the livestream!
**PLEASE BE AWARE THAT THESE GUIDELINES ARE SUBJECT TO CHANGE DUE TO CHANGING COVID-19 REQUIREMENTS**
Join Barnes & Noble - Union Square on Thursday, September 8, 2022, as we welcome Anthony Marra to discuss MERCURY PICTURES PRESENTS, our August B&N Book Club selection.
MERCURY PICTURES PRESENTS is an epic tale of a brilliant woman who must reinvent herself to survive, moving from Mussolini's Italy to 1940s Los Angeles—a timeless story of love, deceit, and sacrifice from the award-winning, New York Times bestselling author of A Constellation of Vital Phenomena
Anthony Marra will be joined in the discussion by Shannon DeVito, Director of Category Management at B&N and Miwa Messer, Editorial Director at B&N.
PLEASE NOTE: There will be spoilers at this book club event!
....................................................................................................................
**If you are not vaccinated, masks are strongly recommended.**
To make this event safe and enjoyable for all attendees, please read the below guidelines ahead of registering for a ticket, so you know what to expect on the day. To avoid disappointment, we must stress that there will be no access to the event for non-ticketholders.
Barnes & Noble reserves the right to make new rules and orders in its sole discretion with regard to COVID-19 at any time and any person not abiding by the Barnes & Noble directives will be refused entrance or directed to leave the premises.
EVENT INFORMATION
This is a live, free event. Registration is required to attend, as seating space is limited.
This event will include a discussion, QA, and live book signing.
Masks are strongly recommended if you are not vaccinated.
The featured book and other books by Anthony Mara will be available for purchase at Barnes & Noble Union Square.
Due to health and safety and space limitations, those without a ticket will not be permitted into the event space.
Please arrive by 7 PM in order to secure your seat in the event space. Late arrivals may only have access to standing room and may not have the opportunity to meet the author after the discussion.
GUIDELINES
Ticket holders will be admitted into the event beginning at 6:30 PM the day of the event. Please have a copy of your ticket available (either printed out or on your phone) for check in.
In order to attend this event, ticket holders should:
Have not had any contact in the last 14 days with a confirmed COVID- 19 patient.

Not be subject to a quarantine order.

Not traveled in the past 14 days to any state or country that New York has designated as an area requiring isolation upon returning to the state.

At the time of the event, have not experienced in the last 72 hours any body temperature above 100 degrees Fahrenheit or any new symptoms associated with COVID-19. People with COVID-19 have had a wide range of symptoms reported – ranging from mild symptoms to severe illness. Symptoms may appear 2-14 days after exposure to the virus. People with these symptoms may have COVID-19: fever or chills; cough; shortness of breath or difficulty breathing; fatigue; muscle or body aches; headache; new loss of taste or smell; sore throat; congestion or runny nose; nausea or vomiting; and/or diarrhea..
Due to health and safety and space limitations, those without a ticket will not be permitted into the event space.
All event guidelines are subject to change.
If you have any additional questions, please call the store directly at: 212-253-0810.
Please note that Eventbrite is the only authorized dealer for this event. Each person must have a ticket to enter.
Event guidelines are subject to change.
_______________________________________________________________________________________
About MERCURY PICTURES PRESENTS: A Novel:
Like many before her, Maria Lagana has come to Hollywood to outrun her past. Born in Rome, where every Sunday her father took her to the cinema instead of church, Maria immigrates with her mother to Los Angeles after a childhood transgression leads to her father's arrest.
Fifteen years later, on the eve of America's entry into World War II, Maria is an associate producer at Mercury Pictures, trying to keep her personal and professional lives from falling apart. Her mother won't speak to her. Her boss, a man of many toupees, has been summoned to Washington by congressional investigators. Her boyfriend, a virtuoso Chinese American actor, can't escape the studio's narrow typecasting. And the studio itself, Maria's only home in exile, teeters on the verge of bankruptcy.
Over the coming months, as the bright lights go dark across Los Angeles, Mercury Pictures becomes a nexus of European émigrés: modernist poets trying their luck as B-movie screenwriters, once-celebrated architects becoming scale-model miniaturists, and refugee actors finding work playing the very villains they fled. While the world descends into war, Maria rises through a maze of conflicting politics, divided loyalties, and jockeying ambitions. But when the arrival of a stranger from her father's past threatens Maria's carefully constructed facade, she must finally confront her father's fate—and her own.
Written with intelligence, wit, and an exhilarating sense of possibility, Mercury Pictures Presents spans many moods and tones, from the heartbreaking to the ecstatic. It is a love letter to life's bit players, a panorama of an era that casts a long shadow over our own, and a tour de force by a novelist whose work The Washington Post calls "a flash in the heavens that makes you look up and believe in miracles."
About Anthony Marra:
Anthony Marra is the New York Times bestselling author of The Tsar of Love and Techno and A Constellation of Vital Phenomena, winner of the National Book Critics Circle's John Leonard Prize and the Anisfield-Wolf Book Award, and longlisted for the National Book Award.