ANTHONY LANA: Luke Adams Sunnysider of the Year 2017: "70th Anniversary" Sunnyside Chamber of Commerce

Tuesday, January 31, 2017 from 6:30 PM to 9:30 PM (EST)
Event Details
On January 31, 2017, Anthony Lana will be named "Luke Adams Sunnysider of the Year VII" for his tireless devotion and service for 40 years to Sunnysiders and Woodsiders of all ages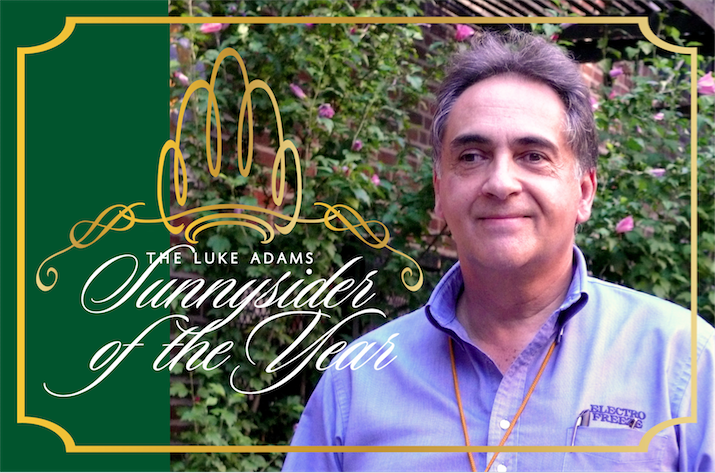 at great personal sacrifice, through good times and bad. He joins the pantheon of Sunnyside-Woodside "greats" we revere for making our local and wider world a better place. 

There is no more qualified person to exemplify Sunnyside Chamber's 70th Anniversary – Men and women who join the organization to perhaps help their businesses or causes, but also care about the fortunes and future of everyone in the community, without regard to politics, faith, or ethnicity, and who believe in fulfilling promises they make and missions they have undertaken. 

Tony is the ever the "last man standing," rain or shine in leadership and support of local institutions and traditions which serve as the heart of our community and give meaning to our workaday world; the community body won't live long without them. 
Come celebrate Tony Lana with a three-course dinner, cake (by awardwinning Juan Arache who has been featured on Oprah and Martha Stewart) and ice cream, entertainment and dancing! a DJ to get us all on the dance floor, a free raffle ticket, and free glass of wine, full cash bar, and a "one night mini museum" showcasing treasures and artifacts of Queens' past, from valuable to amusing.

WHO IS ANTHONY LANA?

Anthony Lana was elected president of the Chamber, president of the 108 NYPD Community Council, on the Children's Committee of Community Board 2, and was recently re-elected as president of Kiwanis Club of Sunnyside, and now is its longest serving member. There are few local unpaid, volunteer service roles that Tony has not undertaken, and has, like some past recipients, a wall full of awards.

Manny Gomez, president of both Sunnyside Artists and the Chamber, both non-profit groups, noted "His community service is a sacrifice for us. Doing what he has year after year for half a century is how a neighborhood remains like a big family."

Tony is known to most as the co-founder and Director of the Sunnyside Drum Corps, now in its fortieth year, and more often than not the organizer of the Kiwanis Flag Day Parade. Joe Sabba, Woodside Herald founder, was a fan of the young Tony, who first worked in and then bought the Dairy Queen on Greenpoint Avenue (under the small shingled roof in the middle of what now are connected Rite Aids). Lana was well known for his kindness to children, who flocked to his store, often giving free scoops to needy children. 

Tony was born Williamsburg, Brooklyn, as he describes it, to a "Sicilian father and an Italian mother" (née DeStephano) and the family moved to Woodside when he was entering sixth grade.  He made Sunnyside his home in 1966. He married Beatriz, of Ecuadorian descent, 38 years ago, and they have one daughter, Toni Ann. He later went into the ice cream machine business and moved to Garden City, but he faithfully returns to Sunnyside at personal cost and time for his many volunteer roles, including teaching, rehearsals, performances all over NYC.
Last year's illustrious honoree, Angel Gil Orrios, will bestow the crystal plaque, and past recipients also in attendance will be the Very Reverend Brian P. Dowd, Donald McCallian, Frances Schmidt, and Oguzhan Turan.
ATTRACTIONS?
• It wouldn't be Sunnyside without Anthony Lana's "kids," the local thunderous percussionists of the kids of Sunnyside Drum Corps on Queens Boulevard to rally the spirit world for good things!

• Of course we will have our "step and repeat" spotlight banner outside for guests, with photos taken by our pro. If you would like to be a business or individual on the banner, please contact us. All guests, male, female and other, should wear or carry something "borrowed, something blue, something old, something new" if possible, with a prize for most original! The dress of Neziah Bliss' (of Bliss Street fame) young wife, also worn by their daughter, will be worn publicly for the first time in more than a century! 

• Among our performers will be the beautiful-voiced Paula Hostetter and some surprising local guest artists.

• Music will range from Elvis Crespo, Bruno Mars, Shakira, The Weekend, Motown, to Frank Sinatra and Buddy Rich and some wild cards, in keeping with the community unity and fun purpose, to get us up and on the floor.  

• The food at Tangra is delicious and not spicy unless you add it from table cruets, and is Halal, so all may enjoy themselves. The generous and kind Lo Family, (who have some Irish ancestors, among Asian and Indian heritage), support this event so that ticket prices may be kept low and more may attend. President Manny Gomez always works on the menu with Yulan Lo, to make sure there are choices for every palate. If you have not yet seen the interior of Tangra, you will be surprised to learn there is such an ornate and luxurious setting right here in Sunnyside. 

• Like the honor's first recipient, Luke Adams, Tony is known for being hard-headed, so expect some entertaining stories among the praise! If you want to say a few words, please call us at 917-693-2992.

AWARD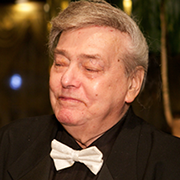 The honor is not about diversity but that we all have more in common than we have differences. It is given to only person per year, after open nominations are made from the Board of the Chamber and Sunnyside Artists, and a democratic vote is taken. Luke reluctantly accepted the eponymous honor in 2011. The award usually champions annually the public spiritedness Luke demonstrated, and is given without regard to fundraising, politics or affiliation. It recognizes the goodness in others which endures even when circumstances are not favorable and whose community service is second nature.
Luke and Tony were longtime friends, and Tony was there at the end with help, when Luke needed it most. We hope Luke is looking down with approval. Now, thanks to Majority Leader Jimmy Van Bramer, we also have the dual street sign at the Sunnyside Arch, Luke Adams Way, right across from Tom Manton's street name, which would almost embarrasss Luke, though his work with Gateway Restoration led to the Sunnyside Arch.
TICKETS/BANNER
Tickets are $50 per person, $55 at the door.We will create the usual "step and repeat" banner for photographs of entering guests on the red carpet. Call Manny Gomez at 718-909-4806 if you would like to be on the banner. 
Last year's awardee Angel Gil Orrios of Thalia Spanish Theatre, as well as "forever" Luke Adams Sunnysiders of the Year, Frances Schmidt, and Donald McCallian. The Very Reverend Brian P. Dowd is returning from an overseas trip late on January 31 but Father Jonas will be coming in his stead and will be singing! 


Past recipients of the
Luke Adams Sunnysider of the Year
2011, 2012, 2013, 2014, 2015, 2016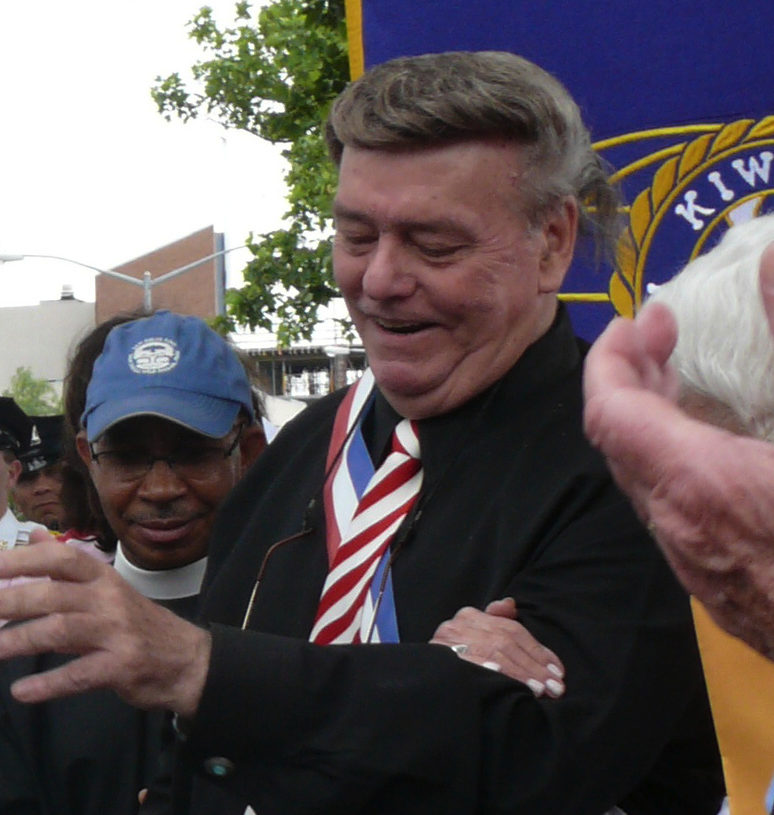 LUKE ADAMS who was the first recipient of eponymous award explained that the award was named after him against his will and while he is proud, it was "a mixed blessing – with relatives in Ireland last year thinking I was dead when they read that Father Dowd won the "Luke Adams Sunnysider of the Year." He is closely associated with the Chamber of Commerce as Marketing Director and served as President when he ran his own travel firm, taking tours all over the world. Luke is of Irish heritage on both sides, and has been a part of building up both as a leader and as a worker in institutions what we all associate with Sunnyside, the Chamber of Commerce, The Lions Club, the food pantries, Gateway which was the source of the Sunnyside Arch and more recently Sunnyside Artists. He ran demonstrations for more police. He created the first comprehensive Sunnyside website in 1991, helped and wrote for Joe, Buster and now Sherilyn Sabba's Woodside Herald, and was Grand Marshal of the Kiwanis Flag Day Parade, among his many civic honors. Loyal to a fault, he quickly gives away his wealth and property and good advice because he truly cares about Queens and the well being of its people. If you gave him $50 for food money, you would find out later in the day, he had given it to the Boy Scouts.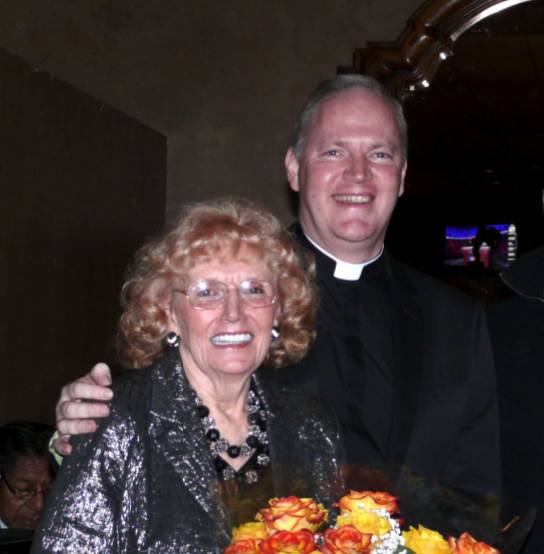 THE VERY REVEREND BRIAN P. DOWD, now a Dean, was born in 1964 and was born and brought up in Queens, one of six children of Irish descent on both sides. Brian attended Catholic schools and chose to study Catholic schools and chose to study for the priesthood as a teenager, and was ordained for the Diocese of Brooklyn in 1991. He served with three parishes, as Pastor at St. John Vianney before becoming Pastor of Queen of Angels Roman Catholic Church in 2009. Dowd embraces with gusto his diverse parish of over 1000 families in Sunnyside. He is known for his ecumenical outreach to all, opening his parish doors to all for church events, and hosting secular events of benefit to the community. He speaks Spanish, and presided over the first spoken Spanish wedding in the Diocese.  Father Dowd is so respected and well liked by his own parish and by the outside community that recently someone asked at a gathering in his absence "What happens if the Bishop gives him a new parish?" The response was a look of horror on all faces, as though a plague had been suggested. (Photo: Brian Dowd with his mother, upon receiving his award)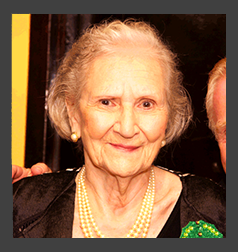 FRANCES SCHMIDT received her award in 2012, and was expected to say a few words, she first showed her usual shyness to be in the spotlight. She quietly thanked Father Dowd who made the presentation.  Then, she looked around the crowded room, brightened, and suddenly said, "and anyone who is free Saturday morning, please come help clean up John Daniels Park at 8:30 am," getting a big laugh.  Frances works to help others from morning until night for her church, the hungry, as a Republican party official, a poll supervisor, and in the arts at Astoria's Museum of the Moving Image and Sunnyside Artists. Schmidt's ancestry is German, and she is originally from Kansas where her father farmed and brought property. She earned her Master's Degree at Bank Street College and taught most of her professional life. She is a soft-spoken, kind, fiercely loyal and devout, a member of the secular Franciscan Order. If Frances chose to run for office, she would get 100% of all votes, from all faiths or those without and from all parties, but she chooses to serve her community in her own quiet way behind the scenes, because, "I just like to do good things, and keep on doing them."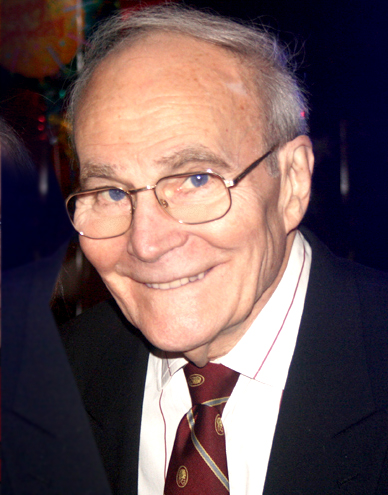 DONALD MCCALLIAN won in 2014, and he is the most prolific and accomplished community activist in the Sunnyside Woodside area. Fifteen different civic and church organizations owe a great deal of their success to his leadership and assistance. He is on Community Board 2, the 108 Police Council, and is President of United Forties, the area's largest civic group. Don was an executive for the federal Government, which took him all over the world. His ancestry is both Scottish and Irish and he grew up in Manhattan's Yorkville, moving to Sunnyside with his wife Eileen, now wife of 55 years, when priced out when the Upper East Side became well to do. He is well known for all his help at St. Raphael's Church and also St. Teresa's. He is an American Patriot, whose favorite song is "God Bless America." In the building where he lives and president of the tenants' council, there are few his building, neighborhood or the area who have not been helped by this energetic, kind, cheerful, intelligent person who has devoted his life to serving others.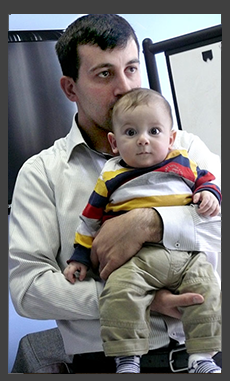 The 2015 honoree was the youngest, OGUZHAN TURAN. Softspoken, born in Itzmir,Turkey and 30 years old. He wore his new mantle with grace as he, with his wife, Reyhan, beside him, received the crystal plaque. Clergy from three faiths blessed the gathering not soft-pedaling their own beliefs – Father Brian Dowd calling upon Jesus, Rabbi Nesanal Lerman speaking partly in Hebrew, and Imam Ibrahim Sayar praying for peace on earth. Elected officials came by to pay their respects to honoree Oguzhan (pronounced "Ohzhan") and seemed to enjoy the heartfelt nature of the occasion. Councilman Jimmy Van Bramer, who has never missed the event, Senator Michael Gianaris and Congressman Joseph Crowley. Sunnyside and Queens became very fond of Oguzhan with the nonstop efforts he and his group made, yearly Friendship Dinners, programs and open door to all. Oguzhan's Turkish Cultural Center represents "Hizmet" or service but he went above and beyond their mission every aspect of local life; helping with the big problems with Hurricane Sandy food tents or flooded libraries, and smaller problems like local support for all with labor, kindness, and loyalty. He embodied a peaceful and supportive response when others might turn away, giving of himself personally. He "lives" his faith, and is an example to all of how one can be a good, giving person in good times and bad, seeing all people of the earth as though his brothers and sisters. 
ANGEL GIL ORRIOS was honored in 2016: While many of us pass by barely aware of why there is a line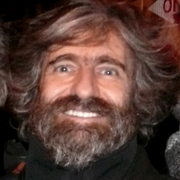 of limousines on Greenpoint, Angel's theatrical imagination and longevity have made Sunnyside known worldwide. Orrios is Artistic/Executive Director of the Thalia Hispanic Theatre, an internationally renowned director, set and lighting designer, filmmaker, reporter, translator, writer and producer.  The theater was founded in 1977 by Silvia Brito. Angel speaks his mind without tonterias (baloney) and has a contagious enthusiasm for all he undertakes. He credits his actress wife, Thalia Theatre administrator Soledad López, with being the most help in his career. We honor his giving of himself in the teaching of others, such as free performances and classes for children for 20 years, and his embrace of Sunnyside for his professional "laboratory." Angel has talent, ideas and intelligence to share with all, as well as scholarly achievement, which is exciting not pretentious.  In 2016, Sunnyside Artists and Sunnyside Chamber sponsored and assisted Amanda Barker and Matt Carlson in their creation of the Boulevard Film Festival, and without Angel's assistance, it could not have been achieved. He continues to honor Sunnyside with his verve, generosity and amazing range of ability in an amazing array of many art forms.

Event FAQs
What are my transportation options?
The closest subway stop is the 40th St./Lowery stop on the #7 train, directly across the street. The Q32 and Q60 bus stops at the corner. There is metered parking for cars underneath the elevated train, and on Queens Blvd and side streets.
Where can I contact the organizer with any questions?
Email SunnysideChamberofCommerce@gmail with any questions, or call Manny Gomez at 718-909-4806.
Is my registration/ticket transferrable?
Tickets are non-refundable but transferable if you contact us in advance.
When & Where

Tangra Ballroom
39-23 Queens Blvd
Sunnyside, New York 11104


Tuesday, January 31, 2017 from 6:30 PM to 9:30 PM (EST)
Add to my calendar
Organizer
Kris Czerniachowicz
Tel 646-552-8165
Event Coordinator
Sunnyside Chamber
45-06 Queens Blvd. #166 
Sunnyside, NY 11104


The Sunnyside Chamber of Commerce is a 501-c-6, founded in 1947, an  Independent, self-governing, local, non-profit, dedicated to advocate for the well being of local small businesses and the betterment of the community.  Our by-laws begin with our purpose: "to develop, encourage, promote and protect the commercial, professional, financial and general business interests and ethics of the area known as Sunnyside, Woodside and Long Island City and promote civic interests and the general welfare of the community…to provide a forum for the reflection of the sentiments of business regarding matters affecting its interests.
 _______
Sunnyside Artists, Inc. is a non-profit 501-c-3 founded in 2007, of over 211 affiliated artists and 620 arts supporters who seek excellence in local fine art and to promote confidence in artists and supporters to self-determine what is valuable – and help all to regain our innate but often forgotten exhilaration about fine art, local history, culture, and community betterment – through the creation public exhibitions and good will events.