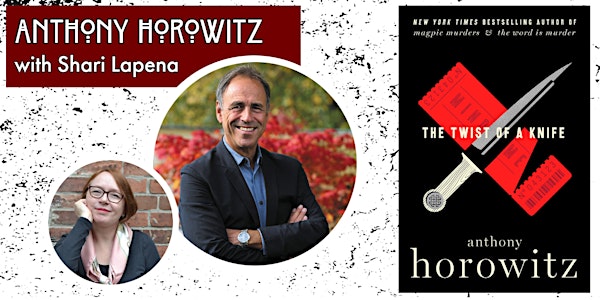 Anthony Horowitz with Shari Lapena: The Twist of a Knife
Read on for important registration and book order details for this virtual author event!
Refund Policy
Contact the organizer to request a refund.
Eventbrite's fee is nonrefundable.
About this event
Celebrate the release of The Twist of a Knife with author Anthony Horowitz, in conversation with Shari Lapena!
Books purchased here include a bookplate signed by Anthony Horowitz.
How to Register
Register on this page to receive a Zoom link
Register free, support the store, or buy the book to enter the event
If you don't receive a confirmation email after registering, contact us
Get Your Books
Books are held for pickup or shipped after ticket sales have closed.
STORE PICKUP- Pick up your book in person at Brookline Booksmith (Click here for directions). You will receive an email alert when your book is ready.
SHIPPING - Have your book shipped via USPS priority mail. Shipping is only available in the United States.
If you have trouble checking out, check the Eventbrite FAQ located here.
The Twist of a Knife
In New York Times bestselling author Anthony Horowitz's ingenious fourth literary whodunit following The Word is Murder, The Sentence is Death, and A Line to Kill, Horowitz becomes the prime suspect in a murder investigation—and only one man can prove his innocence: his newly estranged partner in solving crime, Detective Hawthorne.
"I'm sorry but the answer's no." Reluctant author Anthony Horowitz has had enough. He tells ex-detective Daniel Hawthorne that after three books he's splitting and their deal is over.
The truth is that Anthony has other things on his mind.
His new play, a thriller called Mindgame, is about to open at the Vaudeville Theater in London's West End. Not surprisingly, Hawthorne declines a ticket to the opening night.
The play is panned by the critics. In particular, Sunday Times critic Margaret Throsby gives it a savage review, focusing particularly on the writing. The next day, Throsby is stabbed in the heart with an ornamental dagger which turns out to belong to Anthony, and has his fingerprints all over it.
Anthony is arrested by an old enemy . . . Detective Inspector Cara Grunshaw. She still carries a grudge from her failure to solve the case described in the second Hawthorne adventure, The Sentence is Death, and blames Anthony. Now she's out for revenge.
Thrown into prison and fearing for both his personal future and his writing career, Anthony is the prime suspect in Throsby's murder and when a second theatre critic is found to have died in mysterious circumstances, the net closes in. Ever more desperate, he realizes that only one man can help him.
But will Hawthorne take the call?
One of the world's most prolific and successful writers, Anthony Horowitz may have committed more (fictional) murders than any other living author, working across so many media, from books, to TV, film, plays and journalism. Several of his previous novels were instant New York Times bestsellers. His bestselling Alex Rider series for Young Adults has sold more than 19 million copies worldwide. As a TV screenwriter he created both Midsomer Murders and the BAFTA-winning Foyle's War on PBS; other TV work includes Poirot and the widely acclaimed mini-series Collision and Injustice. His award-winning novel Magpie Murders has been adapted into a six-part miniseries that's now on BritBox, written by Horowitz himself and staring Lesley Manville. It will be on PBS Masterpiece this fall 2022. He lives in London. For more, visit: https://anthonyhorowitz.com/
Moderator Shari Lapena is the author of six internationally bestselling thrillers, including The Couple Next Door and Not A Happy Family. All of her books have been New York Times and UK Sunday Times bestsellers; three have been Richard and Judy Book Club picks. Her books have been sold into 38 territories. She lives in Canada.
About Brookline Booksmith
We are one of New England's premier independent bookstores, family-owned and locally run since 1961. We offer an extensive selection of new, used, and bargain books; unique, beautiful gifts; award-winning events series; and specialty foods. Every day, we strive to foster community through the written word, represent a diverse range of voices and histories, and inspire conversations that enrich our lives. Find more at brooklinebooksmith.com!
Participating Stores
This event is a collaboration between a number of independent bookstores, and is hosted by Politics & Prose! The following stores are partners on this event:
AN UNLIKELY STORY
BANK SQUARE BOOKS
BELMONT BOOKS
BOOK CELLAR
BOOK STALL
BOOKHAMPTON
BOOKS & BOOKS
BOOKWORM OF OMAHA
BOULDER BOOKS
BROOKLINE BOOKSMITH
BROWSEABOUT BOOKS
COPPERFIELD'S
DOYLESTOWN BOOKSHOP
GIBSON'S BOOKSTORE
HARVARD BOOKSTORE
KING'S ENGLISH
LITERATI
MAIN POINT BOOKS
MALAPROP'S
MYSTERY TO ME
NORTHSHIRE
NOVEL.
OBLONG
ODYSSEY BOOKS
PARNASSUS
PHOENIX BOOKS
POLITICS & PROSE
PORTER SQUARE BOOKS
R.J. JULIA (MADISON, CT) + WESLEYAN R. J. JULIA
RAVEN BOOKSTORE
SCHULER BOOK GROUP
THIRD PLACE BOOKS
WARWICKS
WELLESLEY BOOKS