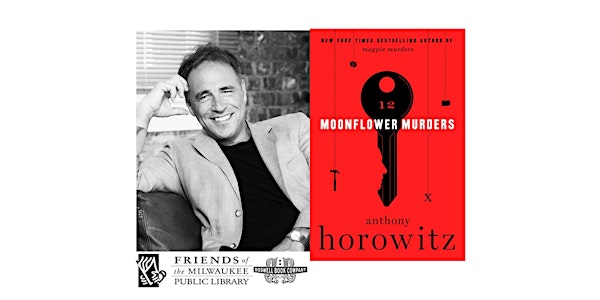 Anthony Horowitz, author of Moonflower Murders - presented by MPL Friends
The Friends of the Milwaukee Public Library and Boswell present an afternoon with Anthony Horowitz, author of Moonflower Murders
About this event
The Friends of the Milwaukee Public Library and Boswell present an afternoon with Anthony Horowitz, one of the UK's most successful writers, may have committed more (fictional) murders than any other living author. His novels include The Sentence Is Death, Moriarty, The Word Is Murder, and the Alex Rider series for young adults. As a television screenwriter he created both Midsomer Murders and the BAFTA-winning Foyle's War on PBS.
Horowitz will be discussing MOONFLOWER MURDERS, the sequel to The Magpie Murders, a national bestseller. Retired book editor Susan Ryeland is vacationing on a Greek Island, where she learns from the visiting Trehearne family of an unsolved murder in Suffolk, and Ryeland realizes this murder might be connected to the third Atticus Pund mystery by the late Alan Conway.
Tickets for this event are $45 and include a copy of Moonflower Murders and admission for one device to the virtual event. $20 from each ticket will be donated to the Friends of the Milwaukee Public Library fund supporting library book purchases.
Please note we are able to ship media mail in the continental United States for an additional $4 charge. Please choose the shipping option. If you are local and would like to pick up your copy, please choose sidewalk pickup option.