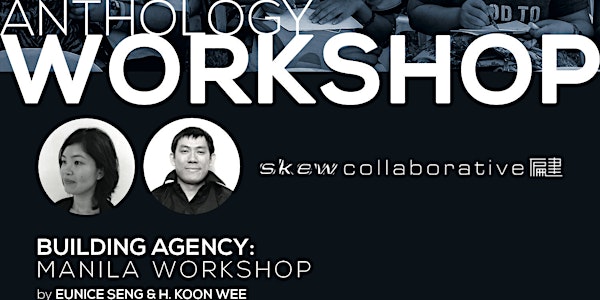 Anthology Workshop - Building Agency: Manila Workshop by Skew Collective
Event Information
Location
WORKSHOP TENT, Anthology Architecture and Design Festival, Fort Santiago, Intramuros, Manila
Description
An Anthology Festival Pass is required to gain access to Anthology Workshop tickets.
Buy you Anthology Festival Passes at https://www.eventbrite.com/e/anthology-architecture-and-design-festival-2018-tickets-39508516035
COURSE DESCRIPTION
Anthology Workshops, one of the main events of Anthology Architecture and Design Festival, is a series of whole day workshops by three select group of lecturers offering various specialization on architecture and design. The workshops will revolve on the festival theme "Social Architecture".
Building Agency: Manila Workshop is designed to build up the agency of an architect in the face of rapid urbanization, rampant redevelopment and unequal growth in Asia. The ambition is for participants to come to terms with the intrinsic operations of architecture and urban development, on the multiple levels of policy, planning, market forces, business relationships, institutional organization, social norms, informal and resistant tactics, and many other levels. Architects and spatial designers must begin to not only gain mastery over the prevailing processes, but also invent new ones. Every agent in the built environment must begin to reevaluate their capacities to be instigators of positive change, rather than leave the imagination of the future only to governments, real estate speculators and other patrons of architecture. The daily work of design thinking and stewardship of resources are common within the domain of an architectural practice, and this workshop will guide participants to expand on such expertise. Every participant would be encouraged to inhabit the minds and tools of multiple agencies and stakeholders found in a city, from municipal agencies, politicians, healthcare groups, property developers, animal lovers, industrialists, mall developers, women, children and other dependent classes in society, nature societies, human rights activists, environment watchdogs, infrastructure developers, new migrants, the aged, jobless and the economically unstable, and many more. It is urgent to recall the latent power of architecture as an agent of change, to serve not only the owners and authors of power, but also the broader society. Through a sophisticated series of collaborative exercises in scenario making, analyses, interventions and design, this workshop would empower every participant to reimagine new capacities and new points of entry into the making of architecture and the city in Manila.
COURSE OBJECTIVES
Gain experience in designing for rapid urbanization, rampant redevelopment, and unequal growth in Asia

Acquire awareness with intrinsic operations of architecture and urban development

Empower designers to reimagine new capacities and new points of entry into the making of architecture and the city in Manila
COMPETENCIES TO BE GAINED
Design conceptualization

Designing for contemporary cities

Collective design

Urban design
EVALUATION TOOL SPECIFIC TO COURSE OBJECTIVES SET
EVALUATION TOOLS
I.

Reaction Paper
To provide opportunity for the participants to assess the quality of materials and the competencies they gained in the program, a Reaction Paper for each workshop is required. This will then be reviewed by the CPD Provider and will be used to improve future programs.

The Reaction Paper should include the participant's comments, observations, and key pointers learned through the workshops in 200 words (minimum) and shall be submitted in A4 size bond paper.

The Reaction Paper shall be submitted at the end of the workshop in order to complete participation.
Date and time
Location
WORKSHOP TENT, Anthology Architecture and Design Festival, Fort Santiago, Intramuros, Manila
Refund policy