Antelope Valley African American Infant & Maternal Mortality Community Acti...
Description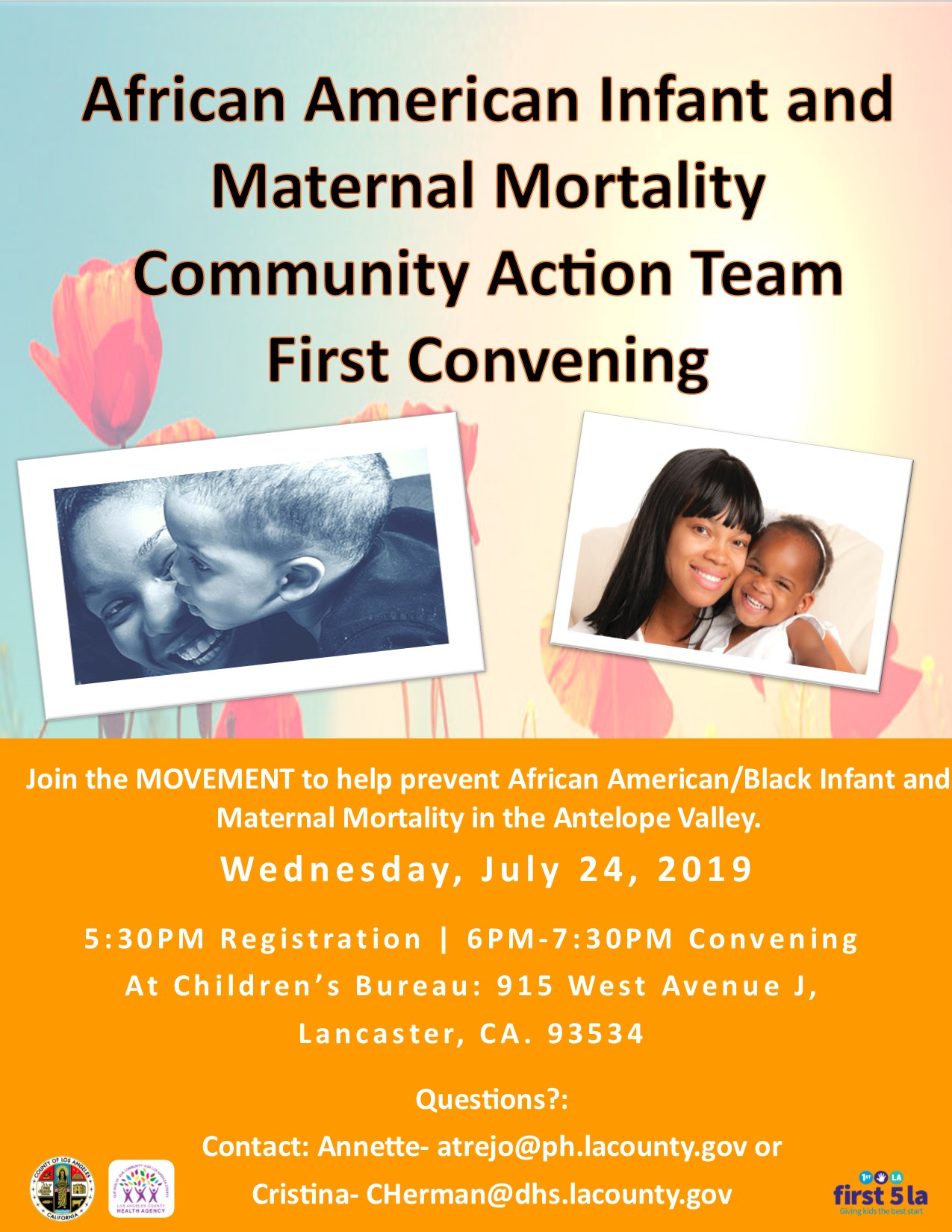 Please join the MOVEMENT on July 24, 2019 for our first Antelope Valley African American Infant and Maternal Mortality Community Action Team meeting!
Antelope Valley has long been facing alarmingly high rates of infant mortality and maternal mortality among the African American/Black community. Whether you're a community member or resident, a mom, a dad, a grandma or grandpa or any other family member, a community leader, an advocate, a service provider, a midwife or a doula, this is a forum for us to come together and find solutions.
If you are in any way concerned and want to help stop these deaths from happening- this is your community action team.
The meeting location is:
Children's Bureau
915 West Avenue J
Lancaster, CA. 93534
For more information, please contact atrejo@ph.lacounty.gov or cherman@dhs.lacounty.gov
FAQs
Will childcare be offered?
Unfortunately no, we will not be able to offer childcare at this event. However, you are more than welcome to bring your children under your own supervision. If your child is age 3 or older, please make certain to order a ticket for them since we have an 80 person capacity for this event.
What if I can't join in person?
RSVP online as a phone ticket and we will email you the call in line.
What if I'm running late?
No problem! C'mon in! 5:30-6pm is open time for settling in.
What if I have questions?
Please contact us via the emails provided on the flyers.
Will there be food or drinks?
We understand that you may be meeting with us after work- Jimmy John's Store 3774 in the Antelope Valley is providing their delicious sandwiches free of charge.
Do I have to bring my printed ticket to the event?
No. As long as you have RSVP'd on Eventbrite, we will know you are coming.