Description
As a leader of financial innovation both in China and globally, Ant Financial has always had one vision: to use technology to bring more equal opportunity to the world. Continuing from its recent installments in Silicon Valley and Singapore, Ant Financial is bringing its ATEC event to Europe to share its technical knowledge, its determination to explore the boundaries of financial possibilities, and advanced practices in the field of financial inclusion. At the same time, Ant Financial will be opening a dialogue with European academics, business executives, and experts to explore together innovative development and financial inclusion: how to use technological innovation to bring more usable financial services to individuals, industries, and countries, how to create more equal opportunities for ordinary people the world over, and how to drive forward the development of a global fintech ecosystem.

Agenda
13:00-13:30 Sign In
13:30-14:00 Networking
1) Keynote: New Technology - Bringing the world equal opportunities(14:00-14:30)
Speaker: Alan Qi, VP and Chief Data Scientist, Head of artificial intelligence, Ant Financial
2) Fireside Chat: China and Britain Joining Forces: Improving Financial Equality Through Technology (14:30-14:50)
Speaker: Alan Qi &Mystery guest
3) Keynote : Social contracts: engaging people in collaboration wherever they are (14:50-15:10)
Speaker: Professor David Robertson
Chair of Applied Logic, Head of College of Science & Engineering
Univeristy of Edinburgh
4) Keynote: Training adversarial networks using kernels (15:10-15:30)
Speaker: Arthur Gretton, Gatsby Computational Neuroscience Unit, University College London
5) Keynote: Ant Blockchain – Technology features and use cases (15:30-15:50)
Speaker: Yu Benquan, Senior Director of Blockchain, Ant Financial Technology Labs
6) Keynote: Innovations and Challenges on Ant's Infrastructure(15:50-16:10)
Speaker: Guo Zhenyu ,Senior Staff Engineer, Ant Financial
7) Roundtable: How Can Technology Drive Financial Equality?(16:10-16:50)
Yu Benquan, Senior Director of Blockchain, Ant Financial Technology Labs
Andrei Kirilenko, Director of the Centre for Global Finance and Technology, Imperial College Business School
Ruhul Amin, Chief Architect and co-founder of Onfido
8) Keynote: Security Technology Empowering Financial Inclusion (16:50-17:10)
Speaker: Wang Weiqiang, Director, Risk and Decision Science,Ant Financial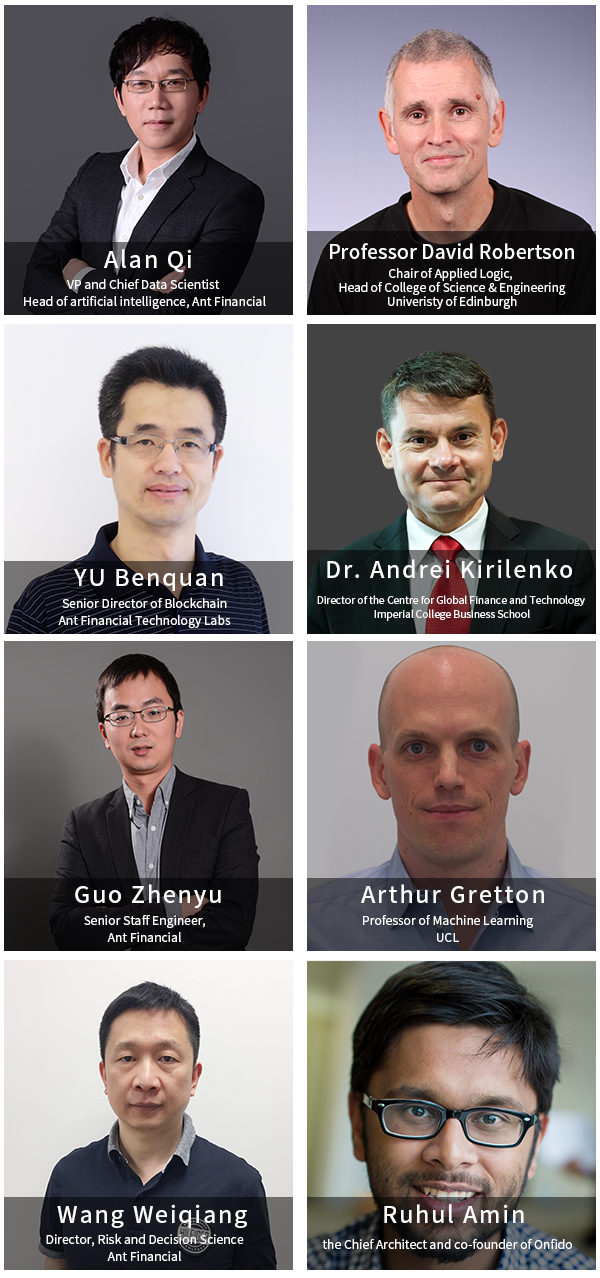 About ATEC
The Ant Technology Exploration Conference (ATEC), an event hosted by Ant Financial for global partners and tech professionals. This June, under the theme of "New Technology: Bringing the World Equal Opportunity," Ant Financial will be formally introducing itself to London and the UK, and bringing with it a glimpse into the next stage of global fintech development.

As a technology company, Ant Financial hopes to demonstrate its outlook and research achievements to the world, and to build along with its hundreds of partners a global ecosystem for financial technology that brings consumers everywhere new and more equal opportunities.

And that is why ATEC is a global event: after an inaugural conference in Hangzhou, China in 2017, ATEC has gone on a worldwide tour, convening in Silicon Valley and Singapore in just the last few months. Now, it is calling on London.
Hosted by Ant Financial, with media partner PingWest.
PingWest is a leading online tech media company targeting audiences in the Greater China region, including China, Taiwan, and Hong Kong. Our mission is to enable tech entrepreneurs and investors in Greater China and beyond to connect, learn, collaborate, and drive technology forward into new territory.
Co-organized by The UK-China Fintech Alliance
The UK-China Fintech Alliance is a non-for-profit organisation, bringing together trusted corporates, research institutions, trade bodies, startups and investor communities in the FinTech industry from both the UK and China. The Alliance position itself as a bridge and the single-entry point for high-quality FinTech market players to effectively communicate and explore tangible development opportunities.