PLAN & PROTECT on RISING MORTGAGE RATES: Where are Interest Rates Heading in 2022 & 2023? & Will this market be a Buying Opportunity?
About this event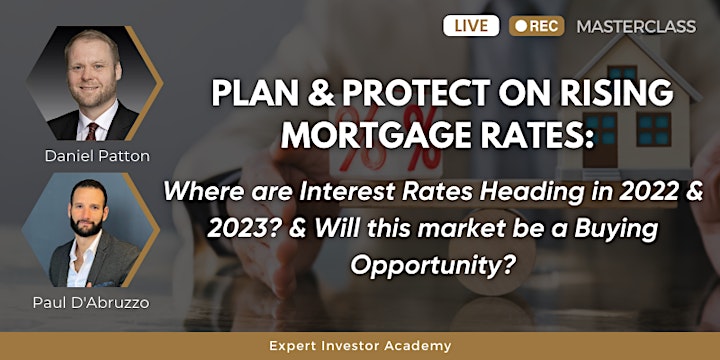 Variable or Fixed Rates?
Should I Lock-in Now or stay Variable?
Should I Buy Property Now or Wait?
Will Prices Drop or Stagnate?
Is Now a Good Time to Sell?
What will happen in 2023?
Where is the Opportunity in this Market?
These are the questions repeating in everyone's mind...
In this Special Edition MasterClass, we will gain confidence & clarity on Interest Rate Direction in 2022 & 2023 so you can protect yourself in the short-term and plan for the inevitable buying opportunities the market will deliver.
Remember: The goal is to be a Sophisticated Investor... Armed with knowledge, Expertise, and the Guidance to create Profits & CashFlow in ANY market scenario -- Up-market, down-market, sideways markets, & uncertain markets. -- Each presents its own unique opportunity and we want to be ready to capitalize! All while stabilizing and protecting our current investments
The Big Juicy Benefits of joining this FREE event.
- Yes you read it right. This is a Free event (seriously - no catch)organized by the Expert Investor Academy family to support investors. We want to help you make sense of all the chatter about rising interest rates and trends to strategically plan their real estate portfolio
- Our industry expert Dan will share his thoughts and insights that can calm some nerves and help you see the bigger picture. The forest from the trees (bad joke but you get it - right?)
- Get ideas to (Literally) Build & Develop a Portfolio from available resources and opportunities that set you Free from the 9-5 Grind. Some of you may be starting on your real estate investing journey, while others already have one or even a few properties. But what most of us often lack are the tools, resources, strategies, and guidance needed to take real estate investing from a side hustle to something that could potentially replace a 9-5 job or provide additional income to lead a life you want and have the lifestyle and experiences you dreamed about.
About our Expert Speaker
Daniel Patton co-owns and operates the number 1 mortgage team in Canada where the primary focus and business is investor-related mortgages, and mortgage planning. Daniel was born and raised in Mississauga Ontario Canada and grew up playing competitive sports and music while spending some time at school as well. Daniel suffered from ADHD as a child but often says that has helped shape his career, and in many ways taught him how to be successful in business and as an investor. He's been involved in mortgages since 2003 and his team routinely ranks in the top 20 mortgage agents across the country.
--------
Can't make the time & date of this Webinar? We have a solution
This Webinar will be recorded (on zoom) and distributed by email to all registrants within 48-72 hours.
Before you go...Here's one more BONUS!!
Need to step up your real estate journey and be the first to know of more such free events and opportunities? Join our community. It's free and like you we hate spam.
Sign up and get your alert of new listings, free events, MasterClass sessions, Q&A sessions, coaching slots opening up plus many amazing real estate opportunities before anyone else. Even before it hits MLS.
Join the growing Expert Investors community where we share insights, stories, and learnings to help each other in this journey of making real wealth.
Click here