Anslee Davidson and Eric Dodd with special guest Eamon Owen at Eddie's Attic in Decatur, GA!
About this event
Anslee Davidson
Anslee Davidson was singing before she could talk. Even as a baby she would "sing" without any words. Once her vocabulary grew, so did her passion and love of music. She sang every chance she got: in school talent shows, countless musicals and as a worship leader at her church and school. While on a family trip in Hawaii, when Anslee was 11 years old, she chose a ukulele for her souvenir. She quickly learned to play and performed in her school Talent Show a mere 3 weeks after receiving the ukulele. She soon wanted to graduate to a guitar like "daddy's" and received her first guitar at age 12. She immediately began writing songs. She and her dad, Dave, began to collaborate and continue to write together to this day.
In the summer of 2020, Anslee decided to take her talents on the road and began playing gigs in and around Lake Oconee, Georgia. She quickly began to draw a following with her distinctive voice which has been described as soulful and timeless. Her engaging presence draws the audience into her heartfelt storytelling through song. Anslee has found a home in between the Country/Folk/Americana genres. She performed her first concert as the opening act for her friend, mentor, and fellow entertainer, Eric Dodd to a sold-out crowd at the Red Clay Music Foundry in the fall of 2020.
During this time, Anslee was also offered an audition with the casting producers of American Idol. She made it through the early rounds and was given an opportunity to audition for the celebrity judges: Katy Perry, Luke Bryan, and Lionel Richie. Anslee received 3 Yes votes and was given a Golden Ticket to Hollywood Week! Unfortunately, despite her efforts to quarantine, Anslee tested positive for COVID just 3 days prior to flying out to Hollywood and was forced to drop out of the competition. Anslee is as resilient as she is talented and has bounced back and has been in the studio writing and working. On September 17, 2021 Anslee Davidson will release her debut single, which will be a part of her much anticipated debut EP titled, Hey Love. World, meet Anslee. We think you will love her!
Eric Dodd
Eric Dodd grew up in Greensboro, Georgia chasing two things: golf balls and guitar.
He had a passion and natural gift for both. He earned a golf scholarship to Georgia College and State University, where he majored in business. When he wasn't playing in golf tournaments, he was playing in frat houses with his band. He eventually transferred to the University of Georgia to pursue a music business degree and immerse himself in the fertile Athens music scene (R.E.M, Drive-By Truckers).
But in the end, it was lyrics over links that brought him to Music City.
In 2016, Dodd gained national attention as a CMT Discovery Artist, but he honed his craft playing more than 200 dates a year throughout the southeast performing in clubs, SEC colleges, and music halls where his likable personality, feel-good lyrics, musicianship, and energetic stage presence earned him a faithful following in a region with strong musical tastes and a deep pool of talent.
"I aim for my shows to be high energy and want to connect with each person in the audience," he explained of the years spent playing gigs and sleeping in a van to make ends meet. "Music is an escape from reality, and I want to give people that and take them on a trip during the hour I get with them."
Since moving to Music City, Dodd has opened for Sam Hunt, Old Dominion, Jake Owen, Corey Smith, Cole Swindell, Rodney Atkins and recently for Sister Hazel, which was especially meaningful. "Opening up for Sister Hazel's sold out show at the Georgia Theatre in Athens (Georgia) has to be one of my favorite moments onstage," Dodd offered. "I earned my music business degree from UGA so it was one of those full circle moments."
His musical journey has him weaving seamlessly between Country, Pop and Americana, with themes that speak to the heart of Friday night, as well as Monday morning. As a songwriter, he can be sweetly nostalgic and equally rambunctious.
"The Reason," released in June 2018 has gone on to garner more than 4 million streams across the various music services. It was included in multiple playlists on Spotify, Apple Music, Amazon, Pandora and YouTube. The video, which features Dodd's wife was featured on CMT's "Must-See Indies You Need To Know" and the "12-Pack Countdown." Wide Open Country called the song "heartfelt and anthemic."
Dodd found that inspiration during a first time co-write with Gavin Slate and Travis Wood. "I never know what to expect going into a room with people I have never written with before. After talking for awhile about life and music, I realized the chemistry was right, and I felt like it was the perfect time to throw out my idea. I told the guys I wanted to write a song for my fans who spend their hard earned money to come to my shows. I wanted to give them a high-energy experience that they could dance to with their significant others. As we started to write the song, the positive vibes were there right out of the gate, and by the time I left that day, I knew we had something special. It was one of those moments where I knew this was going to be a great song for my wife and for my fans. I put in my set list that weekend at a show."
He's a romantic with a wild side. Dodd also sang and co-wrote the theme song for "Wild Outdoors," the longest running series on The Sportsman's Channel. Dodd has also leant his talent to the Georgia Music Foundation, which supports cultural enrichment and music education programs in his home state.
Often times, writing four songs each week, Eric's songwriting prowess has led to success with his songs being recorded by artist such as Colt Ford, Allie Colleen, Ryan Robinette, Chancie Neal, Kalie Shorr, Spencer Crandall, Lance Carpenter, and the Dutch country superstar, "Waylon" plus more.
"Whether it's writing songs or playing shows, it's all about getting to the people and keeping in touch with them," said Dodd.
Eamon Owen
Eamon Owen is a country-rocker singer-songwriter originally from Madison, Georgia. Eamon spent his childhood all around great Georgia songwriters as his dad was in the business of giving songwriters a platform to hone their craft. Eamon recently moved to Nashville to chase down that neon country music rainbow. His debut single, "drunk girl in disguise" is out now and is streaming on all platforms.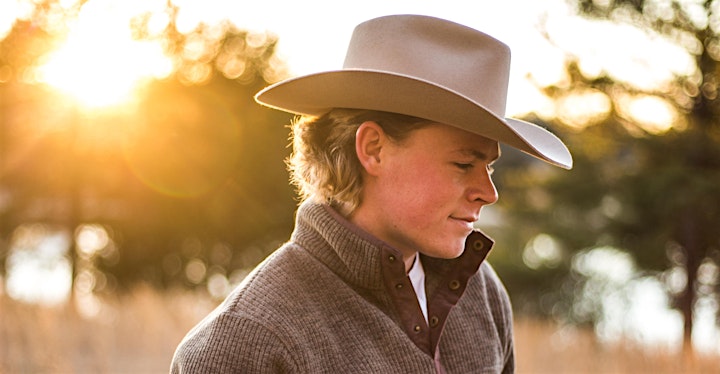 Performers
Date and time
Location
Refund policy
Organizer of Anslee Davidson Single Release with Eric Dodd and special guest Eamon Owen