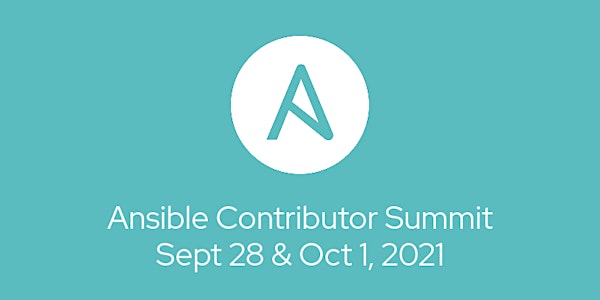 Ansible Contributor Summit 2021.09
Virtual Ansible Contributor Summit - Sept/Oct 2021, AnsibleFest edition
About this event
The Ansible Contributor Summit comprises working sessions with the Ansible community team and contributors in the community. We've had 3 great virtual Contributor Summits in 2020 plus two earlier this year, and coming up we'll have the special AnsibleFest edition - where we are planning 2 days of program for you!
Which day should you attend?
If you are wondering what it means to "contribute" to Ansible, or if you have been using Ansible for a while and are thinking of ways to get more involved with the project and community, then Day 1 (September 28) is for you!
If you have already been contributing or participating in our previous Contributor Summits, you are still welcome to attend Day 1, however we think that Day 2 (October 1) will be more interesting for you.
In this event, we will discuss important issues affecting the Ansible community, with a focus on improving collaboration with our contributors. For new/potential contributors, we will have hands-on labs and demos on the first day to provide you with more information on getting involved and contributing to the Ansible project.
In addition, we will be running a Hackathon in parallel throughout the week (Tuesday to Friday). This is for anyone with an interest in contributing to Ansible (with a focus on Collections), including those who have never contributed and are unsure of how to get started, existing contributors and maintainers, etc. all are welcome! Resources (people, labs, docs, etc.) will be available to help people through the entire process.
Join us online on Tuesday, September 28 and Friday, October 1. AnsibleFest will be happening in between these two days (September 29-30). The Contributor Summit agenda is now available at the event HackMD note, including links to the Youtube live stream and chat rooms.
Please register for this free event here on Eventbrite (one or both days), so that we can contact you with updates, possible changes, follow-up surveys/feedback etc.
Event platform
There will be live streaming of the event (Sept 28 - Day 1, and Oct 1 - Day 2), and communication will be on Matrix and IRC. The Ansible Community has recently adopted Matrix as an official chat platform alongside IRC. You will need a Matrix account or a registered IRC nick to participate in the conversations. For more information, please see Communication - Real-time chat and the Ansible Community Matrix FAQ.
Note: registration for AnsibleFest is separate from the Contributor Summit. Please visit https://www.ansible.com/ansiblefest for more information.
We look forward to seeing you online at the Ansible Contributor Summit!