Another Forking Quiz: The Good Place Trivia to benefit Health Equity Intl.
About this Event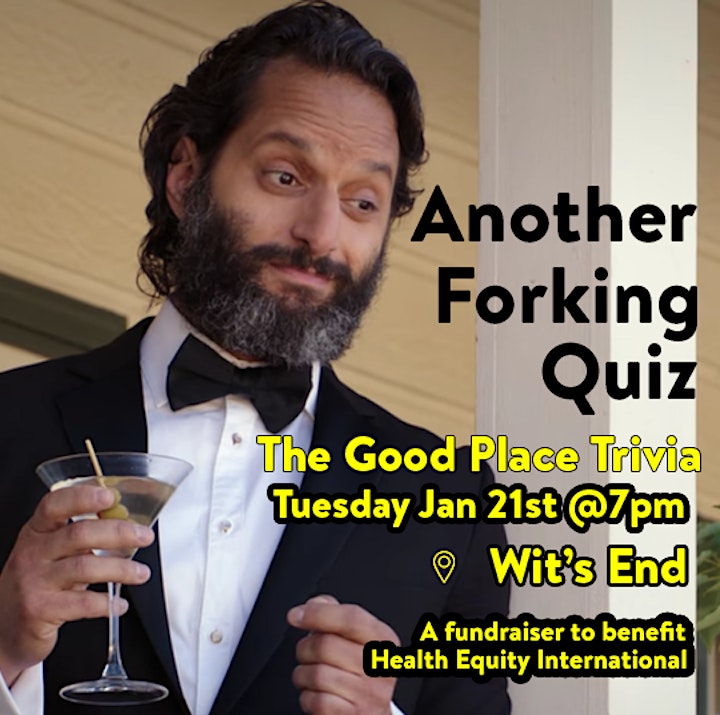 What's up, dongbait? Are you ready to earn enough points to get you into the Good Place? Or will you fail, and doom all of humanity to the Bad Place, forever? Wow, the stakes are crazy high, but if we've learned anything from The Good Place, it's that you have to at least try. Try to do good, be good, make the world a bit better. So COVEN is back at it again—join us to test your The Good Place knowledge and raise money for Health Equity International (formerly St. Boniface Haiti Foundation), a local organization that owns and operates a hospital in rural Haiti serving more than 2.3 million Haitians. The Good Place asks us to think about what we owe to others: Health Equity International believes that we owe everyone, including our Haitian neighbors, access to lifesaving healthcare.
You know the drill: get a Brainy Bunch together (up to a max of 6 people per team), join us at Wit's End in Inman Square, Cambridge, and win some of our meticulously themed prizes. It's $5 per person to play, and all proceeds from entry fees and any sales during the game go directly to Health Equity International (healthequityintl.org). Health Equity International runs St. Boniface Hospital, the only referral hospital in southern Haiti. St. Boniface has the region's only neonatal intensive care unit, 24/7 emergency room, and spinal cord injury center. In a country where many people die because they can't afford or access healthcare, Health Equity International is a lifeline.
COVEN is a group of local Boston women who believe in working hard to make the world a better place, and having fun while doing it. Our obsessively-detailed pop culture-themed events are designed to bring people together in the spirit of fun, inclusivity, and positivity—all while raising money for great causes. As with our previous trivia nights, we encourage costumes (all your hosts will be in costume) and there will be lots of fun surprises, prizes, and sale items! Follow the event on Facebook (https://www.facebook.com/events/774821726364071) or follow COVEN on instagram and twitter (@COVENforgood across all social media) for more information about these as the event approaches.
Good luck, cockroaches. You're gonna need it.